Zalando: price updates
About this article
This article describes Zalando's policy on pricing updates, and how to troubleshoot the two most common issues that cause price updates to be blocked.
Table of contents
Price threshold
Zalando allows for a maximum increase or decrease of up to 80% in prices, any changes above this threshold are considered suspicious. If you accidentally change a price by 80% or more, Zalando blocks both the price update and the channel. Changing the price back to an acceptable value triggers Zalando to re-activate it on their end.
To change these prices again, Zalando must first whitelist them so ChannelEngine can export them. This is only possible if the setting Ignore price warnings is enabled within the Advanced settings, under the Setup section of your Zalando channel on ChannelEngine.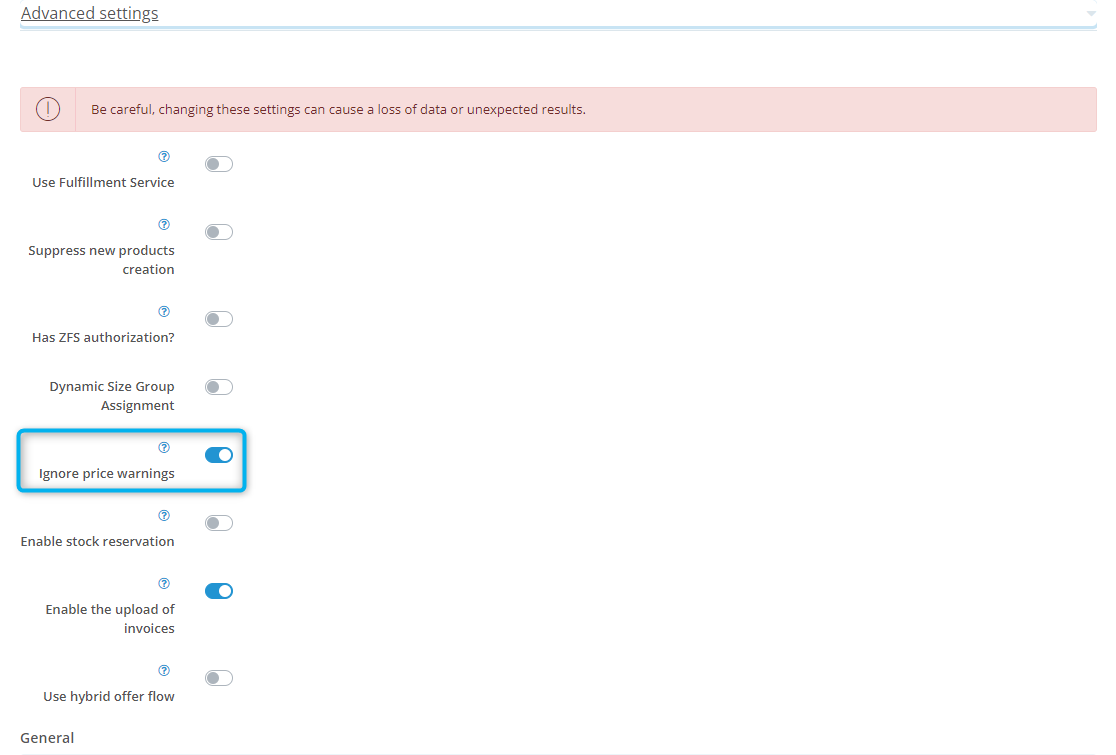 To solve this issue:
Correct the offending prices on ChannelEngine.
Go to Setup, Advanced settings and enable the Ignore price warnings setting. This whitelists your price updates.
Contact Zalando to request the price update. Once Zalando approves it, wait for up to four hours to check if it has been applied.
If your prices are now up-to-date, go back to Setup, Advanced settings and disable the Ignore price warnings setting.
If your prices are still blocked, please contact Zalando's technical support.
NB:
when not being used to correct blocked price updates, the Ignore price warnings setting should be disabled. This is a requirement by Zalando.
Custom field
If the country-specific price attributes are mapped with a custom field, the automatic offer export is not triggered. In that case, newly created offers and updates to existing offers are only exported in the daily export.