Fnac: marketplace guide
About this guide
This is a ChannelEngine guide on the Ivry-sur-Seine-based marketplace Fnac. Here you can find information on how to request a Fnac account, how to configure this marketplace on ChannelEngine, what the specific requirements are, and more.
Table of contents
Marketplace-specific requirements and exceptions
Commercial information
| | |
| --- | --- |
| Founded | 1954 |
| Founders | André Essel and Max Théret |
| Headquarters | Ivry-sur-Seine, France |
| Area served (orders) | Belgium, France, Italy, Portugal, Spain, Switzerland |
| Revenue | circa EUR 7.5 million (2020) |
| Number of monthly visits | circa 30 million |
| Website | Fnac |
| Setup cost | none |
| Commission | depends on the product category (6-16%) |
| Other costs | EUR 39.90/month |
| Payment | every five days |
| Product categories | electronics, games, media, books, home, garden, and more |
| Input language | mainly French, but it varies per country |
| Input currency | EUR |
| Content creation | yes, but only for Fnac France via the API |
| Profile on ChannelEngine | Fnac |
To start selling on Fnac, you must create an account. If you plan to sell on multiple Fnac sites, you need a separate account for each site. E.g.: if you intend to sell on both Fnac France and Fnac Spain, you need an account for fnac.com and an account for fnac.es.
The following list describes the specifics for each country:
Associated costs
Creating an account is free, but there is a monthly fee of EUR 39.99 (excl VAT) if there are sales. Additionally, Fnac charges an extra commission for products sold. The commission percentage varies depending on the type of product. (6-16%).
Marketplace features
| | |
| --- | --- |
| Supported | Not supported |
| Product offers | Repricing |
| Product content (Fnac France) | Marketplace fulfillment service |
| Orders | Automatic relationships |
| Shipments | Full returns |
| Cancelations | Sales channels |
| Refunds (merchant) | |
| Product variations (sizes/colors) | |
| Carrier mapping | |
Settings and configuration
Setting up each channel on ChannelEngine follows the same flow, once you add the channel:
Marketplace-specific requirements and exceptions
Setup
Fnac uses a hybrid model for its marketplace, with the Mirakl platform handling content and a custom system handling offers. Therefore, setting up Fnac is not exactly like setting up other Mirakl-based channels.
On ChannelEngine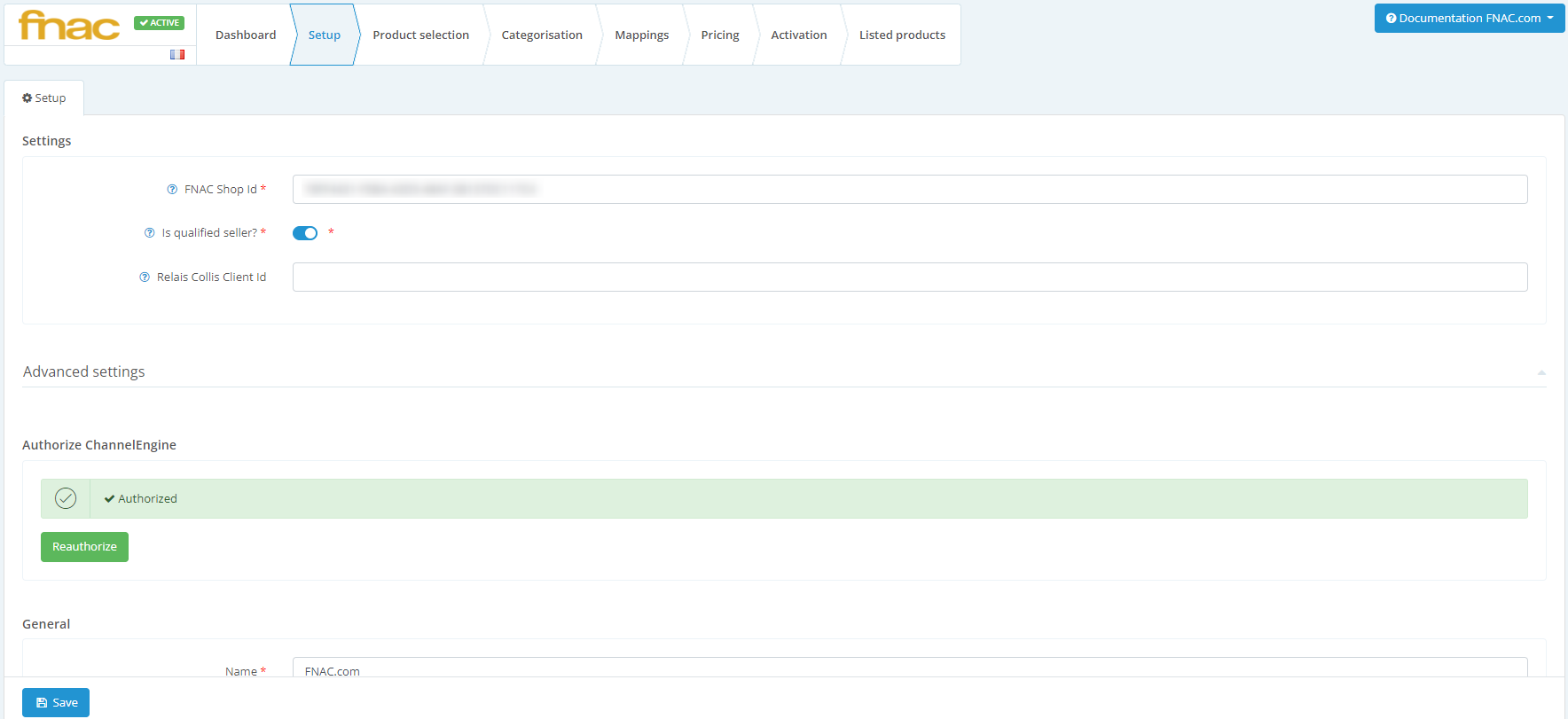 When it comes to authorizing the connection between Fnac and ChannelEngine, the process is the same as for other Mirakl-based channels, using a Mirakl Connect SSO account. For more information on this, check out the Mirakl-based channels: SSO authorization article.
As Fnac does not support repricing, you can leave the Mirakl seller name field empty.
The following Fnac credentials must be added to ChannelEngine too, under the Setup section:
Fnac shop ID - provided to you by your account manager at Fnac. The Fnac shop ID is formatted as shown below.
UID A1A1A1A1-A1A1-A1A1-A1A1-A1A1A1A1A1A1 unique shop identification id 	
NB:
the Fnac shop ID is different for each Fnac country. Make sure you are using the correct one, otherwise the authentication fails during the activation. The authorization is based on the integrator, similar to Amazon. The Nom du partenaire in the credentials must be ChannelEngine, and not a different integrator.
Is qualified seller? - if you are a qualified seller (i.e.: allowed to create or update content), enable this setting. If you are not, you cannot use the mappings.
Relais Colis client ID - if you use Relais Colis as your shipment method, fill out your client ID. If you use a different carrier (e.g.: PostNL, DPD, GLS, DHL, Fedex, etc.), you can leave this field empty.
Categorization
Categorization is only needed on Fnac if you want to create new products or update existing product information. The categorization is straightforward, and it uses attribute names in French.
To see all possible Fnac categories, select Browse in the lower left-hand corner of the Categorization tab.
NB:
you can only create content via the API on Fnac France. The other Fnac channels do not have the tab for categorization or content mapping. To create content on those channels, make sure that you have the products listed on a CSV or Excel file and contact your account manager at Fnac.
Mappings
Content
All products (required)
Constructeur vendeur (Vendor manufacturer) - the name of the product's brand or manufacturer.
EAN - the product's 13-digit EAN or other GTIN.
Libellé - the product's name.
SKU - the product's internal variant identifier. Usually your Merchant product number on ChannelEngine. E.g.: ABC123-Yellow-Medium.
Visuel principal - the main product image.
All products (optional)
The optional attributes are all related to additional product images, with support to up to four product images in total.
Some required attributes are visible in the mappings of individual product types. These additional required and optional attributes, such as Description complémentaire (the product's description), are mappable here. This is also where you can set attributes like color, size, material, and the target audience.
NB:
on Fnac Belgium you do not have to provide the content in both French and Dutch. Export the content in French and Fnac automatically translates it to Dutch.
Offer
The only mandatory offer mappings are Price, which is your desired sale price, and Product state, which is the condition of the product. The options for Product state are:
Collection product as new
Collection product in correct state
Collection product in good state
Collection product in very good state
Product is new
Product is refurbished
Used product in correct state
Used product as new
Used product in good state
Used product in very good state
Optional
Order preparation time - the number of days it takes you to ship the product, once ordered. The maximum value is 25 days.
Overwrite logistic type - merchants can set their shipping costs policy directly in the Fnac back-end, under My account > My seller settings > My shipping details. There you can find a table showing the product categories associated with each logistic type – as seen in the screenshot below. Different shipping costs can be set per logistic type.
Adherent price - the discounted price for adherent customers, that is, customers who pay a fee to enjoy benefits such as faster deliveries, better warranties, etc.
Carrier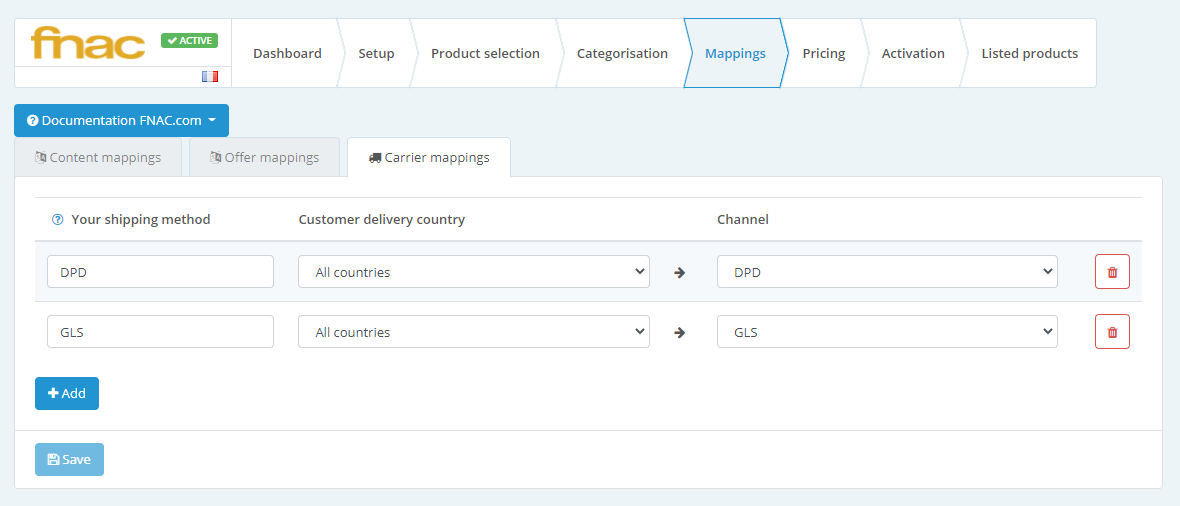 Carrier mapping is mandatory on Fnac. If your preferred carrier is not on their approved list, map it to Other to have your shipment information submitted correctly.
Pricing
If your default currency is not EUR, you can use a currency conversion to convert prices to Euro.
It is possible to use price rules for your products, repricing is not possible for Fnac.
NB:
Fnac requires a minimum price of EUR 0.89 for products. If you have a price lower than this value, the related product is not published.
FAQs
Why are the mappings blank?
If you are not a qualified seller or did not enable this setting under the Setup tab, some features are not available. This includes the creation and mapping of content.
I cannot create content for other Fnac countries. Why?
Fnac only supports content creation on its French marketplace. All other Fnac channels only allow an offer export connecting to existing content, and therefore these channels do not have tabs for categorization or content mapping.
Why am I getting an authorization error when trying to activate the channel?
Make sure to enter the correct shop ID for the correct country. These are different for each individual Fnac country. You can also double-check if Fnac has created the required access for ChannelEngine, which can be seen in the credentials you received from Fnac and in the Nom du Partenaire section.
If you are sure that the credentials are correct, please contact Fnac as the authorization error comes directly from them.
Why does my order have a no-email@channelengine.com email address?
For information on that, check out the article ChannelEngine: why does my order have a no-email@channelengine.com email address?