Mirakl-based marketplaces: setting up sales channels
About this article
This article describes the configuration of sales channels for Mirakl-based marketplaces on ChannelEngine.
Table of contents
Introduction
Certain channels that use the Mirakl framework for their back-end offer support for multiple points of sales (i.e.: either a webshop in multiple countries or multiple distinct webshops in a single country). ChannelEngine customers have two options to set this up:
Use one account per point of sales (e.g.: one account for marketplace.de, another one for marketplace.nl, etc.), which requires one plugin for each distinct point of sale on ChannelEngine. This option is currently used by most marketplaces using the Mirakl framework.
Use one account for all possible points of sales, with the option to select the desired points of sales for that specific marketplace. These points of sales are called Sales channels by Mirakl.
NB:
Mirakl's sales channels feature is not supported by Douglas, so you need to use different accounts per market if you want to sell in more than one country.
How to set up sales channels?
In Mirakl's back-end
To have access to specific sales channels within a marketplace, you must first request this directly with the marketplace. If there is an agreement, they can then enable additional sales channels from their end.
Once that agreement is made, go to My account > Settings in the marketplace's Mirakl back-end and select the Channels tab. By default, no manual action is required, but you can check if the requested sales channels have been enabled or not.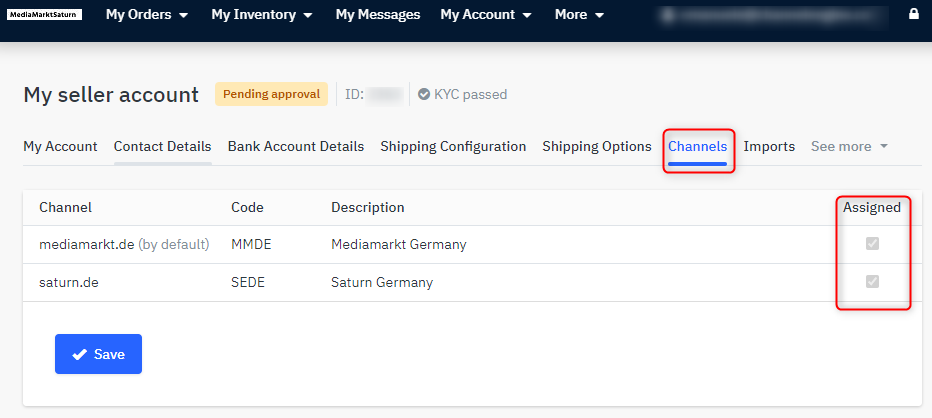 On ChannelEngine

Sales channels activated on the marketplace's side are shown under the Setup section of the channel's settings. Select them accordingly.
NB:
the list of available sales channels is directly retrieved from Mirakl every time the Setup section is loaded. This result is stored in cache for one hour. If you have new sales channels activated on the marketplace side, it can take up to one hour for them to become available on ChannelEngine.
What happens when a sales channel is activated?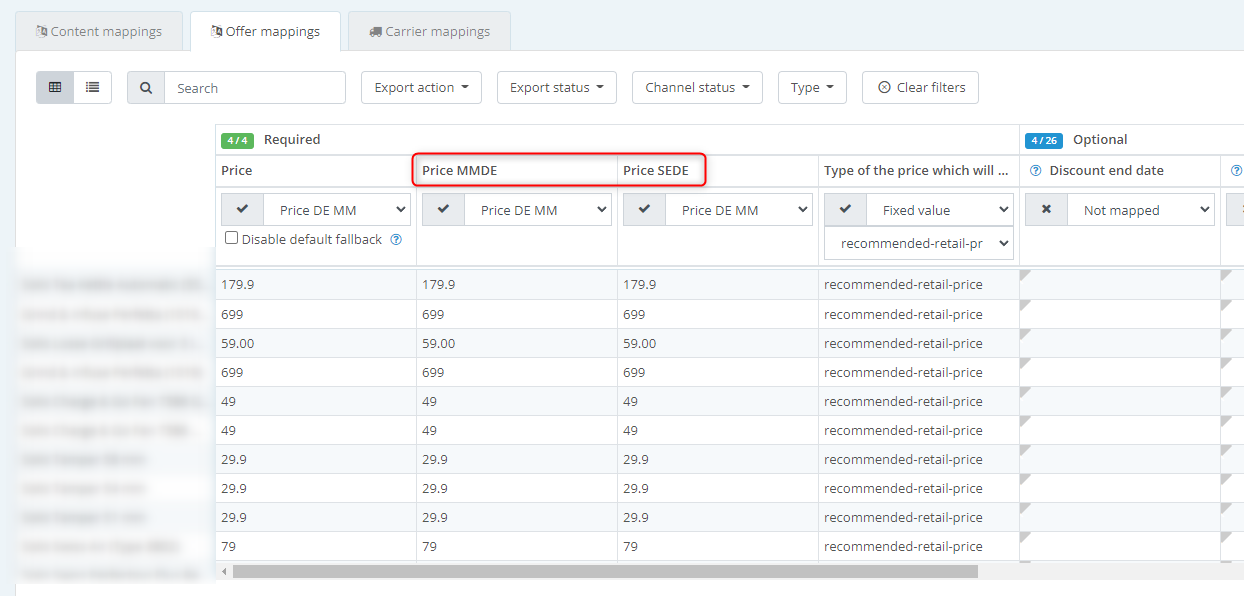 Additional price mappings become available for that new sales channel, and they become leading. I.e.: the default Price field must still be mapped, but is no longer used by the marketplace.
Orders are filtered based on the selected sales channels.
If you fail to enable a sales channel on ChannelEngine that had been activated in Mirakl's back-end, only the default Price attribute remains available and only that price is exported. All orders are accepted. This is not a problem unless the currency used on the different sales channels is different, which may cause pricing issues.
E.g.: if the connected marketplace has both a UK-based sales channel and a Germany-based sales channel, failing to enable the sales channels under the Setup section on ChannelEngine results in the export of only one price – in its respective currency. This might have an unwanted effect on the other sales channel, as the price may suddenly be either too high or low.
Although Mirakl does not provide a default automated way to remove products from certain sales channels, you can do so manually by doing the following:

Set the product's sales channel's price to empty.
Remove the product from your product selection.
Wait until the product is removed from Mirakl, then add it to your product selection.
The only exception to this is Decathlon. For more information on this, check out the Mappings section of the Decathlon: marketplace guide.

NB:

although country-specific price attributes are optional (i.e.: you have the flexibility to exclude certain products from certain sales channels), you must map them if you want to sell your products in those countries.