eBay: managing eBay business policies
About this guide
This is a guide on how to manage eBay's business policies. This is a necessary step before ChannelEngine can list your products.
Table of contents
Add business policies to ChannelEngine
Updating eBay's business policies
Introduction
To start selling on eBay you first have to set up several 'policies' at eBay, which are also necessary for ChannelEngine to list your products. The policies that have to be set up are Payment, Return, and Fulfillment/Shipping/Postage.
Business policies are important because they let buyers know how they can pay you, how long it will take you to ship an item, the delivery services you offer (including shipping and packaging costs), whether you accept returns, and who pays the costs for these.

Create business policies
To set up your business policies, log in to your eBay seller account and go to My account, Business policies on the web interface.
Payment (mandatory): Create a Payment policy.

The name of the policy is required to properly configure ChannelEngine, so be sure to note it down. It is recommended to choose an easy and specific name for ChannelEngine (e.g.: CE payment), preferably without special characters such as colons, semicolons, and hashtags.
When allowing PayPal as a payment method, it is strongly recommended to enable Require immediate payment when buyer uses 'Buy it now'. This prevents orders from remaining with the status Waiting for a long period.

Return (mandatory): Create a Return policy.
The same naming advice is applicable to this policy as described under payment policy, e.g.: if you are selling in a different eBay country to where your own warehouse is located, International returns accepted must be enabled. If this is not enabled, eBay returns errors to ChannelEngine.

Shipping (mandatory): Create a Shipping policy.
The same naming advice is applicable to this policy as described under payment policy.
Important: The shipping policy is where you set up the countries you want to ship to and in what countries the offer(s) are visible. Be sure to only enable countries to which you are able to fulfill orders logistically.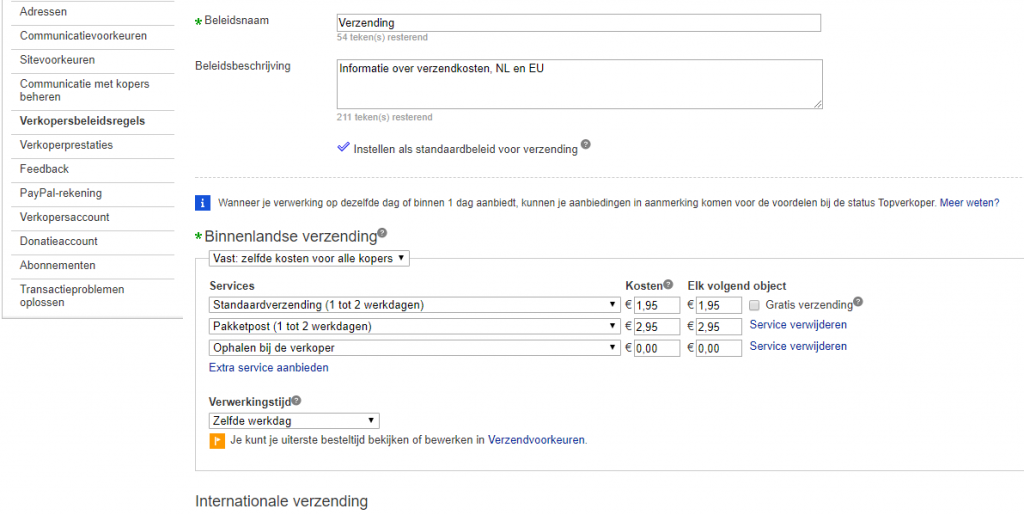 Add business policies to ChannelEngine
Finally, these policies need to be entered in ChannelEngine on the eBay setup page. The names must be entered in the fields below exactly as they appear in eBay in order for ChannelEngine to correctly retrieve the ids for each policy.
The Payment policy name and Return policy name are the first settings available in the Setup section of an eBay plugin.

The Shipping policy name is located in the Content mappings, All products section.
Also note:
If you don't see the option for the business policies in the left side menu, under the Account tab, you may need to enable them first. You can do this here. Replace .nl in this URL with your country code as applicable to your eBay store.
In some cases (for example on ebay.co.uk) business policies are hidden on the Seller Hub page. You can also manage the policies here (replace co.uk with your desired country code).
NB:
Business policies are set per eBay country. For example: if you set rules for eBay.NL, remember that these rules are not applicable to eBay.DE, or other countries.
Updating eBay's business policies
You can edit, copy, reassign, or delete your policies as needed. However, be aware that eBay has some restrictions depending on what you want to change and when. E.g.: it is not possible to change a fixed price listing into an auction listing.
If you update a policy, any listings using that policy will automatically be updated with your changes.
If you want to delete a policy that is currently being used in any active or scheduled listings, you need to first reassign new policies to those listings.
If you use a particular business policy more than others, there is an option to set it as your default policy using the option Set as default. The default policy is automatically preselected when you create a new listing, but you can always select a different policy before completing your listing.