TikTok Shop: marketplace guide
About this guide
This is a ChannelEngine guide on the Beijing-based marketplace TikTok Shop. Here you can find information on how to request a TikTok Shop account, how to configure this marketplace on ChannelEngine, what the specific requirements are, and more.
Table of contents
Marketplace-specific requirements and exceptions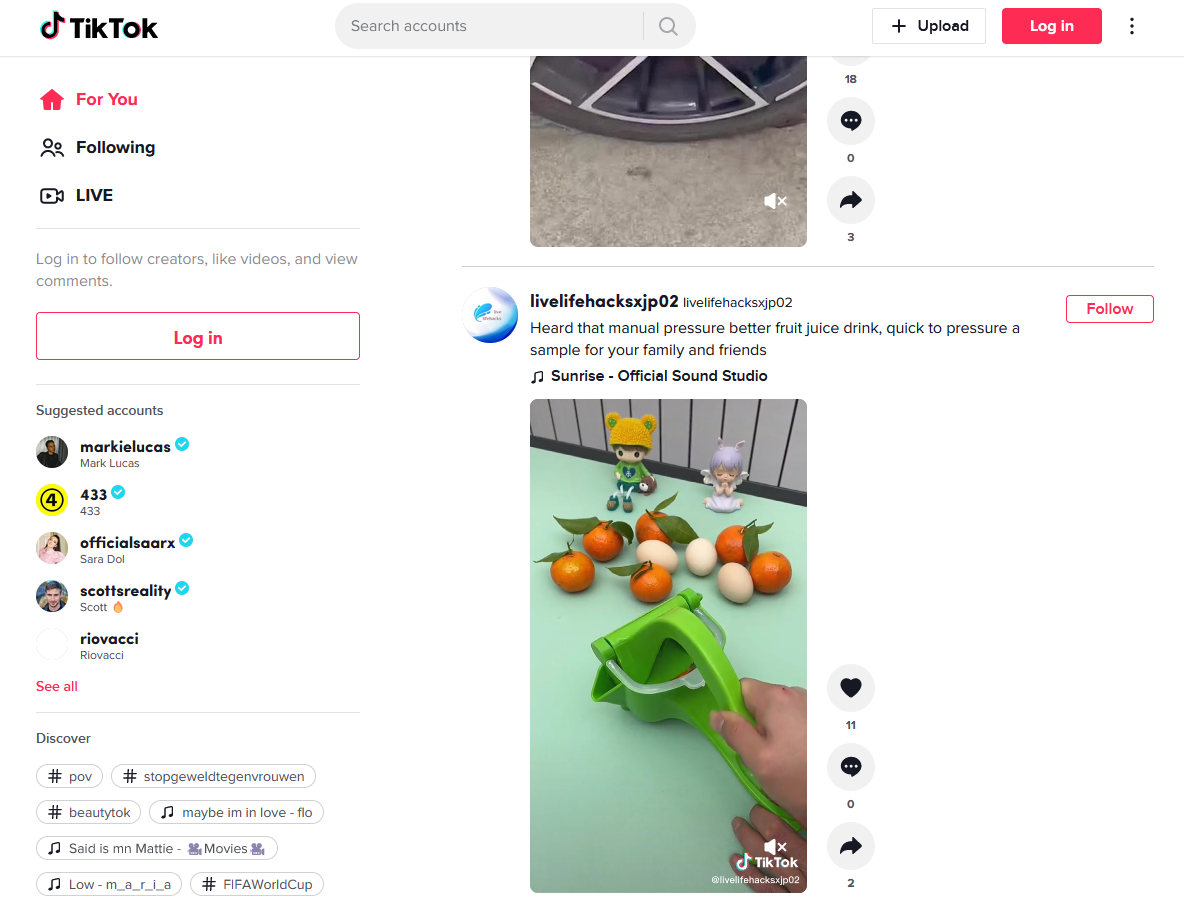 Commercial information
| | |
| --- | --- |
| Founded | 2016 |
| Founder | Zhang Yiming |
| Headquarters | Beijing, China |
| Area served (orders) | United Kingdom |
| Number of monthly visits | circa 2 billion (November 2022) |
| Website | TikTok Shop |
| Setup cost | none |
| Commission | 5% |
| Other costs | none |
| Payment | 14 days after delivery |
| Product categories | almost anything |
| Input language | English |
| Input currency | GBP |
| Content creation | yes |
| Minimum number of SKUs | no |
| Advertisement options | no |
| Profile on ChannelEngine | TikTok Shop |
How to request an account
To start selling on TikTok Shop, go to the TikTok Shop welcome page and create a seller account.
Associated costs
TikTok Shop does not charge a setup or monthly fee. However, it does charge a commission fee of 5%.
Marketplace features
| | |
| --- | --- |
| Supported | Not supported |
| Product content | Marketplace fulfillment services |
| Product offers | Repricing |
| Orders | Refurbished products |
| Shipments | Split orders |
| HTML formatting | Multiple stock locations |
| Cancelations (marketplace) | Cancelations (merchant) |
| Carrier mapping | Sales channels |
| Returns (marketplace) |   |
| Returns (merchant) |   |
Settings and configuration
Setting up each marketplace on ChannelEngine follows the same flow, once you add the marketplace:
Marketplace-specific requirements and exceptions
Setup
On ChannelEngine
Using the incognito mode of your browser, log into ChannelEngine and open your TikTok Shop channel.
Go to the Setup page and scroll down to the Authorize ChannelEngine section.
Click Authorize. A popup opens, prompting you to select the account type. E.g.: Asia, Europe, etc.
Log into TikTok Shop's Seller Central using your credentials.
Authorize ChannelEngine to connect with your TikTok Shop account.
On TikTok Shop Seller Center
Go to Shipping, Shipping options and disable the Express shipping and Standard shipping settings.
Enable the Shipped from seller setting. If you fail to enable this setting, all customer information attached to incoming orders is anonymized. Note that customers' email addresses are always anonymized.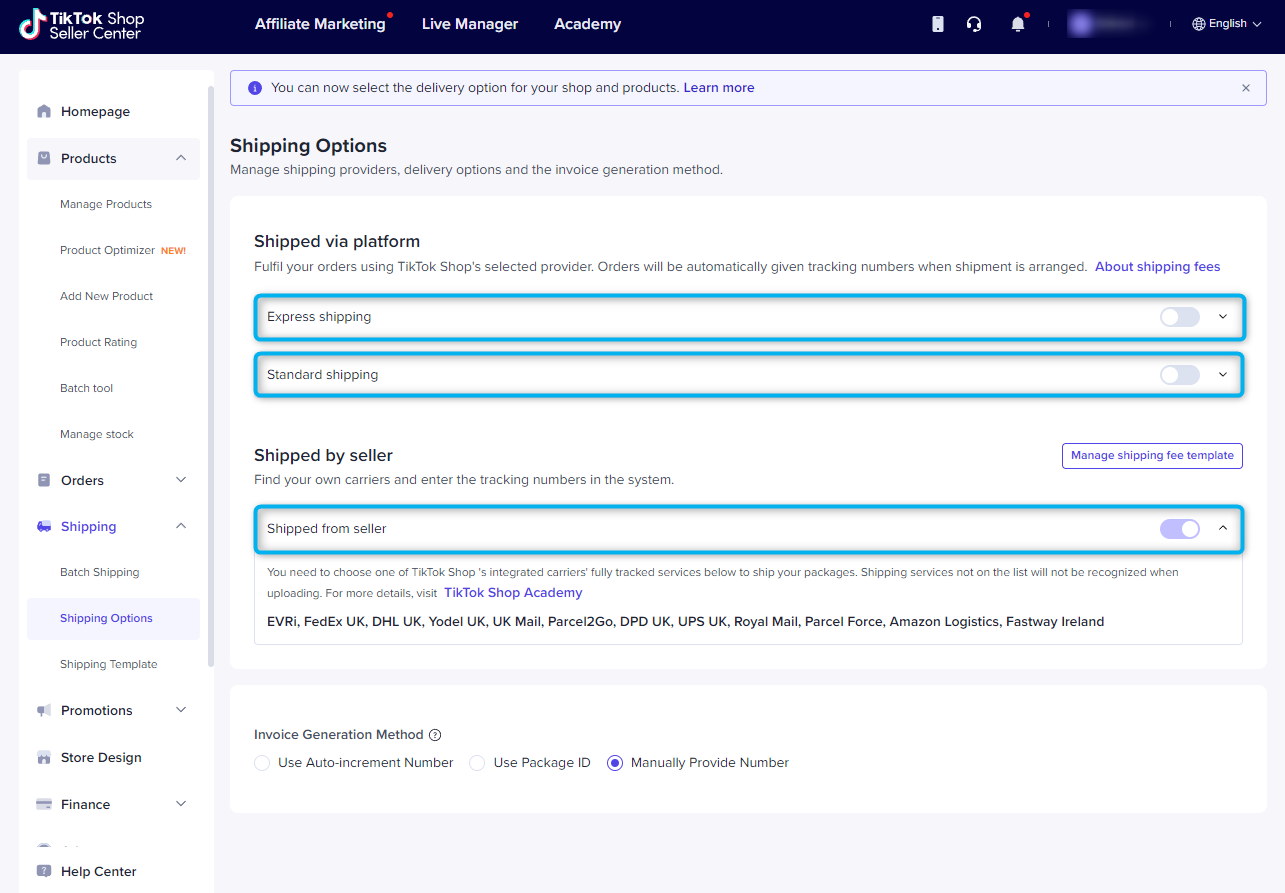 Categorization
Categorization is mandatory if you want to create or update existing product information on TikTok Shop. Both categorizations and mappings only result in updates if the content connection is enabled and the relevant credentials have been entered (see the Setup section).
Note that the categories change according to the sales channel you are using. E.g.: the categories in the United Kingdom channel are different from the categories in the Vietnam channel.
Mappings
Content
There are no category-specific attributes on TikTok Shop.
All products (required)
Package weight - the package's weight, in kg. The maximum weight is 20 kg.
Product identifier - the product's GTIN, which must be unique per variation. 
Product identifier type - the kind of unique code provided in the Product identifier attribute. E.g.: EAN, UPC, ISBN.
Product image URL 1 - the parent product's image. The image requirements are:

The file formats supported are JPG, JPEG, or PNG.
The maximum file size is 5.2 MB.

Product name - the product's title. The maximum number of characters is 188.
SKU Image URL - the child product's image URL.
All products (optional)
Package height - the package's height, in cm. The maximum height is 35 cm.
Package length - the package's length, in cm. The maximum length is 60 cm.
Package width - the package's width, in cm. The maximum width is 40 cm.
Product description - the product's description. HTML formatting is supported. The maximum number of characters is 1,000.
Product image URL 2-9 - the product's additional images. The requirements are the same as for Product image URL 1.
SKU - the product's SKU.
Warranty period - the product's warranty period. Select a value from the dropdown menu. E.g.: 1 week, 6 months, 5 years, etc. 
Warranty policy - the product's warranty policy.
Brand - the product's brand, which you are only allowed to select if you are authorized to sell it. To map the product's brand, click the related empty field, start typing the brand's name, and select it when it appears. If your brand is missing, get in touch with TikTok Shop.
NB:
currently it is not possible to change neither the images themselves nor their order after exporting them to TikTok Shop. Therefore, make sure that the right images are mapped to the right products, and in the right order.
Offer
Required
Original price - the product's price.
Warehouse - the warehouse where the product is stored. Only one option is available, based on your setup in the TikTok Shop back-end.
Carrier
Depending on the sales channel you are connected with, the list of carriers available for mapping varies.
Note that TikTok Shop does not support split or multiple order lines. Every order contains a single order line.
Pricing
Depending on the sales channel you are connected with, the default currency varies. If you do not have pricing attributes in the default currency, you need to set up a currency conversion.
Listed products
If you have problems with products not appearing on TikTok Shop, check the Listed products page for more information.
You can either filter based on the Channel status (e.g.: Invalid for all products that ChannelEngine has not exported, such as products with an empty EAN) or check the Validation and feedback tab to see all known validation/feedback errors for specific products. 
Additional information
Order extra data items
When an order is imported to ChannelEngine, ChannelEngine also fetches extra data items related to the order itself – or to order lines. This extra data is specific to this marketplace. An explanation of each can be found below: 
Order extra data
Keys
Conditional*
Description
package_id
No
The ID of the package. E.g.: the first value of PackageList

 in the order details.
* Conditional fields only display if the marketplace provided a value.
FAQs
How often does each task run on TikTok Shop?
Tasks run according to the following schedule on TikTok Shop:
| | |
| --- | --- |
| Export product data to channel | every 60 minutes |
| Export product offers to channel | every 15 minutes |
| Import product offers from channel | every 15 minutes |
| Import orders from channel | every 20 minutes |
| Import returns from channel | every 60 minutes |
| Export order shipments to channel | every 60 minutes |
| Export returns to channel | every 60 minutes |
| Export product images | every 60 minutes |