Home24: marketplace guide
About this guide
This is a ChannelEngine guide on the Berlin-based marketplace Home24. Here you can find information on how to request a Home24 account, how to configure this channel on ChannelEngine, what the specific requirements are, and more.
Table of contents
Channel-specific requirements and exceptions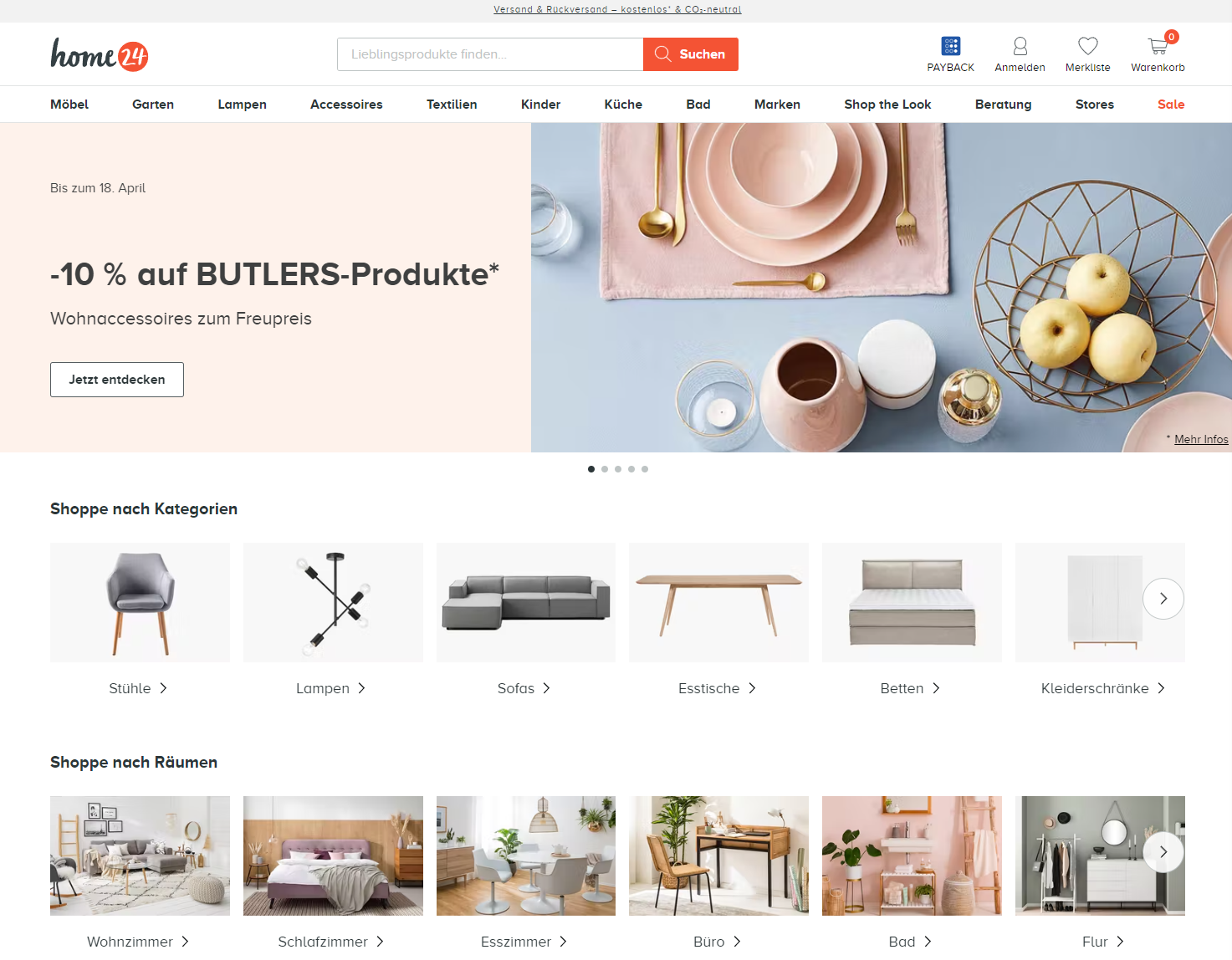 Commercial information
| | |
| --- | --- |
| Founded | 2009 |
| Founder | Felix Jahn, Philipp Kreibohm |
| Headquarters | Berlin, Germany, Austria, Switzerland, France |
| Area served (orders) | Germany |
| Revenue | USD 200 million - 1 billion |
| Number of monthly visits | circa 4.2 million |
| Website | Home24 |
| Setup cost | none |
| Commission | 15% on the sale price, incl. VAT and shipping costs |
| Other costs | EUR 39.00/month |
| Payment | 1st, 11th, and 21st of each month |
| Product categories | Home and living, DIY, gardening, household appliances |
| Input language | German |
| Input currency | EUR |
| Content creation | yes |
| Minimum number of SKUs | no |
| Advertisement options | no |
| Profile on ChannelEngine | Home24 |
How to request an account
To start selling on Home24, you can: 
If you meet the requirements, Home24 sends you a shop invite link. If you are not sure you meet the Home24 requirements, do the survey.
Associated costs
Selling on Home24 comes with the following costs:
Monthly fee - Home24 charges a monthly fee of EUR 39.00. The first three months are free of charge.
Commission - Home24 charges a commission of 15% on total sales, including shipping and VAT.
Channel features
| | |
| --- | --- |
| Supported | Not supported |
| Product offers | Returns |
| Product content | Marketplace fulfillment service |
| Orders | Repricing |
| Cancelations | Refurbished products |
| Shipment |   |
| Carrier mapping |   |
| HTML formatting |   |
Settings and configuration
Setting up each channel on ChannelEngine follows the same flow, once you add the channel:
Channel-specific requirements and exceptions
Setup
ChannelEngine
Home24 is a closed, Mirakl-based channel. Once your seller account is active, you can connect it to ChannelEngine using a Mirakl Connect SSO account. For more information on this, check out the Mirakl-based channels: SSO authorization article.
You can leave the Mirakl seller name field empty, as Home24 does not support repricing.
Sales channels
Note that unlike most Mirakl-based channels, you need a different account for each sales channel on Home24. Currently, the only sales channel available is Germany.
Invoice uploads
To configure your invoice settings, click Advanced settings. You can then click the dropdown menu Enable invoice uploading, which contains the following options:
ChannelEngine invoices - when ChannelEngine receives a shipment, it automatically generates an invoice and attaches it to the shipment.
Merchant invoices (optional) - when ChannelEngine receives a shipment, it exports it – even if there is no invoice attached to it.
Merchant invoices (required) - when ChannelEngine receives a shipment, it only exports it if an invoice is attached to it. If not, you receive a notification.
None - when ChannelEngine receives a shipment, it takes no action other than notifying you that no invoice is present.
Categorization
Categorization is mandatory if you want to create or update existing product information on Home24. Both categorizations and mappings only result in updates if the content connection is enabled, and the relevant credentials have been entered (see the Setup section).
Although product descriptions must be in German on Home24, the categorization and mappings are in English.
Mappings
Content
All products (required)
Brand - the brand or manufacturer of the product.
Delivery scope - type and quantity of items.
Depth/Length (cm) - the depth of the product, in centimeters.
EAN-13 - the 13-digit EAN of the product.
Height (cm) - the height of the product, in centimeters.
Main color - the main color of the product.
Main image (first) - the main image for your product.
Main material - the main material in the product.
Product ID - the unique number of the item in the seller's system.
Product name (in German) - the name of the product, in German.
Shipping condition - indicate how the product is shipped. The options are: Assembled, Disassembled, No assembly required, Partly assembled, Rolled.
Weight (kg) - the weight of the product, in kilograms.
Width (cm) - the width of the product, in centimeters.
All products (optional)
Miscellaneous (1-10) - the additional images of the product. 
Mood images - additional images that transfer the state of mind or emotions, and can help to increase sales and brand recognition. E.g.: a mood image can contain the product itself in the context of a photo.
Product description - it is recommended to add the main description of the product. Home24 supports the following HTML tags: p, br, ul, li, ol, b, strong, i, u. If your description contains no tags, Home24 improves its readability by converting the line breaks into br tags.
YouTube ID - add a link to your company's video on YouTube.
Variant name - the name of the product variant, in German.
Offer
Attributes such as Leadtime to shipment (the number of days before you ship the item), Logistic class (your optional shipping class), Offer state (the condition of your item), and Minimum quantity alert (so you receive a notification if the stock drops below a certain threshold) are common for Mirakl mappings.
Carrier
Carrier mapping is not required on Home24. However, you can map your carrier to a specific list of carriers maintained by Home24. This allows for working track-and-trace links in the back-end, as well as for the buyer. If your default carrier is missing, please contact Home24.
Listed products
If you have problems with products not appearing on Mirakl-based channels – especially if you are trying to create products –, check the Listed products section for more information.
You can either filter on Channel status (Invalid for all products that ChannelEngine has not exported, such as products with an empty EAN or products that currently do not exist on the channel) or use the Validation and feedback tab to see all known errors for specific products.
You can see detailed status reports in their Mirakl back-end. These reports contain specific errors if a product or product offer cannot be created. To find them, go to My inventory, Import from file, Track offer imports/Track product imports. By hovering over the 'i' under the Status section, you can see how many products in the file were processed correctly and how many had errors, etc.
If there are errors, the last column shows a downloadable file in which they are listed. The same goes for the product file import, but this can contain multiple files because processing goes through several systems. There is also a manual check of your submitted content, which, once approved, goes to staging as well. Note that you need to map as much as possible to prevent products from not being created.
FAQs
How often does each task run on Mirakl-based channels?
By default, Mirakl-based channels follow the schedule below:
| | |
| --- | --- |
| Task | Frequency |
| Export product data to channel | every 60 minutes |
| Export product offers to channel | every 15 minutes |
| Import product offers from channel | every 15 minutes |
| Import orders from channel | every 15 minutes |
| Export order shipments to channel | every 15 minutes |
| Export returns to channel | every 30 minutes |