Rue du Commerce: marketplace guide
About this guide
This is a ChannelEngine guide on the Paris-based marketplace Rue du Commerce. Here you can find information on how to request a Rue du Commerce account, how to configure this channel on ChannelEngine, what the specific requirements are, and more.
Table of contents
Channel-specific requirements and exceptions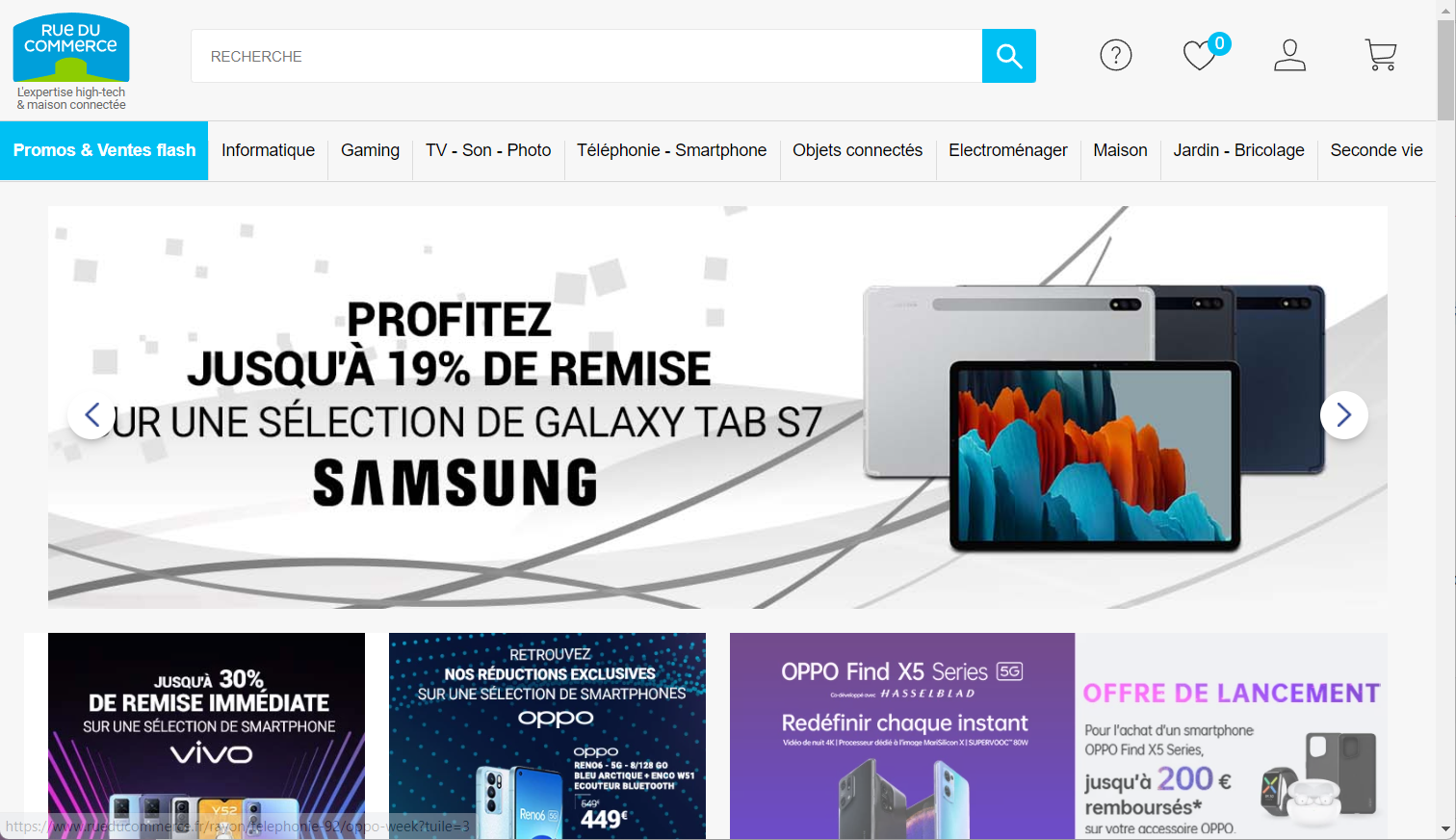 Commercial information
| | |
| --- | --- |
| Founded | 1999 |
| Founder | Patrick Jacquemin, Gauthier Picquart |
| Headquarters | Paris, France |
| Area served (orders) | France |
| Revenue | circa EUR 275 million |
| Number of monthly visits | circa 6 million |
| Website | Rue du Commerce |
| Setup cost | none |
| Commission | depends on the product category |
| Other costs | monthly fee of EUR 40.00 (incl. VAT) |
| Payment | every 10 days, on the 1st, 11th, and 21st of the month |
| Product categories | electronics, furniture, household appliances |
| Input language | French |
| Input currency | EUR |
| Content creation | yes |
| Minimum number of SKUs | no |
| Advertisement options | yes |
| Profile on ChannelEngine | Rue du Commerce |
How to request an account
To start selling on Rue du Commerce, contact them directly by:
Associated costs
Rue du Commerce charges a monthly fee of EUR 40.00 (incl. VAT). The commission fee percentage depends on the product category.
For key accounts, Rue du Commerce assigns a dedicated specialist. Also, there is a technical team available to help sellers.
Channel features
| | |
| --- | --- |
| Supported | Not supported |
| Product offers | Cancelations (channel) |
| Product content | Returns (channel) |
| Orders | Repricing |
| Shipments | Marketplace fulfillment service |
| Cancelations (merchant) | Product variations (size/color)* |
| Carrier mapping |   |
| Returns (merchant) |   |
* For more information, see the Channel-specific requirements and exceptions section of this guide.
Settings and configuration
Setting up each channel on ChannelEngine follows the same flow, once you add the channel:
Channel-specific requirements and exceptions
Rue du Commerce is the specialist in the French market. Its top categories are electronics and home furniture.
Rue du Commerce specifics:
Variations - Rue du Commerce does not create variations automatically. A group code is supported, but not grouped on the front-end.
Country ISO missing - Rue de Commerce does not place a country code on orders and sets the order country to France Métropolitaine. As many connected systems cannot handle the missing country code or the country name, ChannelEngine automatically converts it to FR.
Setup
On ChannelEngine
Rue du Commerce is a Mirakl-based channel, so you can connect it to ChannelEngine using a Mirakl Connect SSO account. For more information on this, refer to the Mirakl-based channels: SSO authorization article.
Invoice uploads
To configure your invoice settings, click Advanced settings. You can then click the dropdown menu Enable invoice uploading, which contains the following options:
ChannelEngine invoices - when ChannelEngine receives a shipment, it automatically generates an invoice and attaches it to the shipment.
Merchant invoices (optional) - when ChannelEngine receives a shipment, it exports it – even if there is no invoice attached to it.
Merchant invoices (required) - when ChannelEngine receives a shipment, it only exports it if an invoice is attached to it. If not, you receive a notification.
None - when ChannelEngine receives a shipment, it takes no action other than notifying you that no invoice is present.
Categorization
Categorization is mandatory if you want to create or update existing product information on Rue du Commerce. Both categorizations and mappings only result in updates if the content connection is enabled, and the relevant credentials have been entered (see the Setup section).
On Rue du Commerce, product descriptions, categorization, and mappings must be in French.
Mappings
Content
One mapping - Rue du Commerce sells on the French market only.
Missing brand or attribute - Rue du Commerce is very flexible towards new brands and new categories. if brands or attributes are missing in Rue du Commerce's PIM, you can send their technical team a request to create the item. New products created by the sellers are automatically checked by Mirakl first, then manually by Rue du Commerce's catalog team. This can take up to 3 days.
Translation tool - if your product content is not in French, consider using ChannelEngine's feature to generate product translations.
Prohibited terms - Rue du Commerce has a list of terms that are not allowed in titles and descriptions.
All products (required)
Brand - the product's brand.
Description courte (short description) - a short description of the product in French that includes the brand and the brand's product type number. E.g.: Lenco LS-440GY
Description longue (long description) - a long description of the product in French. HTML tags and videos are allowed. E.g.: L'ensemble karaoké complet BTC-070 de Lenco apporte la touche finale à votre fête.
Désignation courte (short name) - the unique title of the product in French.
EAN 13 - the 13-digit EAN of the product.
Identifiant de l'article (product ID) - vendor product number.
URL image 1 - the image requirements are:

Maximum size per image - 10 MB.
Minimum resolution - 600x600 px.
Accepted formats - .jpeg, .gif, .png.
First image on a white background, others with details and ambiance/situation.
All products (optional)
Code de regroupement articles (Variant group code) - enables group variations of the same product. E.g.: a t-shirt with different colors and/or different sizes.
Complément garantie (Includes warranty) -

information on whether warranty is included.

Créateur d'article (Manufacturer) - the product's manufacturer.
Désignation longue (Long name) - long product title.
Garantie constructeur (mois) (Warranty) - represents the warranty in months.
Référence fabricant (reference number manufacturer) - manufacturer id.
Titre SEO (SEO title) - optimized title for search engines.
Type de produit (Product type) - the product type.
URL image 2-5 - Rue du Commerce recommends adding as many images as possible. See URL image 1 for the image requirements.
URL notice PDF - the URL of the notice PDF that describes product-specific use rights and restrictions, warranty periods, warranty upgrades, and maintenance (support) terms.
URL vidéo - the URL of the video.
Offer
The only mandatory offer mapping is Price, which is your desired sale price.
Attributes such as Leadtime to shipment (the number of days before you ship the item), Logistic class (your optional shipping class), Offer state (the condition of your item), and Minimum quantity alert (so you receive a notification if the stock drops below a certain threshold) are common for Mirakl mappings.
Working with discounts
Do not leave the Discount end date attribute unmapped. If you want to set a permanent discount, use a date in the far future instead. Otherwise, the offer is not exported, and errors are shown under the Validation and feedback tab.
If your discounted price is not lower than the base price, it is not exported.
The Discount quantity threshold must be set to a value higher than 1, otherwise it is not exported.
NB:
Rue du Commerce organizes global and targeted sales events on a regular basis. To participate in those events, speak with your contact person at Rue du Commerce. Flash sales (i.e.: 72 hours at most) can be configured directly on ChannelEngine.
Pricing
Depending on the kind of product you sell, Rue du Commerce pricing requires you to specify eco-contribution separately and include it in the selling price. For more details on AGEC Law (Anti-Waste Circular Economy) and its consequences, refer to Rue du Commerce's AGEC Act Regulation instructions.
Listed products
If you have problems with products not appearing on Mirakl-based channels – especially if you are trying to create products –, check the Listed products section for more information.
You can either filter on Channel status (Invalid for all products that ChannelEngine has not exported, such as products with an empty EAN or products that currently do not exist on the channel) or use the Validation and feedback tab to see all known errors for specific products.
You can see detailed status reports in their Mirakl back-end. These reports contain specific errors if a product or product offer cannot be created. To find them, go to My inventory, Import from file, Track offer imports/Track product imports. By hovering over the 'i' under the Status section, you can see how many products in the file were processed correctly and how many had errors, etc.
If there are errors, the last column shows a downloadable file in which they are listed. The same goes for the product file import, but this can contain multiple files because processing goes through several systems. There is also a manual check of your submitted content, which, once approved, goes to staging as well. Note that you need to map as much as possible to prevent products from not being created.
FAQs
How often does each task run on Mirakl-based channels?
By default, Mirakl-based channels follow the schedule below:
| | |
| --- | --- |
| Task | Frequency |
| Export product data to channel | every 60 minutes |
| Export product offers to channel | every 15 minutes |
| Import product offers from channel | every 15 minutes |
| Import orders from channel | every 15 minutes |
| Export order shipments to channel | every 15 minutes |
| Export returns to channel | every 30 minutes |