refurbed: marketplace guide
About this guide
This is a ChannelEngine guide on the Vienna-based marketplace refurbed. Here you can find information on how to request a refurbed account, how to configure this channel on ChannelEngine, what the specific requirements are, and more.
NB:
this guide covers the setup of refurbed's v2 channel. If you are using the Channel API version of the channel, make sure to migrate it accordingly.
Table of contents
Channel-specific requirements and exceptions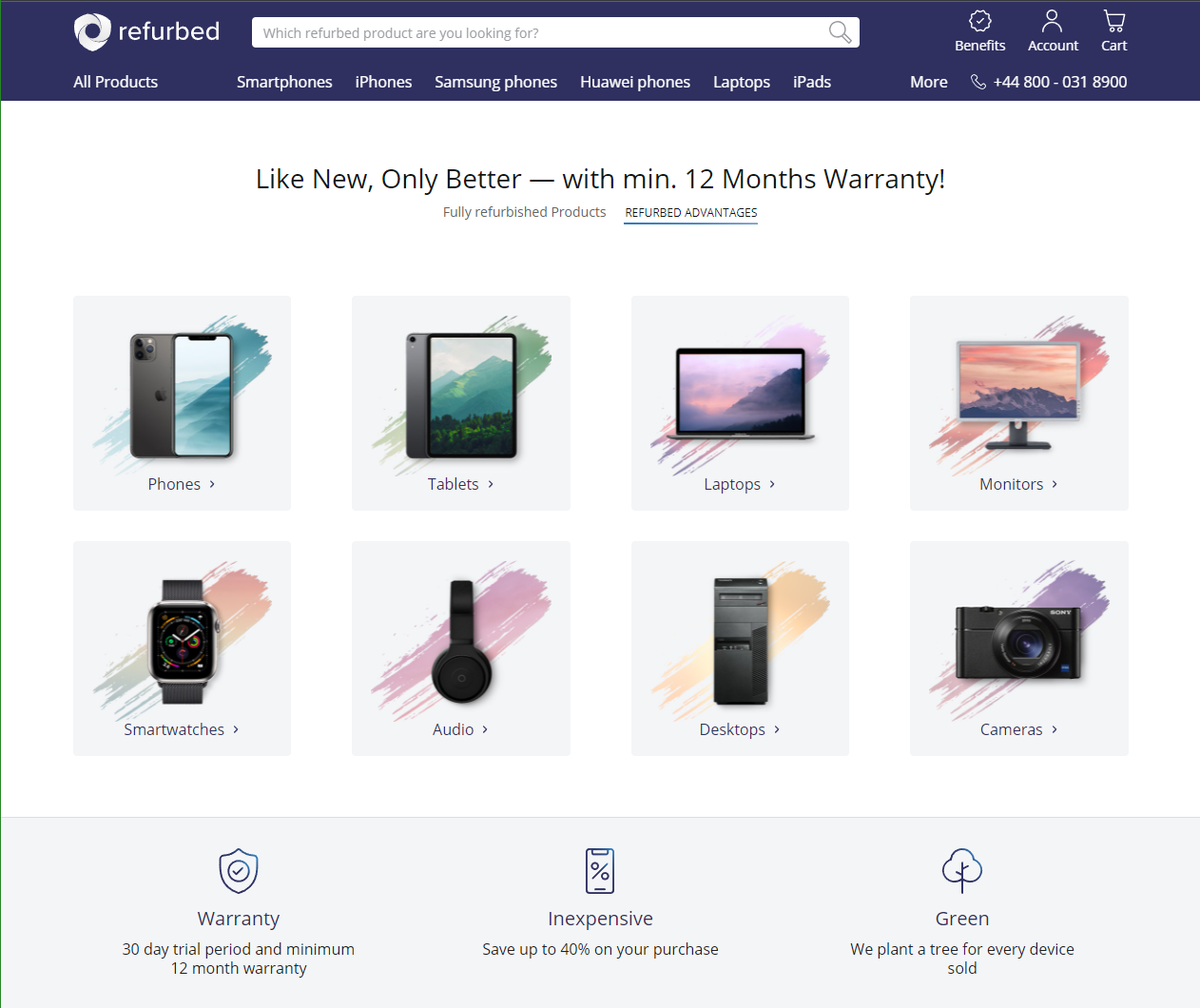 Commercial information
| | |
| --- | --- |
| Founded | Feb 17, 2017 |
| Founders | Jürgen Riedl, Kilian Kaminski, Peter Windischhofer |
| Headquarters | Vienna, Austria |
| Area served (orders) | Austria, Belgium, Bulgaria, Croatia, Cyprus, Czech Republic, Denmark, Estonia, Finland, France, Germany, Greece, Hungary, Iceland, Ireland, Italy, Latvia, Liechtenstein, Lithuania, Luxembourg, Malta, Netherlands, Norway, Poland, Portugal, Romania, Slovakia, Slovenia, Spain, Sweden, Switzerland, United Kingdom |
| Revenue | EUR 100 million (2020) |
| Website | refurbed |
| Setup cost | none |
| Commission | 8.5-10%, depending on the category |
| Other costs | none |
| Payment | from daily to monthly, depending on the performance profile of the merchant |
| Product categories | refurbished |
| Input language | English, German |
| Input currency | EUR, PLN, SEK, DKK |
| Content creation | no |
| Minimum number of SKUs | no |
| Advertisement options | no |
| Profile on ChannelEngine | refurbed |
How to request an account
To start selling on refurbed, either send an email to them with your contact information or go to the refurbed merchant application page and submit the data requested.
Associated costs
refurbed does not charge a setup or monthly fee. However, it does charge a commission fee varying from 8.5% to 10%, depending on the product category.
Channel features
| | |
| --- | --- |
| Supported | Not supported |
| Product content | Carrier mapping |
| Product offers (SKU matching) | Marketplace fulfillment service |
| Product variations (color/size) | Pick-up point |
| Orders |   |
| Cancelations |   |
| Shipments |   |
| Returns |   |
| Repricing |   |
| Refurbished products |   |
| Sales channels* |   |
* A marketplace that supports sales channels allows merchants to list and sell products across multiple markets (e.g.: countries, regions, and states), all from the same connection.
Settings and configuration
Setting up each channel on ChannelEngine follows the same flow, once you add the channel:
Channel-specific requirements and exceptions
Setup
On ChannelEngine
Go to the Setup page of your refurbed channel and enter your API key in the Connection section, then click Save.
To use refurbed's repricer, select a country from the Supported market for repricer dropdown menu. You can only use it for one country at a time.
Mappings
Content
There are no content mappings on refurbed, so all attributes are listed under Offer mappings.
Offer
All products (required)
Reference currency code - the code for the currency used in the Reference price attribute. E.g.: CZK, EUR, GBP, etc.
Grading - the condition of the product. To find the valid conditions, check out the refurbed seller guide.
Reference price - the price used as a reference when the product is sold in markets with a different currency. refurbed handles the currency conversion.
Shipping profile primary ID - the ID of the primary shipping profile set in the refurbed back-end. E.g.: 77.
SKU - the product's Merchant product number. Note that a product sold in different gradings needs a unique SKU per grading.
Taxation - the type of taxation that applies to the product. E.g.: gross.
Warranty - the product's warranty, indicated in months. E.g.: M18.
All products (optional)
[country code] override currency code - a currency code override. Map it in combination with the [country code] active override and [country code] override price or [country code] override min. price attributes to set a different currency and price for a specific country. E.g.: HUF 199,999, instead of the value refurbed converts to based on EUR 500.
[country code] active override - defines if an override is active or not.
[country code] override min. price - sets a minimum price for the product in that specific country.
[country code] override price - sets a different price for the product in that specific country.
GTIN - the product's unique identifier, such as its EAN. If the product's SKU is known to refurbed, you can leave this attribute empty.
Shipping profile secondary ID - the ID of the secondary shipping profile set in the refurbed back-end.
Carrier
There is no carrier mapping required on refurbed. However, you need to submit a valid tracking code with every shipment.
Listed products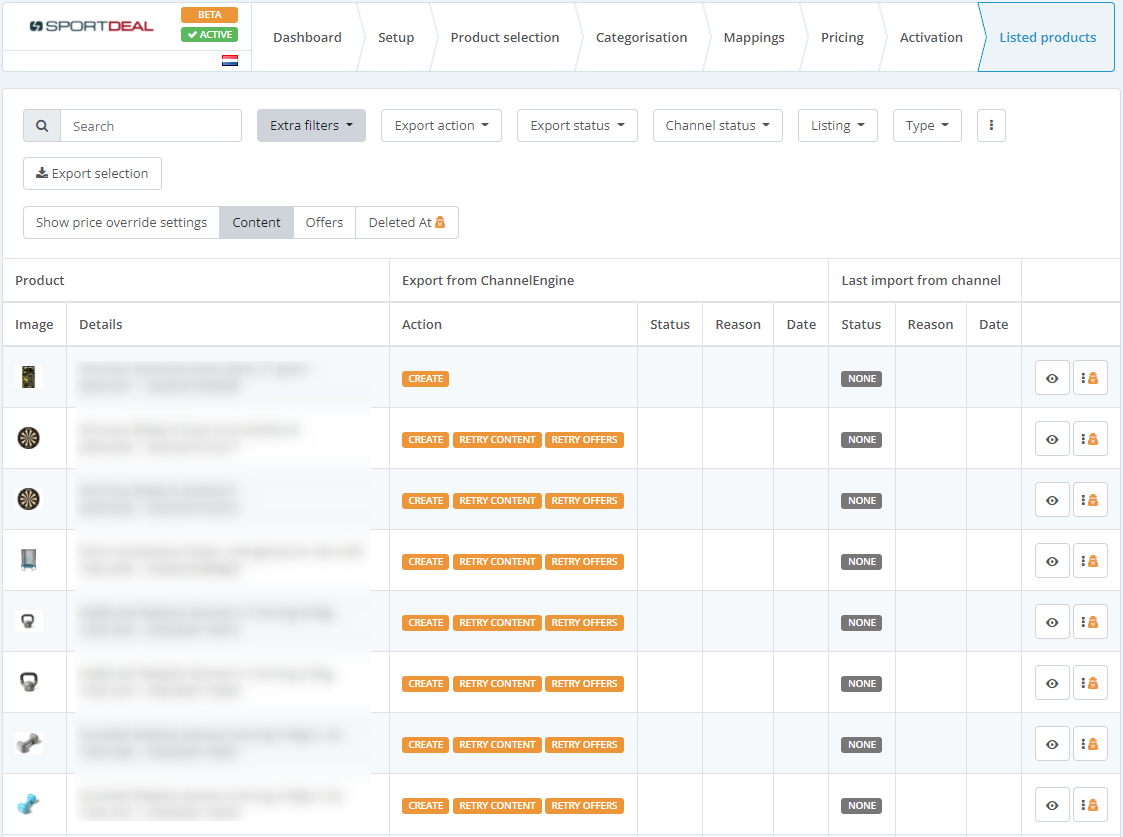 refurbed provides some feedback via the API, including the status of offers and errors related to shipping profiles or tracking codes.
Additional information
Order extra data items
When an order is imported to ChannelEngine, ChannelEngine also fetches extra data items related to the order itself – or to order lines. This extra data is specific to this marketplace. An explanation of each can be found below: 
Order line extra data
| | |
| --- | --- |
| Key | Description |
| OfferId | The ID of the offer from the channel order.  |
| IsRefundable | Related to refund handling. If the value is true, a full refund will be issued for the order item during the return process. If false, no refund will take place.  |
| ShippingProfileId | Refers to the id of the shipping method selected by the buyer at checkout. Take this into account when shipping the order. |
| SettlementTotalPaid | The total paid amount for the channel order.  |
| Shipping_Method | The shipping carrier selected to fulfill the delivery of the order.  |
* Conditional fields only display if the channel provided a value. 
FAQs
Is it possible to create products on refurbed?
The inclusion of products that are not listed in refurbed's catalog can be requested via email. If your requested product is approved, refurbed provides you with a unique ID that can be used to connect the offer with your product's SKU.
How does refurbed's repricer work?
Via the Mappings page, you can set a reference price and a reference minimum price. This setup, combined with parameters such as the quality of your products, good inventory management, fast shipping times, and quick response times to customer inquiries, are taken into consideration by refurbed when awarding the buy box.