Spartoo: marketplace guide
About this guide
This is a ChannelEngine guide on the Grenoble-based marketplace Spartoo. Here you can find information on how to request a Spartoo account, how to configure this marketplace on ChannelEngine, what the specific requirements are, and more.
Table of contents
Marketplace-specific requirements and exceptions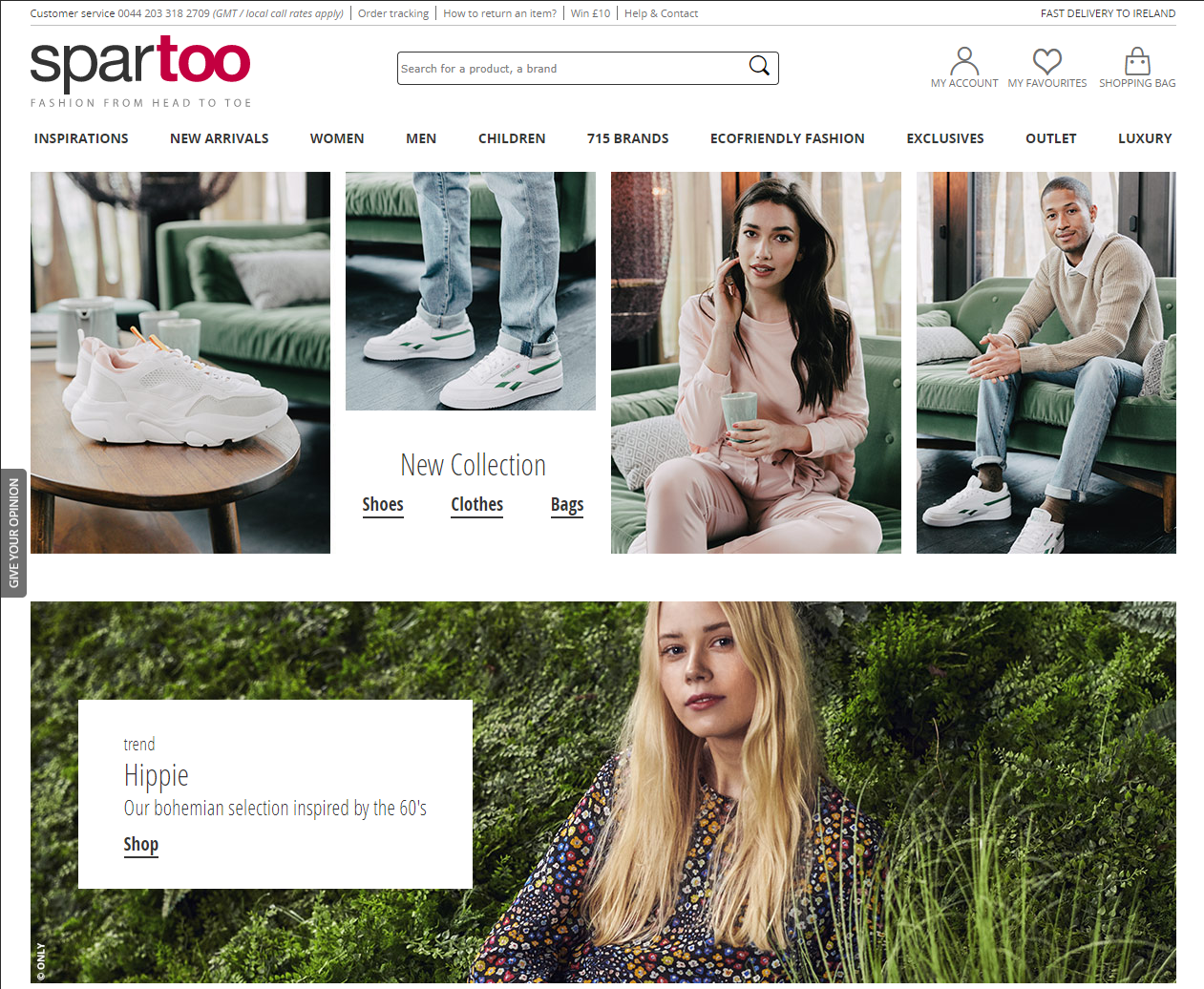 Commercial information
| | |
| --- | --- |
| Founded | May 12, 2006 |
| Founder | Boris Saragaglia |
| Headquarters | Grenoble, France |
| Area served (orders) | 30+ European countries |
| Revenue | circa USD 70 million (2020) |
| Number of monthly visits | circa 5 million |
| Website | Spartoo |
| Setup cost | none |
| Commission | 15-20% |
| Other costs | EUR 99.00/month |
| Payment | once/month |
| Product categories | fashion (clothing, shoes, bags, accessories, etc.) |
| Input language | depends on the country |
| Input currency | EUR |
| Content creation | yes |
| Profile on ChannelEngine | Spartoo |
How to request an account
To start selling on Spartoo, contact them via email to discuss the process with an account manager. Make sure to include the following details in your email:
Your name
Your company's name
Your company's address
Your company's website
Your email address
Your phone number
Your company's default carrier
Your company's product types and brands
For more information on partnering with Spartoo, check out their marketplace page.
NB:
you can list your products on multiple countries from a single Spartoo instance. However, you can only list products on countries enabled on your account by Spartoo. Also, the domains in certain countries act as the front-end for all countries that use the same language. E.g.: Spartoo redirects customers from French Switzerland to spartoo.com, German Switzerland to spartoo.de, Spanish Latin America to spartoo.es, etc.
Associated costs
Spartoo charges a monthly fee of EUR 99.00, as well as a category-based commission on every sale (15-20%).
Prerequisites
As Spartoo is a marketplace focused on fashion, parent-child relationships are very important. All product data comes from the parent products, therefore, they must have the following attributes:
Price - must be higher than 1.00, otherwise ChannelEngine tries to fetch the price value of the first variant. A value of zero on the parent level is not accepted, resulting in failure to create the product and its variants.
Color
Description
Title
Brand
Sex/Gender
Style/Category
Images
Composition - material, if applicable.
Heel height - if applicable.
List price - must be higher than 1.00, otherwise no discount (from/for pricing) is exported.
The only attributes used from individual child products are:
NB:
these are not mappable attributes, so make sure that your parent products have all the required information on the ChannelEngine level. Otherwise, attempting to create products on Spartoo results in issues.
Marketplace features
| | |
| --- | --- |
| Supported | Not supported |
| Product offers | Repricing |
| Product content | Marketplace fulfillment service |
| Product variations (sizes/colors) | Carrier mapping |
| Orders | Bundles |
| Cancelations |   |
| Shipments |   |
| Returns (marketplace) |   |
| Sales channels* |   |
* A marketplace that supports sales channels allows merchants to list and sell products across multiple markets (e.g.: countries, regions, and states), all from the same connection.
Settings and configuration
Setting up each channel on ChannelEngine follows the same flow, once you add the channel:
Marketplace-specific requirements and exceptions
Setup
On Spartoo
To retrieve the required Seller ID for webservices, go to Spartoo's back-end and click Home,  Information. This ID does not change based on the country where you are or on the countries where you make your products available within Spartoo.

On ChannelEngine
Go to the Setup page of your Spartoo marketplace and add the Seller ID for webservices accordingly.
Categorization

Categorization is mandatory on Spartoo. Each of their categories is represented by a unique number. All values available can be found by selecting the Browse option on the Categorization page.
Mappings
Content
All products
Spartoo does not require many attributes. However, as multiple countries are supported, you need to map certain attributes per country.
Color - the product's color. If not specified, the product does not appear when potential buyers filter by color.
Description [country] - the product's description, written in the language of the specific country.
Name [country] - the product's name. It should not contain the category, color, or brand of the product. Note that the product's name must be written in the language of the specific country. The maximum number of characters allowed is 69, including spaces.
Price [country] - the product's price for the specific country.
The Catalog price can also be mapped per country if you want to use discount prices (from-for), though this is not required.
To participate in Spartoo's special sales events, which usually take place in the summer and winter, you need to set the Start date sale period and End date sale period accordingly. This must be done for each country where you want to offer a sale, as the exact period can vary per country.
Offer
Spartoo does not have dedicated offer attributes. If you sell in multiple countries, the default price field is not used – and price rules are not applied.
Carrier
Spartoo does not support carrier mapping, therefore this section is not visible. Your default carrier is set in Spartoo's back-end under Home, Shipping.
Pricing
There are three things to note when dealing with pricing on Spartoo:
If you select multiple countries to ship your products to, generic price rules are not applied. However, you can use price rules for specific attributes – and map these to calculate individual prices per Spartoo country, as shipping costs have a maximum.
Currency conversion is not required. For countries that have a different currency other than EUR, Spartoo handles the conversion themselves.
The price set on the parent level is the price of all individual sizes. If you have different prices within one product (e.g.: XS t-shirt for EUR 13.95 and XL t-shirt for EUR 16.95), it is recommended that you set the highest variant price as the parent's product price.
Activation
Before activating the channel, provided that all statuses are checked and green, make sure with your account manager at Spartoo that the overwriting option for content import is not active. If this option is still active, ask them to disable it before proceeding with the activation – otherwise your product data exports may result in existing product data being deleted.
Additional information
Order extra data items
When an order is imported to ChannelEngine, ChannelEngine also fetches extra data items related to the order itself – or to order lines. This extra data is specific to this marketplace. An explanation of each can be found below: 
Order extra data
| | | |
| --- | --- | --- |
| Key | Conditional* | Description |
| Domain | No | The domain from which the order originates. |
| Shipping_method | No | Shipping method name for the channel order, indicating the carrier/method to be used to deliver the order.  |
* Conditional fields only display if the channel provided a value.
FAQs
Why are my products not immediately visible?
New products need to be checked by Spartoo, so it may take several hours before exported products are visible in your account and on the website.
How do I participate in Spartoo's special sale periods?
If you want to be included in Spartoo's special sale (usually during the summer months and in winter), a few optional (content) mappings are required. More information on specific sale periods on Spartoo.com and other portals can usually be found in the news section on the Spartoo backend.
Requirements

You need to have at least one country selected on the Setup page of this marketplace on ChannelEngine, otherwise, you do not see the settings below.
Mapped Catalog prices for each country you wish to set up a sale. This is used as your 'from' price.
Mapped Start date sale period for each country you wish to set up a sale. This needs to be a valid date, within the sale period communicated by Spartoo.
Mapped End date sale period for each country you wish to set up a sale. This needs to be a valid date, within the sale period communicated by Spartoo.
If any of these are empty or invalid, no sales dates are submitted to Spartoo. Make sure your Catalog price has a higher value than your price, otherwise, you may see odd from-for pricing. This results in a discount section included in the export to Spartoo.
If all three sales attributes are empty or invalid, only the regular price (which is mapped at Price (country code) is submitted to Spartoo.