Beslist: marketplace guide
About this guide
This is a ChannelEngine guide on the Arnhem-based marketplace Beslist. Here you can find information on how to request a Beslist account, how to configure this channel on ChannelEngine, what the specific requirements are, and more.
Table of contents
Channel-specific requirements and exceptions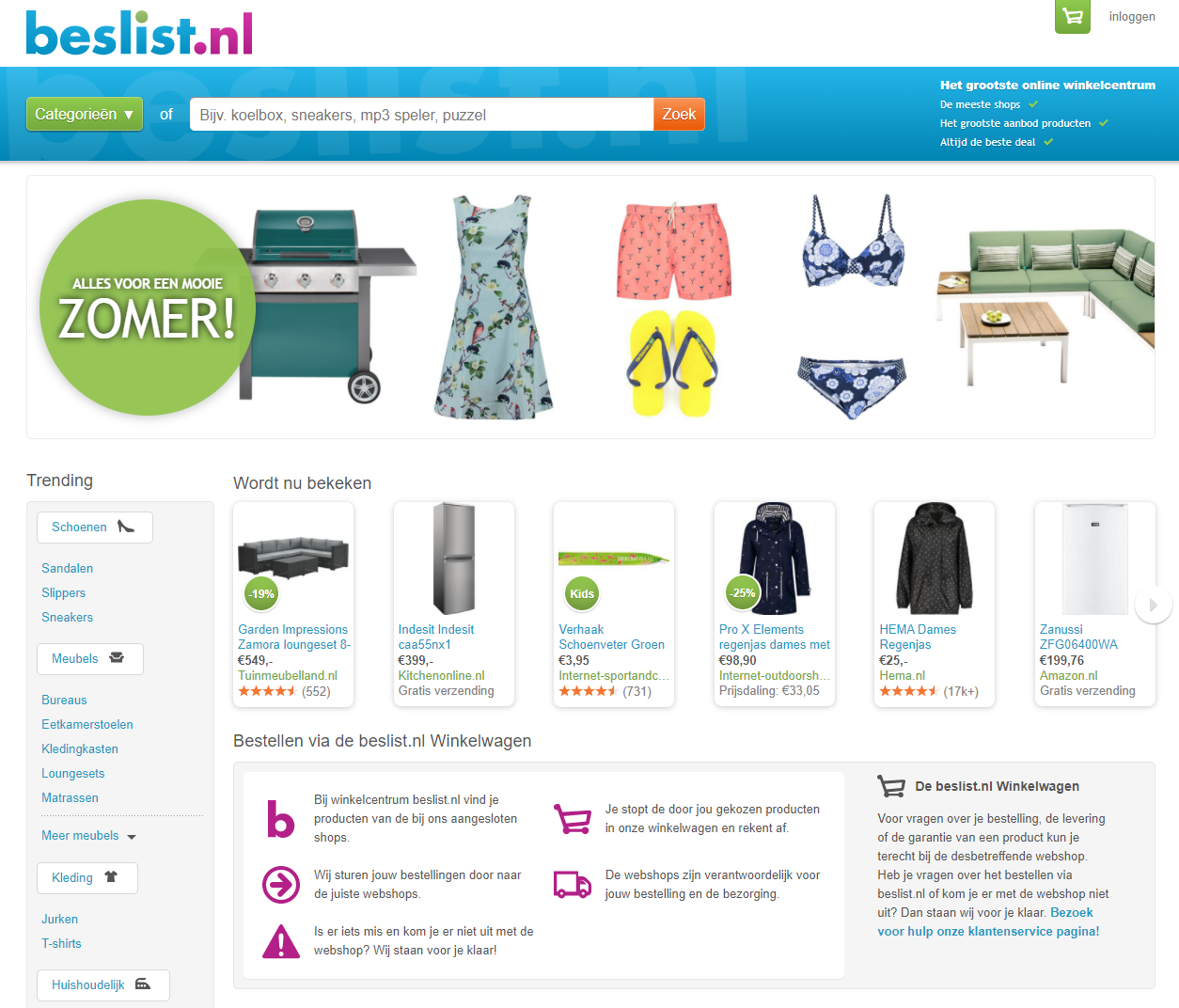 Commercial information
| | |
| --- | --- |
| Founded | 2005 |
| Founder | Kees Verpalen |
| Headquarters | Arnhem, the Netherlands |
| Area served (orders) | Belgium, the Netherlands |
| Number of daily visitors | 350,000 (2017) |
| Website | Beslist BE and Beslist NL |
| Setup cost | none |
| Commission | category- and business model-based commission (3-15%) |
| Other costs | none |
| Product categories | furniture, lighting, clothes, appliances, shoes, car accessories, and more |
| Input language | Dutch |
| Input currency | EUR |
| Content creation | yes |
| Profile on ChannelEngine | Beslist |
How to request an account
Before you use Beslist as a channel, you need to sign up for an account. You can do this by calling them (0263190410) or by emailing them. For more information on what requirements you must comply with, check out Wanneer is beslist.nl voor jou een geschikt verkoopkanaal? (When is beslist.nl a suitable sales channel for you?) on Beslist's website.
After providing you with an account, Beslist checks a product feed that has to be generated before you can start selling products. This feed can be found on ChannelEngine, once the channel has been created and a product selection has been set up. Only after Beslist's approval you receive the necessary API and XML order keys to use their shopping cart.


Associated costs
Beslist does not charge a monthly fee, working solely with a category- and business model-based commission (3-15%).


Channel features
| | |
| --- | --- |
| Supported | Not supported |
| Product offers | Cancelations |
| Product content | Shipments |
| Orders | Returns |
| From/for prices | Automatic relationships |
| Product variations (sizes/color) | |
NB:
Beslist only offers automated product listing and orders via their shopping cart/API. There is no way or need to send actual shipments to Beslist. Furthermore, Beslist does not offer automated cancelations and returns.
Settings and configuration
Setting up each channel on ChannelEngine follows the same flow, once you add the channel:
Channel-specific requirements and exceptions
Setup
On ChannelEngine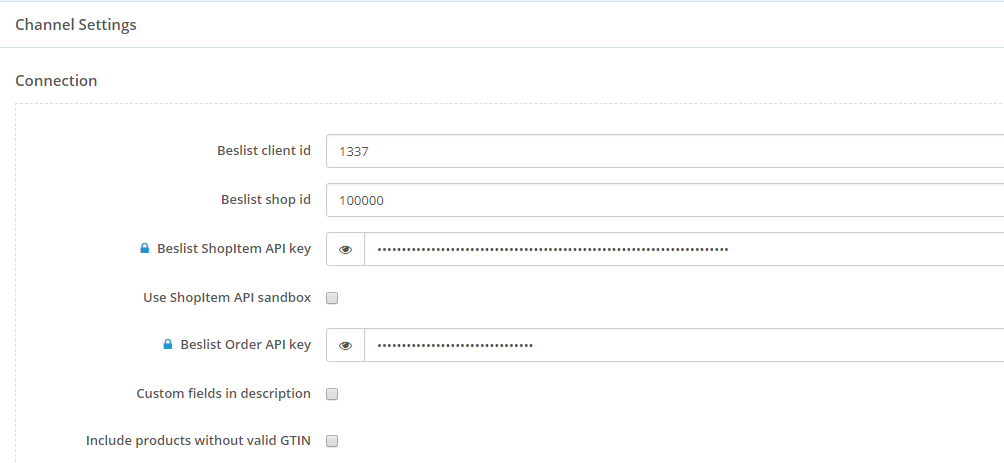 The required Client ID and Shop ID are provided when you create an account on Beslist. However, the ShopItem API Key and Order XML API Key are only provided after Beslist approves your product feed.
NB:
if you use Beslist as a marketplace, rather than as an affiliate network/click channel, make sure to expand the Advanced settings under the Setup tab and enable the Use shop API feature. Otherwise incoming orders are not imported accordingly to ChannelEngine.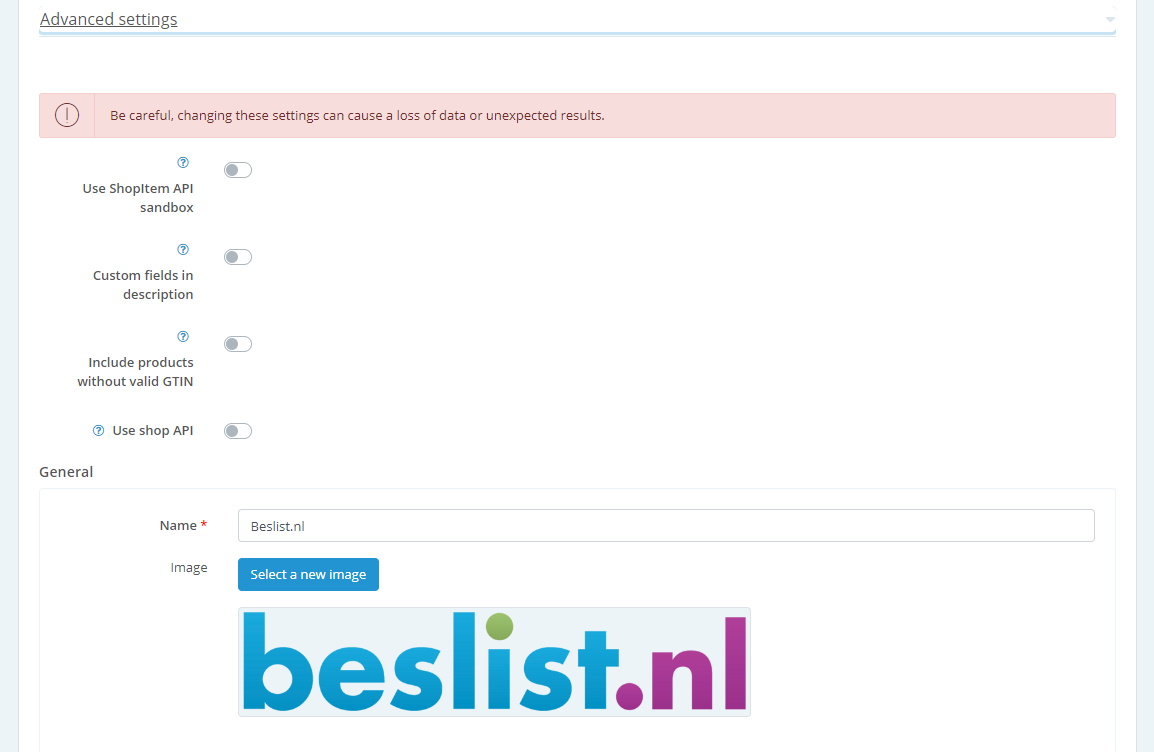 Product selection
To generate a product feed, you need to create a selection of all the products you want listed on Beslist first. Note that after saving the selection, it can take up to one hour for the feed to be generated for the first time. After that it is re-generated hourly. Beslist reads the feed hourly as well, so a more frequent generation has no effect on the processing speed of changes.
You can find the product feed location on ChannelEngine, under the Product selection tab. This uniform resource locator (URL) never changes, unless you remove the channel and re-add it later.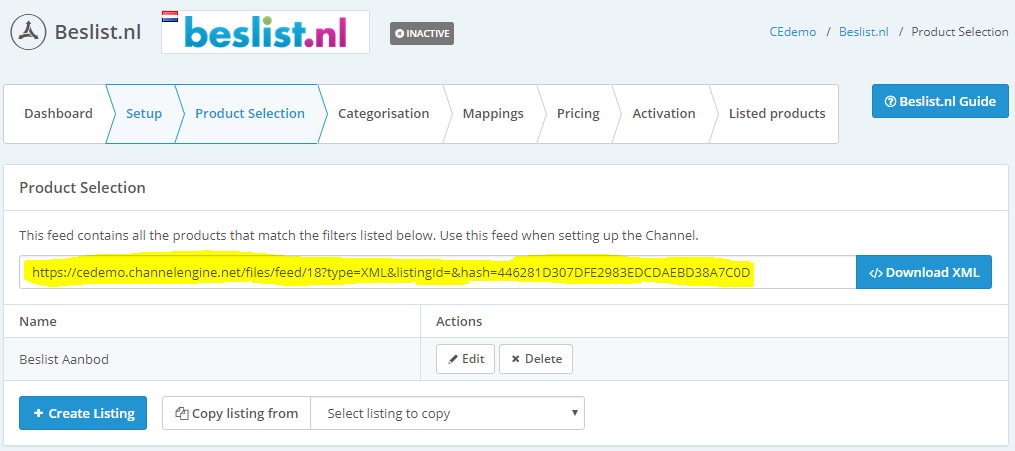 NB:
to prevent Beslist from rejecting your initial product feed, you need to map your categories (unless you already have distinct sub-categories) and map your attributes (e.g.: delivery times, shipping costs, etc.). Make sure to go through this entire guide before submitting the URL to Beslist.
Categorization
Beslist has it own category tree, though it is not mandatory. If you have very specific sub-categories (e.g.: bicycles > bicycle parts > bells), Beslist is likely to approve them. If you have very global categories (e.g.: sale, collection 2021), it is highly recommended to map these to relevant Beslist categories – by using advanced rules, for example.
Mappings
Content
If you used the categorization to map to Beslist's own categories, you see All products and a list of categories that were mapped.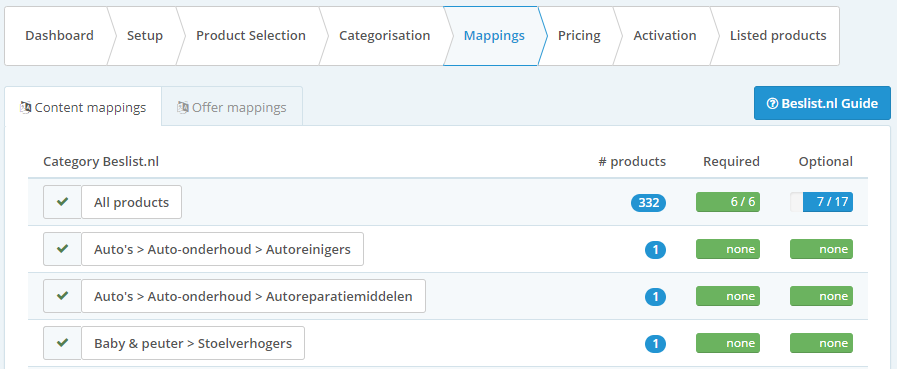 Since Beslist does not have any category-specific attributes, you only need to select All products for content mapping. There are six mandatory attributes which need to be filled in so your products are accepted by Beslist, as well as 17 optional attributes. It is highly recommended to map these as well if you have the required information. In general, more content leads to higher conversion.
Below is an overview of Beslist's product types, showing which attributes are mandatory, recommended, and optional: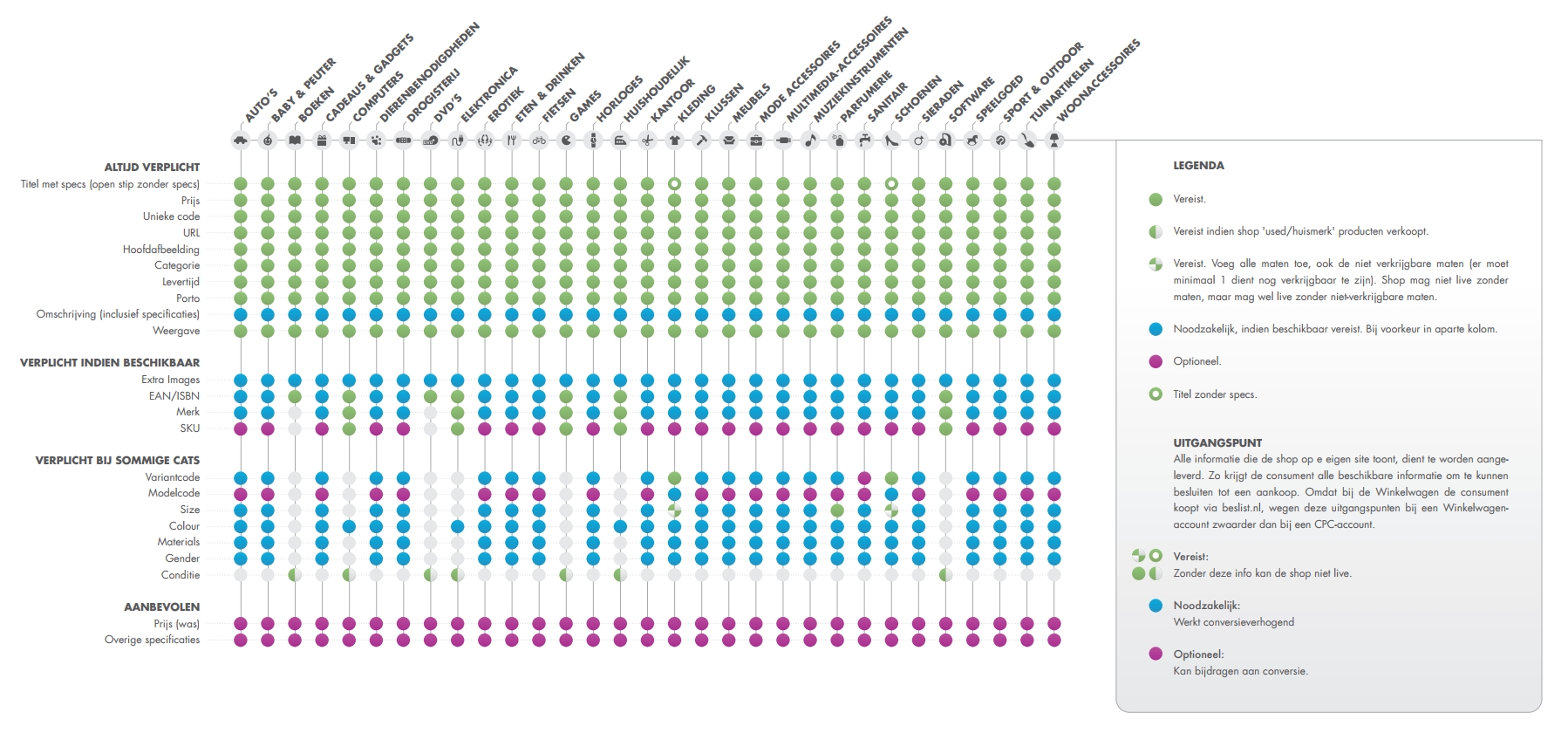 Green = obligatory (the store does not go online without this information)
Blue = recommended when available (for conversion improvement)
Purple = optional
Offer
There are five attributes that must be mapped: Price, Shipping costs for NL, Shipping costs for BE, Delivery time for NL, and Delivery time for BE.
NB:
all of these attributes have to be filled and matched, no matter the information listed on your own website. Therefore, you should not use price rules to increase or decrease prices, as this causes them to mismatch. E.g.: if you have product A on your website with shipping costs of EUR 9.95 to Belgium and EUR 4.95 to the Netherlands, and EUR 14.95 and EUR 8.95 in your mapping/feed, Beslist rejects the feed. Therefore, make sure these attributes match before submitting the feed to Beslist.
FAQs
Where can I find the feed location Beslists needs?
The URL of the Beslist feed can be found under the Product selection tab of the channel. Note that this URL remains the same, but it is not correctly filled with products until a filter is created.
Where can I set the shipping time and costs for Belgium and the Netherlands?
These can be configured under the Mappings tab of the channel. If you have the attributes for Shipping time and Shipping costs mapped, you can use the respective ChannelEngine attributes for this. Alternatively, you can use advanced rules if the shipping costs depend on the weight, for instance, by creating a rule which uses that attribute. If you do not have any shipping costs or shipping times in your product data, you can use Fixed value to manually set these for all products.
How can I use the correct categories on Beslist?
Under Categorization you can see an overview of all known categories of your products. You can map these to the available categories used by Beslist. If you want a complete overview of all possible options, select Browse.
Why is the 'Export offers to channel' task failing for Beslist?
When activating the channel, all possible tasks are automatically activated and scheduled for regular intervals. However, ChannelEngine cannot use Beslist's Order XML/API unless it has the correct API keys. These are provided by Beslist after your product feed is approved.
Where can I set the variants/variant IDs?
This is done automatically, based on the parent-child relationships between your products on ChannelEngine.