ChannelEngine: how to configure notifications
About this article
This article describes the notification system within ChannelEngine, how to enable it, and how to configure it.
Introduction
The ChannelEngine web interface offers a notification inbox, informing you of events such as new orders, as well as system-wide updates that affect your environment. You can customize your notification settings by indicating how often you would like to receive them, and in which format.
Notification types
You may receive notifications related to the following tasks and events: 
Orders - new order address correction required, order overdue, order anonymized, failed export
Returns - new return, return canceled, failed return import
Shipments - failed shipment export
Feeds - failed conversion, failed feed validation
General - invalid setting, custom messages, announcements or important messages from ChannelEngine 
Notification inbox
To access access the notification inbox, click the speech bubble (🗨) at the top of the ChannelEngine interface. To view all notifications in the inbox, click View all posts ✉ in the notification popup. 
Configuring notifications
To change how and when you are notified:
Click your username in the top right corner of the ChannelEngine interface.
Click Account settings.
Click Notification settings.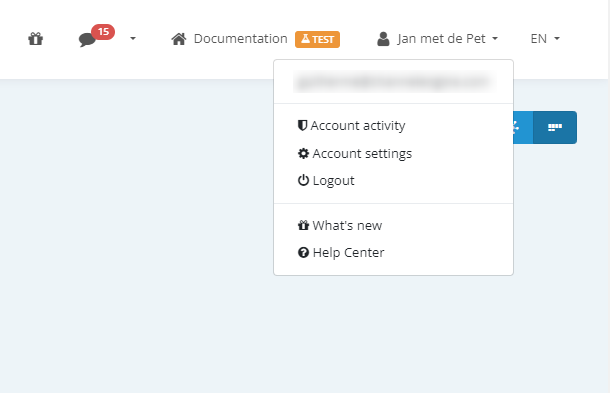 You can choose how often you want to receive notifications per type. Three different options are available: 
Daily digest per email - all notifications generated within the last 24 hours are collected into a single email digest.
One email per notification - a separate email is sent for every individual notification generated.
Show in the notification center - no emails are sent, and the notifications can only be accessed in the notification inbox within ChannelEngine.
Order and return message settings
Clicking the relevant box next to each notification type allows you to determine your notification schedule and format. Deselecting all options for a specific notification type will mean that you no longer see them in your inbox. They will still be generated, but they will be hidden via a filter. If another user with access to the same environment has enabled notifications for this same type, then they will still be able to view them.  
NB:
notification settings are configured per user. If you select the option to receive emails for new orders, only you receive these emails – not all users who can access the tenant.
Sticky notifications
From time to time, ChannelEngine sends notifications to its customers. These could be a heads up regarding scheduled maintenance, for instance, or a call to action related to an update from a marketplace. These notifications are 'stuck' to the top of your Dashboard on ChannelEngine until the set end date has passed.