StyleSearch: channel guide
About this guide
This is a ChannelEngine guide on the Amsterdam-based affiliate channel StyleSearch. Here you can find information on how to request a StyleSearch account, how to configure this channel on ChannelEngine, what the specific requirements are, and more.
Table of contents
Channel-specific requirements and exceptions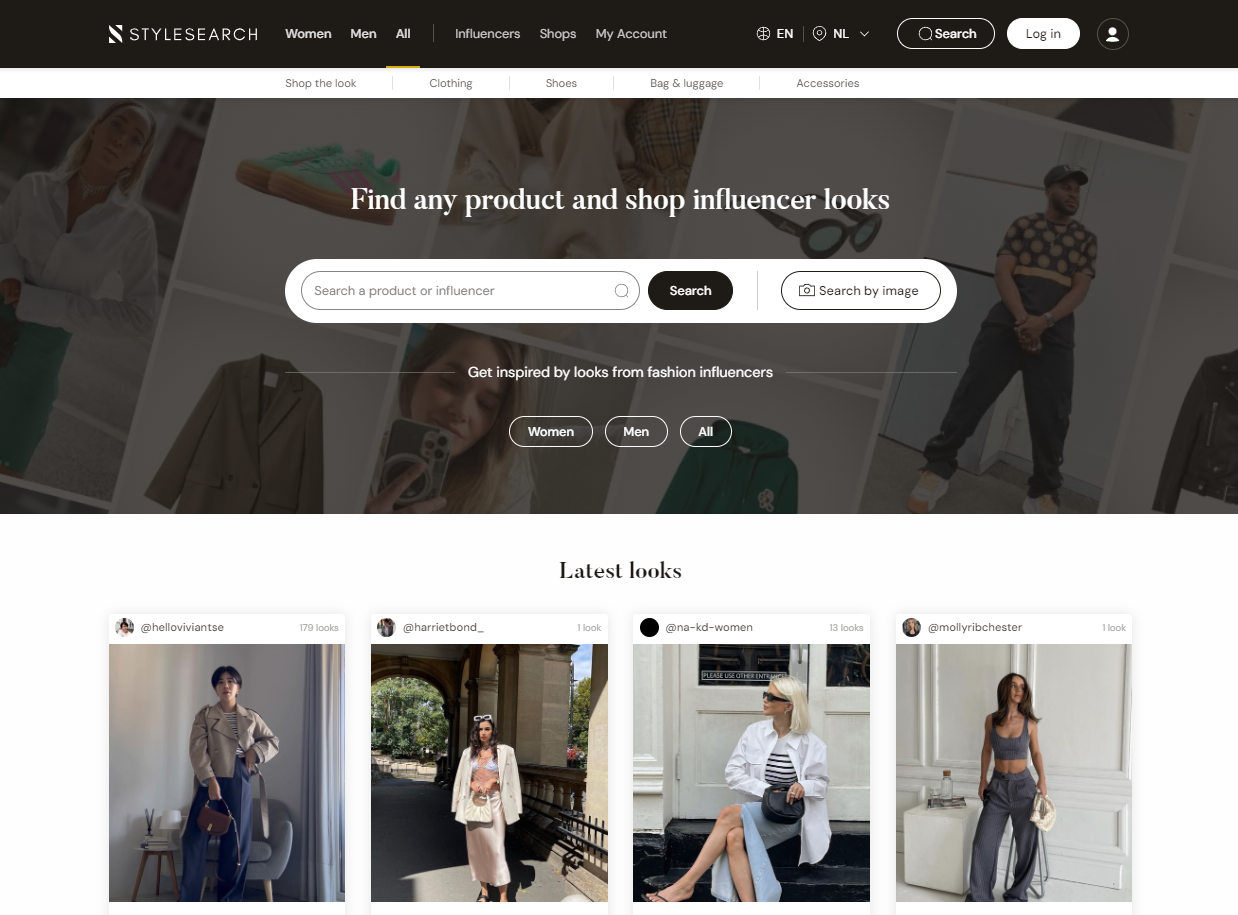 Commercial information
| | |
| --- | --- |
| Founded | 2020 |
| Founders | Orpheo Bena, Noud van den Eerenbeemt |
| Headquarters | Amsterdam, Netherlands |
| Area served (orders) | Belgium, Germany, Italy, Netherlands, United Kingdom, United States |
| Number of monthly visits | circa 70,000 |
| Website | StyleSearch |
| Setup cost | none |
| Commission | see Associated costs section |
| Other costs | none |
| Payment | via your own webshop |
| Product categories | fashion, shoes/bags/luggage |
| Input language | Dutch, English |
| Input currency | EUR, GBP, USD |
| Content creation | yes |
| Minimum number of SKUs | no |
| Advertisement options | yes |
| Profile on ChannelEngine | StyleSearch |
Introduction
StyleSearch is a fashion search engine that utilizes image-recognition technology to assemble a personalized assortment of clothing from various brands and sellers within a single platform. Users can create their own profiles and update their preferences so that results are returned based on their individual tastes and styles. StyleSearch streamlines the online fashion shopping process for buyers and simultaneously operates as a click-and-ad channel for brands and retailers, enabling them to expand their reach and target a broader audience.
How to request an account
To start utilizing StyleSearch, contact them via the contact form on their website. After your initial contact, they assess whether your products are a good fit for StyleSearch. If your products align, you'll receive a proposal document outlining different packages based on the number of products you intend to list.
Choose the package and options that suit your preferences, sign the document, and return it to StyleSearch. Upon receiving your signed document, your account is activated, allowing you to add your brand and products to the StyleSearch platform.
Associated costs
The costs associated with StyleSearch vary based on the package you choose during onboarding, in addition to any optional advertising budget you opt for to boost conversions. Typically, there is a minimum monthly fee of 75.00 EUR, along with a 10% commission levied on each sale facilitated through StyleSearch.
Marketplace features
| | |
| --- | --- |
| Supported | Not supported |
| Product content (feed) | Orders |
| Product variations (color/size) | Product offers |
| From-for pricing | HTML/markup support |
| Currency conversion (optional) | Product status import |
|   | Carrier mappings |
|   | Shipments |
|   | Cancellations |
|   | Returns |
|   | Volume discounts |
|   | External fulfillment  |
|   | Sales channels* |
* A marketplace that supports sales channels allows merchants to list and sell products across multiple markets (e.g.: countries, regions, and states), all from the same connection.
As StyleSearch is an affiliate channel, it does not perform any marketplace actions such as order processing or shipment creation. Instead, the ChannelEngine integration creates a feed that you can integrate with your StyleSearch back-end. All order management and processing is conducted directly on your webstore.
Marketplace-specific requirements and exceptions
Settings and configuration
Setting up each marketplace on ChannelEngine follows the same flow, once you add the marketplace:
Setup
On ChannelEngine
On the Setup page, you can find the following options to enable or disable based on your preferences:
Do not expose actual stock - enable it i

f you prefer not to export precise stock levels (StyleSearch displays items as either 'In stock' or 'Out of stock'). With this setting, the stock value is always set at '1' for products with positive stock.

Use update date from CE product -

StyleSearch includes an attribute for the date of the last product update. Enabling this setting allows this attribute to be automatically populated with the date of the most recent data update for each product on ChannelEngine.

Enable product URL tracking (under Advanced settings) - if this setting is enabled, the product URLs in the StyleSearch feed include a tracking query string parameter. E.g.:  https://www.myshop.com/products/product_123?cectid=8-2-123
Cost per click (CPC) excl. VAT (under Conversion tracking) - enable this option if you would like ChannelEngine to calculate the costs and return on investment (ROI) automatically.
Product selection
To generate a product feed for StyleSearch, you first need to create a product selection of the products you want to list. Once this is done, a URL is generated on the Product selection page on ChannelEngine. This is a static URL, it does not change unless you remove the channel.
Copy the feed URL and send it to your StyleSearch contact person.
NB:
t
he first time you save the product selection, it can take up to one hour before the feed is initially generated. From then on, it is regenerated every hour. 

NB:
before you submit the product feed to StyleSearch, ensure that you have completed the categorization and mapping processes. Otherwise, the feed is either empty or incomplete – and your products may not be listed correctly or appear at all. 
Categorization
Categorization is mandatory on StyleSearch, and all categories are provided in Dutch and English. 
Mappings
Content
Unlike other affiliate channels, StyleSearch has a number of required attributes that must be provided. If any of the required attributes is unmapped, then a default fallback value is automatically used. 
All products (required)
Brand - the product's brand.
Color - the product's main color.
Currency - the currency used to display the product's pricing. E.g.: EUR, USD, and GBP. The default currency is EUR. 
Description - the product's description, including any key features and selling points. HTML formatting is not supported.
EAN - the product's 13-digit EAN.
Gender - the gender that applies to the product range. The default value is unisex. 
In stock - indicate if the product is in stock. E.g.: true or false. If the attribute is left empty and the value of the default ChannelEngine stock attribute is more than 0, the default value is true. 
Main product image - the product's main image. This must be a direct link to the product, without any tracking included.
Material - the main material composition of the product. E.g.: leather, nylon, polyester, etc. 
Old price/MSRP - the manufacturer's suggested retail price. This value is only exported if it is higher than the regular Price.
Product name - the product's title.
Product URL - the URL of the product on your website. This must be a direct link without any tracking. 
Size - the size of the product. E.g.: small, medium, S, M, 8, 10, etc.
Unique product ID - the unique merchant ID for the product, such as its SKU.
All products (optional)
Additional images 1-4 - the product's additional image URLs. These must be direct links without any tracking. 
Category ID - the unique category ID. If none is available, the default value is taken from category matching. 
Category name - the category trail for the product. E.g.: Women's clothing>Jeans>Skinny jeans. If no value is provided, the default value is taken from category matching.
GTIN - the product's GTIN. 
Language code - the language to display the product in, in two-letter ISO format. E.g.: nl_NL. 
Large product image - a direct URL without any tracking to the product's large image. 
Last product update - the date the product was last updated in the format YYYY-MM-DD. E.g.: 2020-03-23. 
Parent product ID - the unique identifier, such as the SKU, associated with the parent product. The child products must differ on one attribute, such as size or color. 
Set ID - the unique identifier, such as the SKU, associated with the grandparent product. the grandparent product groups both size and colors under the same parent products. 
Shipping costs - the shipping costs associated with the product. E.g.: 4.25.
Shipping information - any additional information regarding delivery. E.g.: free delivery, free returns via PostNL, etc. 
Offer
There are no offer mappings for StyleSearch. Instead, map your sales price and the manufacturer's recommended retail price to the Price and Old price/MSRP attributes (respectively) for each product. 
Pricing
All prices on StyleSearch should be provided in EUR, GBP, and USD, depending on your country. If the countries you plan to target have a different currency than your own, you can use price rules to apply automated currency conversion. 
NB:
StyleSearch is a 'click-through' channel that redirects users to your own webstore. It is therefore advised that you do not apply any price rules related to changing prices, as this can result in price differences between your webstore and StyleSearch. 
Activation
Once you have completed categorization and content mapping, you can go to the Activation page and enable the setting Activate synchronization for StyleSearch.