Kaufland (née Real.de): marketplace guide
About this guide
This is a ChannelEngine guide on the Neckarsulm-based marketplace Kaufland. Here you can find information on how to request a Kaufland account, how to configure this channel on ChannelEngine, what the specific requirements are, and more.
Table of contents
Channel-specific requirements and exceptions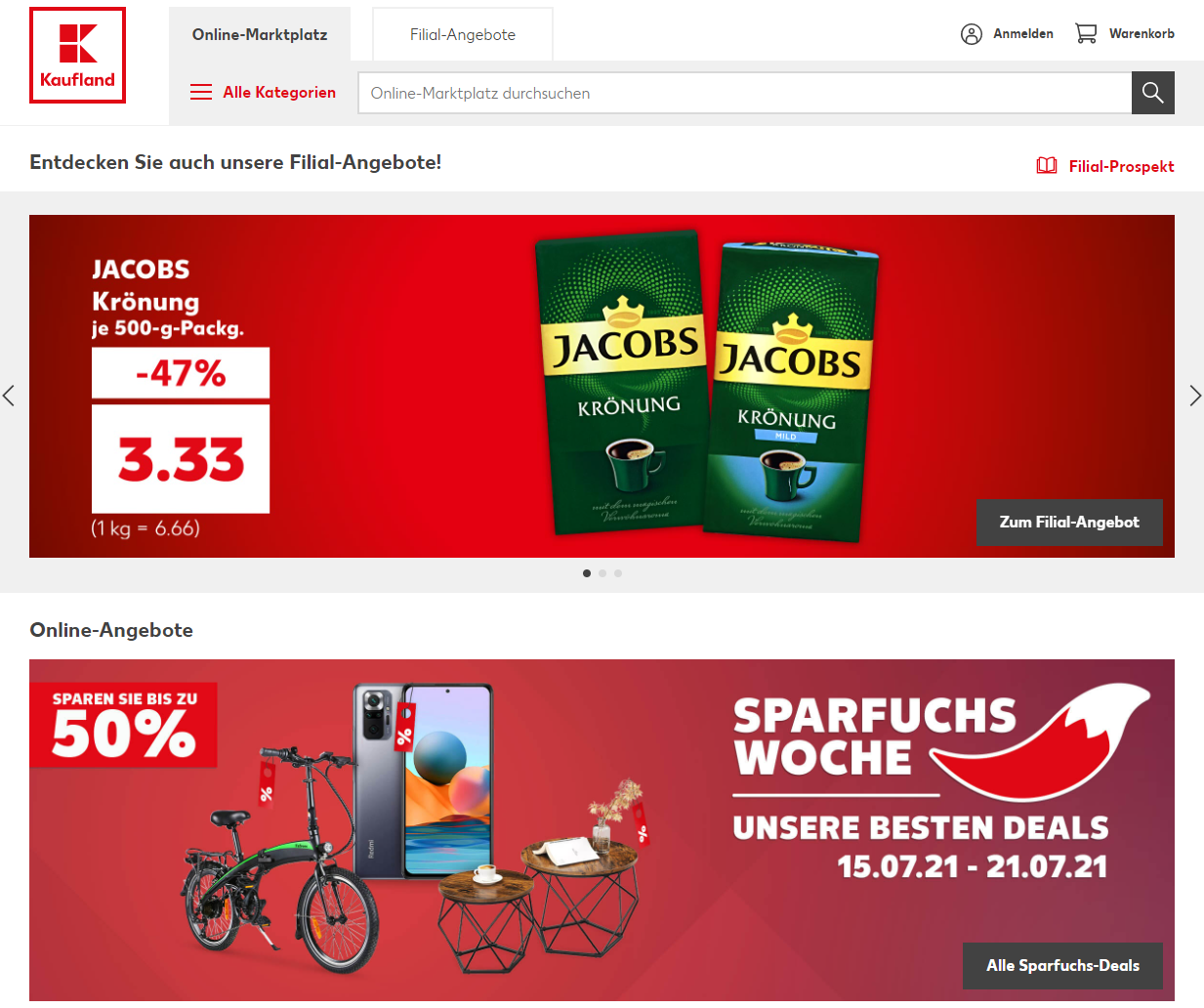 Commercial information
| | |
| --- | --- |
| Founded | 1984 |
| Headquarters | Neckarsulm, Germany |
| Area served (orders) | Czech Republic, Germany, Slovakia |
| Revenue | EUR 21 billion (2019) |
| Number of monthly visits | circa 19 million |
| Website | Kaufland |
| Setup cost | none |
| Commission | a percentage of the sale price (6.5-12.5%, depending on the category) |
| Other costs | EUR 39.95/month |
| Payment | circa 21 days after shipment |
| Product categories | computers, electronics, household appliances, auto parts, gardening equipment, perfume, bicycles, fitness equipment, kitchen and household items, and more |
| Input language | German |
| Input currency | EUR |
| Content creation | yes |
| Profile on ChannelEngine | Kaufland |
How to request an account
Kaufland (née Real.de) is a partially open marketplace. You can create an account, but certain requirements must be met:
Merchants must have their main office in the European Union (EU) or in Switzerland. Small unregistered companies are not accepted.
Kaufland maintains strict requirements regarding customer service. Kaufland is a German marketplace, so all communication is in German. This means that all product information and customer support inquiries must be in German. Failing to meet these requirements may result in your removal from the Kaufland marketplace.
Kaufland also maintains a very strict policy with regard to cancelations. If the percentage of cancelations is between 1% and 2.99%, you are fined 5% of the total amount of the canceled transactions. If the cancelation rate is 3% or higher, you are fined 10% of the total amount of canceled transactions – and Kaufland might cancel your account if this occurs more than once.
For more information on Kaufland's account creation process, refer to the Become a seller on Kaufland.de article.
Associated costs
Kaufland charges a monthly fee of EUR 39.95, as well as a commission on products sold (depending on their type). Specific commission percentages can be found on their Conditions page. During the account creation process, you can set up your store on Kaufland, with your own company logo and the option to set promotions. If you want to include a link to your own website, an additional monthly fee of EUR 9.95 applies.
Channel features
| | |
| --- | --- |
| Supported | Not supported |
| Product content | Repricing |
| Product offers (GTIN matching) | Cancelations (merchant) |
| Orders | Marketplace fulfillment service |
| Cancelations (channel) | Product variations (size/color)** |
| Returns (merchant* and channel) | Sales channels |
| HTML formatting |   |
* See the Setup section.
** Kaufland uses machine learning to generate product variations, based on the Beschreibung (Description) and Titel (Title) attributes. For more information on this, check out the Variants section of the Kaufland product data guideline page.
Settings and configuration
Setting up each channel on ChannelEngine follows the same flow, once you add the channel:
Channel-specific requirements and exceptions
Setup
On Kaufland
ChannelEngine requires both public and private API keys to communicate with Kaufland. You can retrieve these API keys from the API settings page in the Kaufland back-end.
If you also want to sell on Kaufland Czech Republic and Slovakia, do the following:
Enable the Czech and Slovak sales channels.
Provide Kaufland with your tax information, legal texts, and return address – if these differ from your details for the German market.
On ChannelEngine
Go Setup, Connection on your Kaufland Germany channel and enter your public and private API keys.
To add the Czech and/or Slovak sales channels:
Add one or two Kaufland channels to your environment.
Authorize the new channel(s) using the same public and private API keys from your main Kaufland channel.
Create your product selection.
Go through the offer and carrier mappings.
Follow the steps in the FAQs section to translate your content to Czech and/or Slovak.
There are also some advanced settings that you can control on the Setup page:
Use the old way of handling orders - by default, Kaufland creates a separate order line for every product. If four items of the same product are ordered, it results in four order lines with one item each. This can cause issues in some systems, so you can enable this setting to group order lines with the same Merchant product number. In this scenario, when four items of the same product are ordered, it results in one order line with four items.
Use the Kaufland return service and merchant returns - enable this to create merchant returns on Kaufland. Note that unless the following applies, this type of returns is not accepted by Kaufland:

You have enabled the Kaufland return system in their back-end.
You have a warehouse in Germany; use DHL as the carrier.
You are a German domestic merchant.

Enable fulfillment by Kaufland (FBK) [BETA] - enable this to allow ChannelEngine to import FBK orders and stock. Note that ChannelEngine does not export FBK offers to Kaufland, and there are no fulfillment-related attributes on the Mappings page.
NB:
to enable the Kaufland return system on Kaufland, go to Shop Einstellungen, Retouren in the Kaufland back-end and select Bei Rückgabewunsch soll das Kaufland.de-Retouresystem genutzt werden.

Enable stock reservation - if enabled, ChannelEngine also imports orders with the status Open. This is the initial Kaufland order status, which allows the order to be canceled by the buyer up until 15 minutes after their purchase. If disabled, ChannelEngine only imports orders with the status Need to be sent.
Merchant is domestic seller - enable this only if you have a warehouse in Germany, and can be considered a German domestic merchant. If this is enabled along with the Use the Kaufland return service and merchant returns option, the Kaufland return system is used. If the Use the Kaufland return service and merchant returns option is enabled, but Merchant is domestic seller is disabled, a cancelation refund is created instead.
Enable invoice uploading - if enabled, ChannelEngine automatically uploads invoices for new orders.
Categorization
Categorization is straightforward on Kaufland, and the category tree and main content mappings are in German. However, some of the category-specific attributes are localized to Czech or Slovak – and other attributes are in English.
Mappings
Content
All products (required)
Beschreibung (Description) - the main product description.
Bild (Image) - the uniform resource locator (URL) of the main product image. Like most other marketplaces, this is the main image of the product without any background or 'sphere' scenery.
European article number (EAN) - the EAN of the product.
Hersteller (Manufacturer) - the brand or manufacturer of the product.
Titel (Product name) - the name of the product.
All products (optional)
There are also optional attributes you can map. The more content you submit, the higher quality your product information is – which in turn should result in higher conversion. For more information on Kaufland's product guidelines, check out Produktdaten-Guideline.
Zusätzliche Kategorien (Additional categories) - you can use this field if the product fits in more than one category.
Herstellernummer (Vendor product number) - the unique identifier of the product, as known by the manufacturer.
Kurzbeschreibung (Short description) - a short description of the product.
Zusätzliches Bild [x] (Extra images) - extra image URLs for the product images.
Category-specific
Länge (Length) - the length of the product.
Materialzusammensetzung (Material) - the materials used in the product.
Offer
Maximum delivery time (days) - the maximum number of working days before an order reaches the buyer. Note that only numeric values are supported. E.g.: 3, 5, 7, etc.
Minimum delivery time (days) - the minimum number of working days before an order reaches the buyer. Note that only numeric values are supported. E.g.: 1, 2, 3, etc.

NB:

the delivery time attributes have been replaced with the Handling time (in days) attribute in Kaufland's v2 API. This new attribute must be mapped with a numeric value that defines the number of business days until the shipment is handed to the carrier. Combine it with the value associated with the Shipping group in Kaufland's back-end to define the shipping time. The default value for the Handling time (in days) attribute is 2.

Condition - while optional, you can use this to set the condition of your product. By default, it is set to New.
Minimum price - map the minimum price of the product here, making sure that: it is lower than the value mapped to your price; and that you enabled Tiefstpreis-Automatik (Automatic price adjustment) in the Kaufland back-end.
Shipping group - this attribute is required if you have set up multiple shipping groups on Kaufland. To set these up, go to Händlereindstellungen, Versandeinstellungen in the Kaufland back-end.

NB:
Shipping group names can only contain lowercase letters, numbers, hyphens, underscores, and periods. Umlauts (¨) and Eszett (߸) are not supported.
NB:
Kaufland does not support the setup of discounts via its API, so there are no discount-related attributes within the Offer mappings. To submit a discount, get in touch with Kaufland's product data team via email. That option is only available to brand owners, if you are a reseller you cannot offer a discount.
Carrier
Carrier mapping is mandatory on Kaufland. Kaufland uses a standard list of accepted carriers, which can be viewed under Carrier mappings or on Kaufland's API documentation. If you use a carrier that is not listed, you can map it to Other or OtherHauler.
If you use an unknown shipping method and fail to map it to an accepted value, your orders are not set to Completed on Kaufland and the shipment is set to Error.
Pricing
Unless you have an input currency other than EUR, you do not need to set up currency conversion for Kaufland.
ChannelEngine's repricing feature is not supported on Kaufland, but if you use Kaufland's Tiefstpreis-Automatik you can set a minimum price for your products. If the Minimum price attribute is the lowest for a product with multiple sellers, this can be used by Kaufland to automatically reprice your product and get the buy box.
Listed products
If you have problems with products not appearing on Kaufland (especially if you are using the content connection), check the Listed products section on ChannelEngine. Unlike most other marketplaces, the product status on Kaufland is not the status of your offer, but the status of the content exported.
Although a product may be marked as Published, it does not necessarily mean that it is available on Kaufland. However, the product content has been approved and processed. Kaufland currently does not have an offer endpoint to fetch offer statuses, which is also why the Price and Stock columns are always empty.
To check if a product is listed or not (and why), consult the Kaufland back-end. Go to Meine Angebote (My offers), Angebote per Datei verwalten (Manage offers manually), where you can see the latest ten uploaded files, how many lines they contain, when they were processed, their statuses, and any processing errors.

Select Fehlermeldungen anzeigen (Show error messages) to see the products with errors, and the reason behind them.
In the Listed products overview, you can see error messages if ChannelEngine fails to create an offer or product. For more detailed error information, consult the reports on Kaufland's reports section. If you select Ihre angebotenen Artikel and generate a report (note that this process can take a while), you can see possible issues during the import of the product data. With this report, you can correct the errors for the next upload of product data.
The following columns are also worth mentioning:
EAN - unique identification number used to place products on Kaufland.
name_attribute - possible values are Refused and Changed.
status - describes to what degree changes have been processed. Important statuses are:

Refused - the change was not accepted, as the current value has a better data quality.
Declined - the provided value is not allowed, and is not displayed on the product page.
Transformed/modified - certain values are automatically changed by ChannelEngine. E.g.: different spelling of a term or a different HTML tag.
type_hook - describes the change. E.g.: at hh:mm, certain HTML tags were automatically changed by ChannelEngine.
Additional information
If you have questions regarding product creation on Kaufland, contact them via email (in German) or in English. You can also call them at +49 221 5679 7203.
Order extra data items
When an order is imported to ChannelEngine, ChannelEngine also fetches extra data items related to the order itself – or to order lines. This extra data is specific to this marketplace. An explanation of each can be found below: 
Order extra data
| | | |
| --- | --- | --- |
| Key | Conditional* | Description |
| invoice_uploaded | Yes | Invoices are uploaded for orders that were shipped during the export shipment task. If the value of this key is Yes, then the invoice was successfully uploaded.  |
| KauflandInvoiceUrl | Yes | URL to access the PDF invoice file.  |
* Conditional fields only display if the channel provided a value. 
FAQs
How does Kaufland's translation service work?
You can use Kaufland's free, automated translation service to have your German content translated into Czech and/or Slovakian.
To enable this service:
Go to Shop settings in the Kaufland back-end and click Translation & Transfer.
On the Text translation tab, select the checkbox for the text translation of product data.
On the Image transfer tab, select the checkbox for the transfer of product images.
When you create offers on a sales channel where you do not have product data in the right language, Kaufland checks and translates this data. If a different merchant has uploaded content for the same product and activated the translation service, Kaufland uses that content.
I have updated my product's content, but it is not reflected on Kaufland's website. What happened?
Kaufland uses a score-based system to maintain the quality of the content on its platform. If it considers the existing content superior to the updated content, the update is ignored.
How often does each task run on Kaufland?
Tasks run according to the following schedule on Kaufland:
| | |
| --- | --- |
| Task | Frequency |
| Export product data to channel | every 60 minutes |
| Export product offers to channel | every 15 minutes |
| Import product offers from channel | every 60 minutes |
| Import orders from channel | every 15 minutes |
| Import returns from channel | every 30 minutes |
| Export order shipments to channel | every 15 minutes |
| Export returns to channel | every 15 minutes |