Conforama: marketplace guide
About this guide
This is a ChannelEngine guide on the Seine-et-Marne-based marketplace Conforama. Here you can find information on how to request a Conforama account, how to configure this channel on ChannelEngine, what the specific requirements are, and more.
Table of contents
Channel-specific requirements and exceptions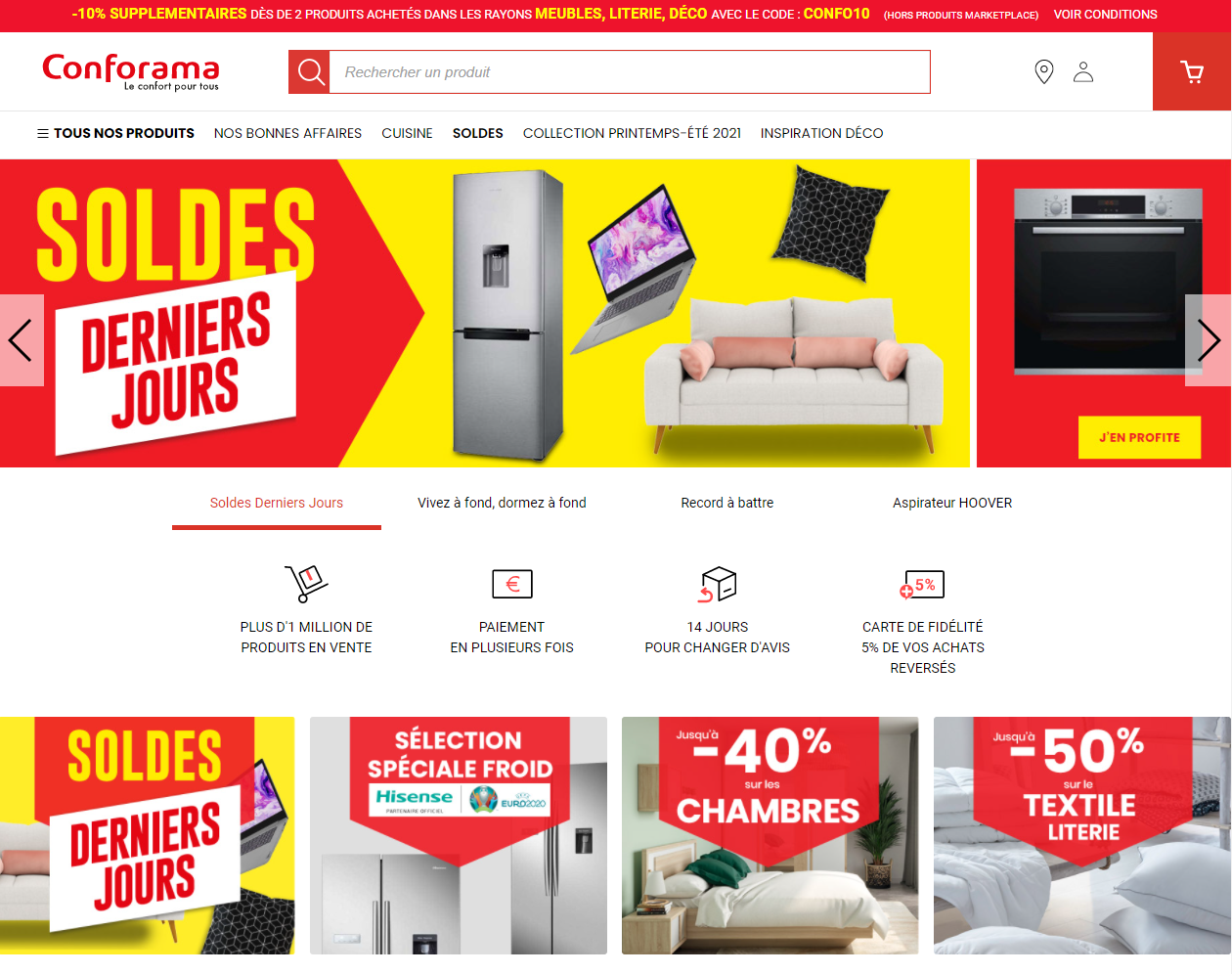 Commercial information
| | |
| --- | --- |
| Active markets | France |
| Monthly visitors | circa 8 million |
| Website | Conforama |
| Commission | a percentage of the sale price, based on the product category (5-20%) |
| Other costs | EUR 39.90/month |
| Payment | thrice a month, on the 3rd, 15th, and 30th (once the customer has confirmed the order) |
| Product categories | mattresses, home furniture, electronics, specialized appliances, garden, decoration, fitness, outdoor furniture, high tech, refurbished, and more |
| Input language (title + description) | English, French, German |
| Input currency | EUR |
| Content creation | yes |
| Profile on ChannelEngine | Conforama |
How to request an account
If you would like to sell your products on the Conforama marketplace, email Conforama's consultant at Mirakl with the following information:
Personal information of the legal representative, such as name, surname, date and place of birth, job title, and phone number.
Company information, such as the name of the store, French VAT number, customer care phone number and email address, company address, and shipping country.
Catalog information, such as number of products, product categories, and integration method.
Associated costs
Conforama charges a monthly fee of EUR 39.90, plus a percentage between 5% and 20% per item sold (depending on the product category).
Channel features
| | |
| --- | --- |
| Supported | Not supported |
| Product content (limited HTML formatting is supported, but not in the description) | Repricing |
| Product offers (based on the SKU) | Returns (channel) |
| Orders (no split orders) | External fulfillment |
| Shipments (including carrier mapping) | Automatic relationships |
| Cancelations (merchant) | Sales channels |
| Returns/refunds (merchant) |   |
| Product variations (sizes/colors) |   |
Settings and configuration
Setting up each channel on ChannelEngine follows the same flow, once you add the channel:
Channel-specific requirements and exceptions
Setup
On ChannelEngine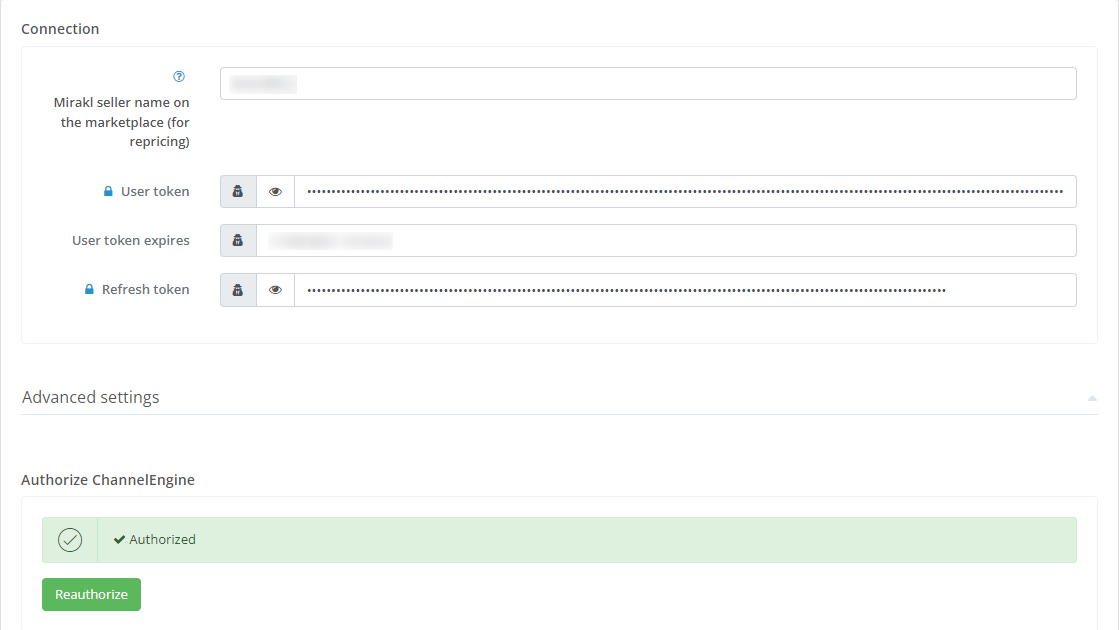 Conforama is a Mirakl-based channel, so you can connect it to ChannelEngine using a Mirakl Connect SSO account. For more information on this, check out the Mirakl-based channels: SSO authorization article.
You can leave the Mirakl seller name field empty, as Conforama does not support repricing.
Categorization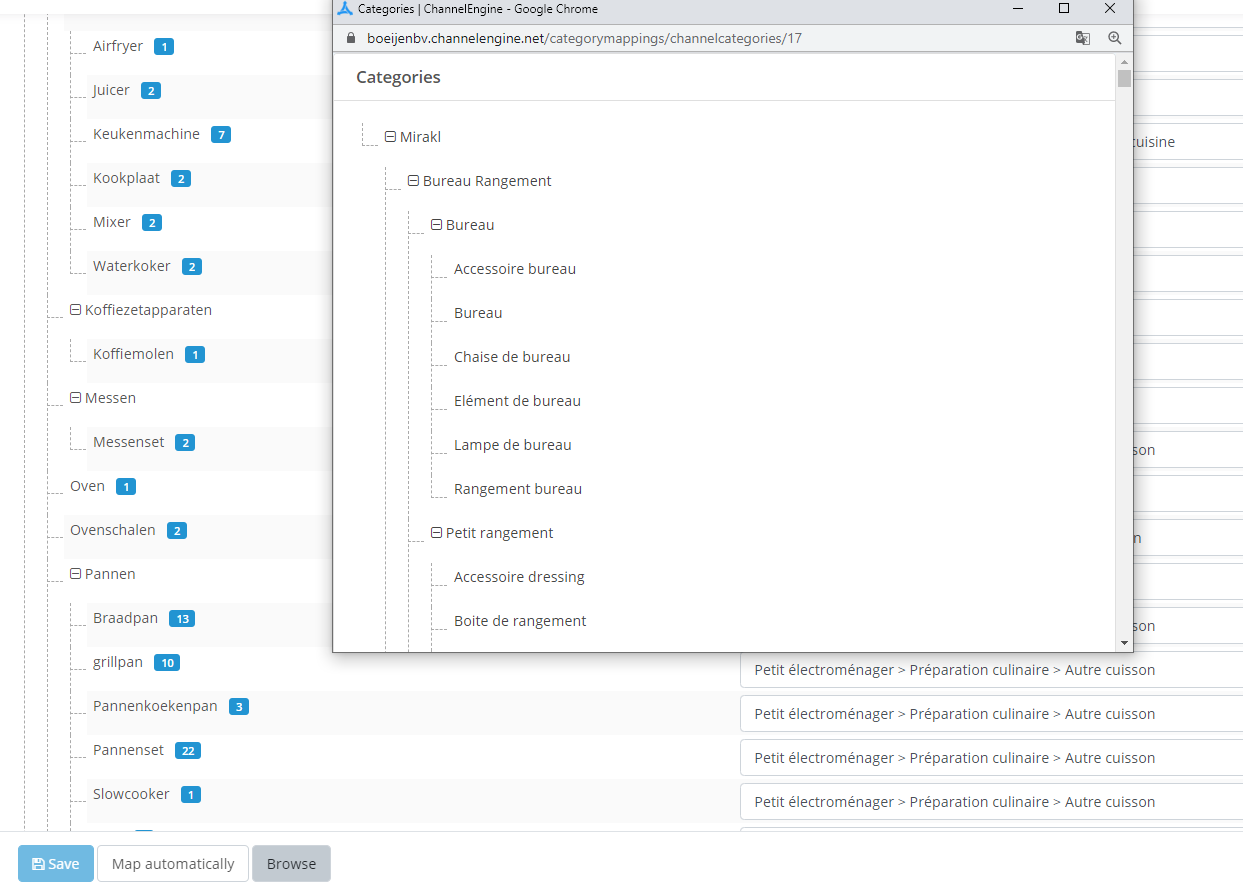 Categorization is only needed on Conforama if you want to create new products or update existing product information. The categorization is straightforward, and it uses attribute names in French.


Mappings

Content
Required
Code produit (Product code) - the unique product identifier/SKU. On Conforama, this field should always be mapped to the European article number (EAN).
Description (Description) - a unique description of the product, provided in French with all relevant and distinguishing features. There is no length restriction, and the description should not contain any HTML.
Image 1 URL (Image 1 URL) - the uniform resource locator (URL) of the main product image. The link's target must be a PNG, JPG, TIF, or GIF image with a minimum length and height of 400 px.
Libellé produit (désignation) (Product description) - the unique title of the product, provided in French. The minimum length is five characters and the maximum length is 255 characters. Certain terms are not allowed in this field, please see a list of forbidden words in the FAQs section.
Optional, but highly recommended
EAN - the EAN of the product.
Marques (Brands) - if the product's brand is known by Conforama, use this attribute to map it. If the correct value is not present, please contact Conforama to have brands added.
URL image 2-4 du produit (Product image 2-4 URL) - the URL of the additional product images. The link's target must be a PNG, JPG, TIF, or GIF image with a minimum length and height of 400 px.
Product-type specific
Conforama does not have many required product type-specific attributes, but it does have multiple optional attributes – both product type-specific and generic. This is due to Conforama's vast number of product categories. A few common required product type-attributes are listed below:
Coloris (Color) - the base color for the product, provided in French.
Type de produit (Type of product) - describes the type of product. E.g.: a coffee table under the category 'tables'.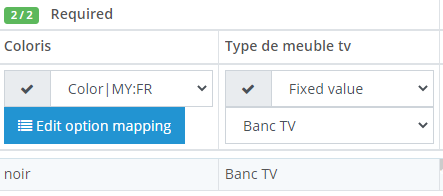 Usage (Usage) - describes the use of the article. E.g.: indoors or outdoors for tables and chairs.
Offer
The only mandatory offer mapping is Price. This is your desired sale price, after (re)price rules are applied.
Attributes such as Leadtime to shipment (the number of days before you ship the item), Logistic class (optional shipping class), Offer state (the condition of the item), and Min. qty alert (notifies you if the stock drops below the number set) are common for Mirakl mappings.
The following offer attributes are common for Mirakl-based marketplaces:
Leadtime to shipment - the number of days before you ship the product.

By default, this is set to two. You can create your own unique rules, if applicable.

Offer state - the product's condition.

Find your option from the dropdown menu by selecting the fixed value to apply to all.

Minimum quantity alert - map this attribute to receive a notification from ChannelEngine if your stock drops below the threshold defined.
Logistic class - your optional shipping class. Make sure to map it using the marketplace's codes, not the labels visible in the front-end. These codes vary per marketplace. Below you can find the codes used by this marketplace:
| | | |
| --- | --- | --- |
| Code | Label | Description |
| A | Enveloppe Standard <200g | Standard envelope under 200g |
| B | Grande enveloppe < 500g | Large envelope under 500g |
| C | Petit Colis 1 100g à 500g | Small Package 100g to 500g |
| C1 | Petit Colis 2 500g à 1kg | Small Package 500g to 1kg |
| D | Colis Medium - 1kg à 2.5kg | Medium Packages - 1kg to 2.5kg |
| D1 | Colis Medium 2 - 2,5kg à 5kg | Medium Packages - 2.5kg to 5kg |
| E | Colis Important 1 - 5kg à 7,5kg | Large Packages - 5kg to 7,5kg |
| E1 | Colis Important 2 - 7,5kg à 10kg | Important Package - 7,5kg to 10kg |
| F | Colis Important 3 - 10kg à 30kg | Important Packages - 10kg to 30kg |
| F1 | Produits Encombrant 1 - 1kg à 14,90 kg et/ou > 2m de développé (Lxlxh) | Products Bulky - 1kg to 14,90 kg and/or > 2m developed (Lxlxh) |
| G | Produits Encombrant 2 - 15kg à 29,90kg et/ou > 2m de développé (Lxlxh) | Products Bulky - 15kg to 29,90kg and/or > 2m developed (Lxlxh) |
| H | Produits Encombrant 3 - 30 à 50 kg et/ou > 2m de développé (Lxlxh) | Bulky Products - 30 to 50 kg and/or > 2m in length (LxWxH) |
| I | Produits Encombrant 4 - >50 kg et/ou > 2m de développé (Lxlxh) | Bulky Products - >50 kg and/or > 2m in length (LxWxH) |
| J | Produits hors gabarits | Oversized products |
| K | Classe Logistique Gratuite | Free Logistics Class |
Working with discounts
Do not leave the Discount end date attribute unmapped. If you want to set a permanent discount, use a date in the far future instead. Otherwise the offer is not exported, and errors are shown under the Validation and feedback tab.
If your discounted price is not lower than the base price, it is not exported.
If you do not want to set a bulk discount, leave the Discount quantity threshold attribute unmapped – otherwise the export is broken.
If you do want to set a bulk discount, the Discount quantity threshold must be set to a value higher than 1. E.g.: a value of 2 indicates that two or more of the product must be purchased at the same time for the buyer to benefit from the discount.
Carrier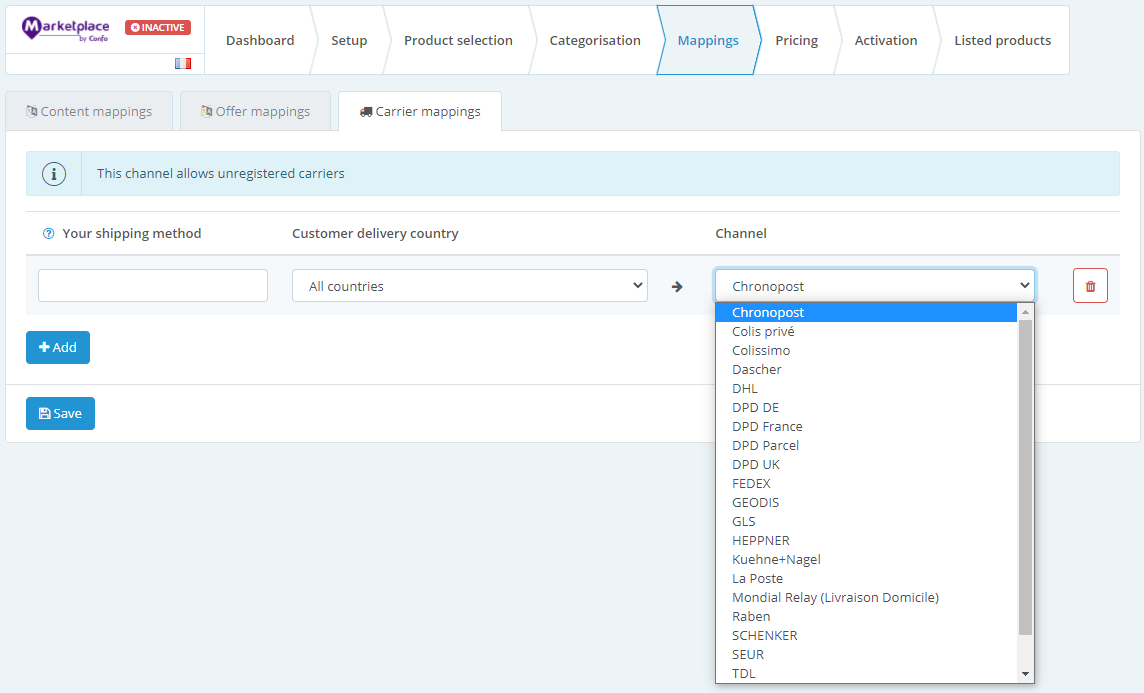 Carrier mapping is not required on Conforama. However, you can map your carrier to a specific list of carriers maintained by Conforama. This allows for working track-and-trace links in the back-end, as well as for the buyer. If your default carrier is missing, please contact Conforama.


Listed products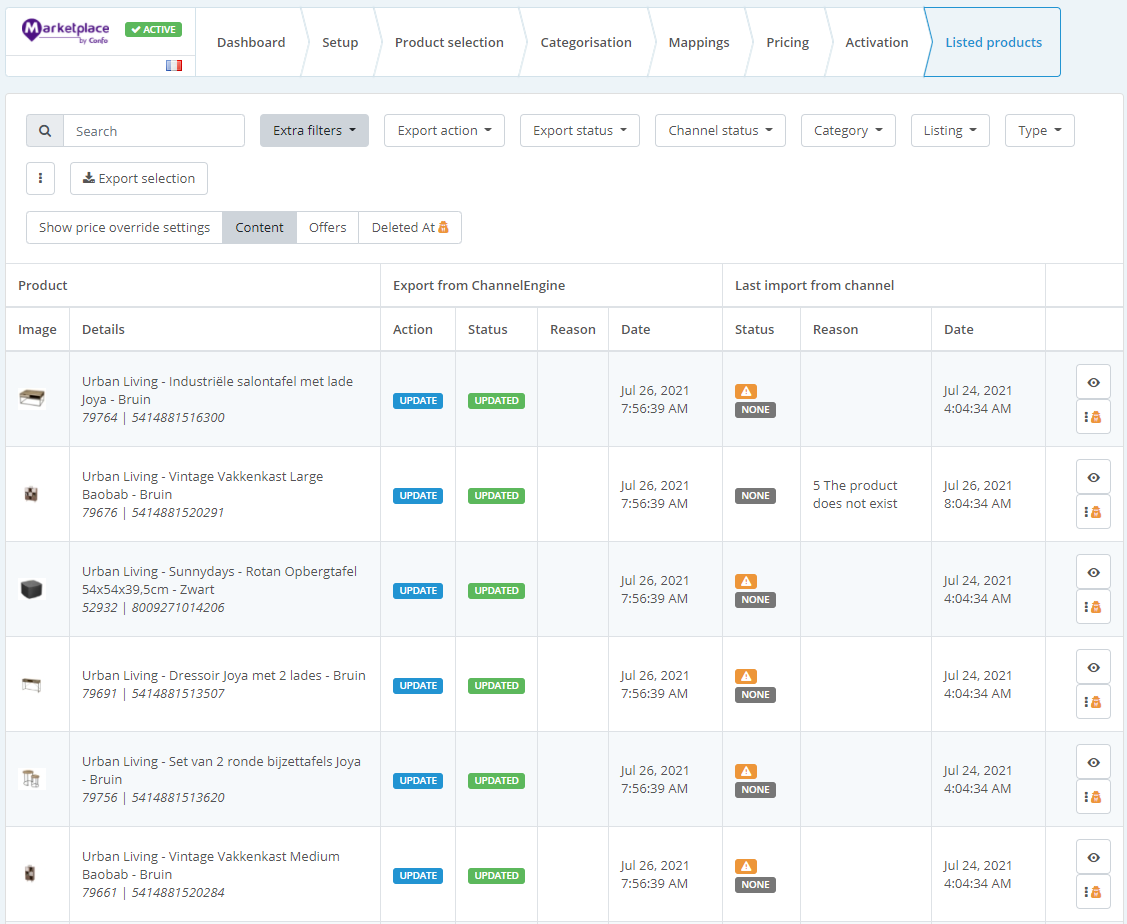 If you have problems with products not appearing on Conforama (especially if you are trying to create products that do not exist yet), check the Listed products section for more information.
Also, as Conforama uses the Mirakl marketplace framework, you can see detailed status reports in their back-end. These reports contain specific errors if a product or product offer cannot be created.
The reports can be found under My inventory > Import from file > Track offer imports/Track product imports. By hovering over the 'i' under the Status section, you can see how many products in the file were processed correctly and how many had errors, etc.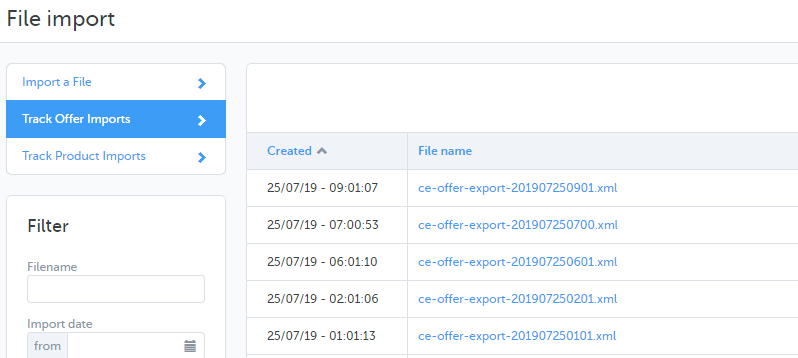 If there are errors, the last column contains a downloadable file in which they are listed. The same goes for the product file import, but this can contain multiple files because processing goes through several systems. There is also a manual check of your submitted content, which, once approved, goes to staging as well. Make sure to map as many attributes as possible to prevent products from being rejected.

FAQs
How do I know what optional fields should be mapped?
You can download a file template from the Conforama back-end. Select My Inventory > Import from file. In the panel on the right-hand side, select the CSV or XLSX template to download. Select a file template to download and the requirement level of attributes, then select the categories. The downloaded file shows you an overview of the required, recommended, and optional fields for the selected product category.