HomeDeco: marketplace guide
About this guide
This is a ChannelEngine guide on the Amsterdam-based marketplace HomeDeco. Here you can find information on how to request a HomeDeco account, how to configure this channel on ChannelEngine, what the specific requirements are, and more.
NB:
HomeDeco uses the ChannelEngine Channel API. This means that there are no tasks scheduled and performed by ChannelEngine, and ChannelEngine has no direct influence on the frequency of updates and exports. All tasks are based on calls performed directly from HomeDeco.
Table of contents
Channel-specific requirements and exceptions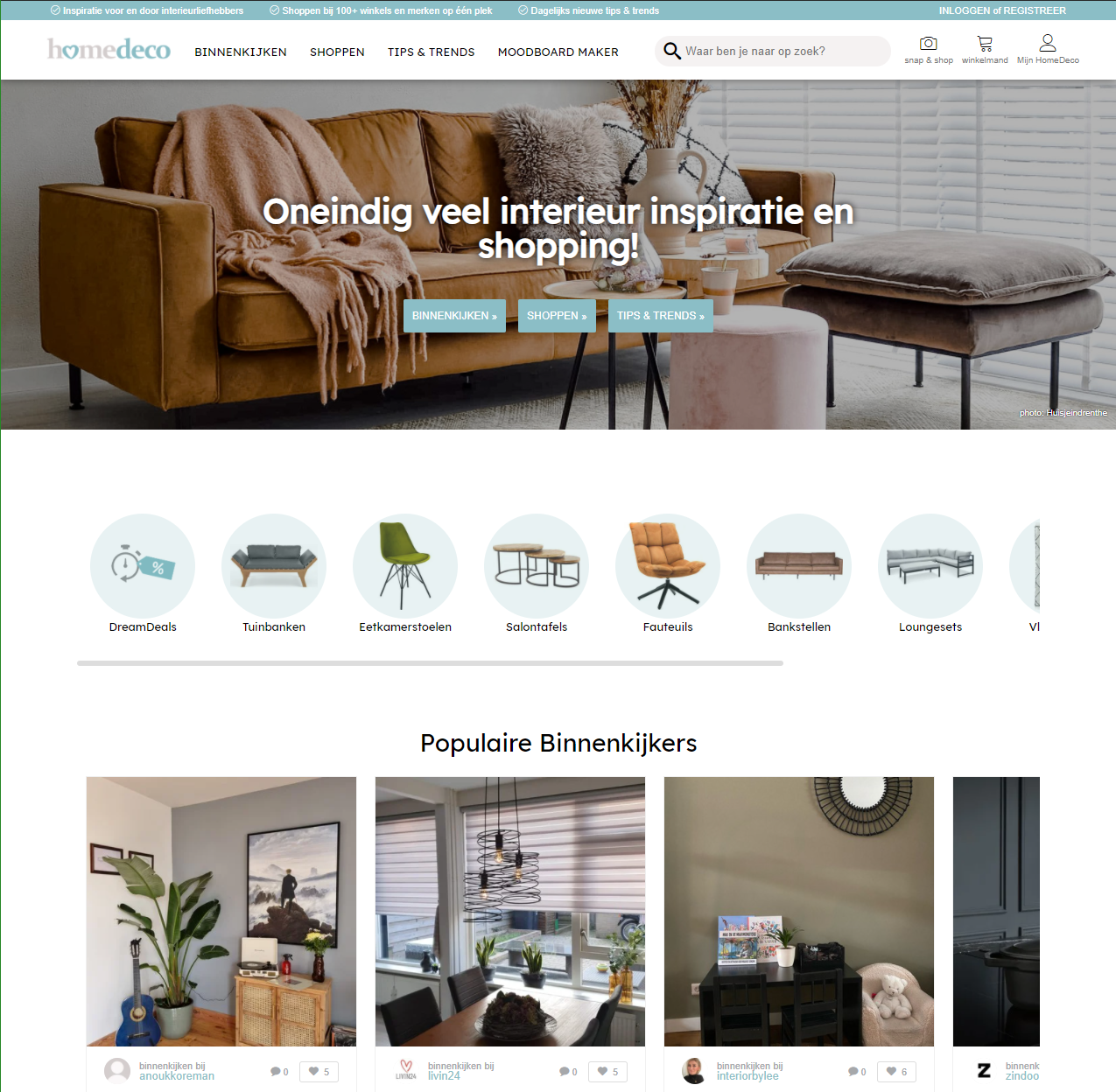 Commercial information
| | |
| --- | --- |
| Founded | 2015 |
| Founder | Thijs Goos |
| Headquarters | Amsterdam, The Netherlands |
| Area served (orders) | The Netherlands |
| Revenue | USD 5.8 million (2020) |
| Number of monthly visits | circa 400,000 |
| Website | HomeDeco |
| Set-up cost | none |
| Commission | 20% |
| Other costs | none |
| Payment | once/month (around the 15th) |
| Product categories | home and living |
| Input language | Dutch |
| Input currency | EUR |
| Content creation | yes |
| Profile on ChannelEngine | HomeDeco |
How to request an account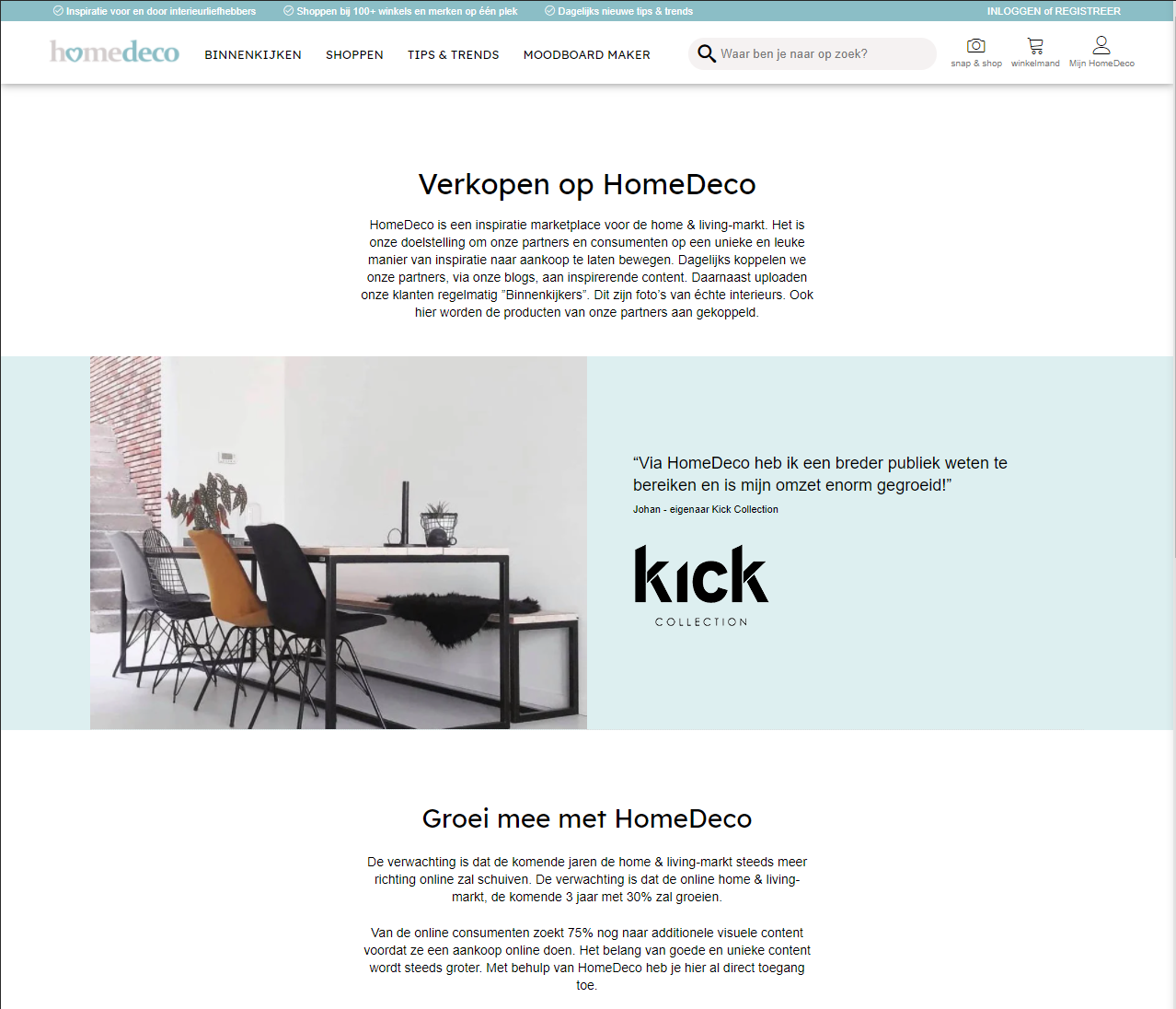 To start selling on HomeDeco, you must first register as a seller on their Verkopen op HomeDeco (Sell on HomeDeco) page. This page lists some of the benefits of selling your products via HomeDeco. Note that the setup is entirely in Dutch, as HomeDeco focuses on the Dutch market.
Fill in all the required information to create your winkel (store), then submit the form. The general terms and conditions can be found on Voorwaarden voor verkopers (Conditions for sellers). Someone from HomeDeco contacts you to finalize the creation of your account, then you get access to your own store – which can be reached at: homedeco.nl/winkels/[NameOfYourStore]/admin/.
Associated costs
HomeDeco does not charge any setup or monthly fees, but it does charge 20% on every sale you do through their platform. This is higher-than-average commission, so it is not advised to sell low-margin products on HomeDeco.
Channel features
| | |
| --- | --- |
| Supported | Not supported |
| Product offers | Returns (channel) |
| Product content | External fulfillment |
| Orders | Repricing |
| Cancelations (merchant) | Carrier mapping |
| Product variations (size/color) | Automatic relationships |
| Returns (merchant) | Sales channels |
Settings and configuration
Setting up each channel on ChannelEngine follows the same flow, once you add the channel:
Channel-specific requirements and exceptions
Setup

On ChannelEngine
HomeDeco does not require any settings or keys to be entered under ChannelEngine's Setup section. Because HomeDeco uses the ChannelEngine Channel API, they connect to ChannelEngine instead of the other way around. Therefore, you need to provide your contact person at HomeDeco with the following credentials so they can connect your account:
Your account subdomain - https://[youraccount].channelengine.net
The Channel API key, which can be found under the Setup tab in the ChannelEngine back-end
Your product feed from ChannelEngine (see below)
Product selection

HomeDeco uses ChannelEngine's plugin's product feed to fetch products, so it is important to share the correct URL with them. The feed, which is available both in CSV and XML, can be found in the Product selection section of the channel on ChannelEngine.
Note that a feed is only made available once a product selection is stored, and the export task has run for the first time.
Mappings
Content

Because HomeDeco is an API channel, the mapping contains all standard ChannelEngine attributes. Some can be left empty, even though they are marked as required. However, it is recommended that you map as many attributes as possible. The more you map, the greater the visibility of the product on the marketplace is. This, in turn, tends to lead to a higher conversion rate.
Note that your sales price is mapped under the Offer mappings, and price rules can be applied to this price.
NB:
make sure not to map the Merchant product number to a value other than the default, as that blocks HomeDeco from creating orders.
Carrier
There is no carrier mapping required on HomeDeco. You can even use an empty shipment method and track-and-trace code for their shipments. However, the end customer does not receive any track-and-trace information in this case, so it is recommended that you include this information – as it is done in most marketplaces.
FAQs
Why are my shipments stuck as 'Not exported yet'?
HomeDeco uses ChannelEngine's Channel API, ChannelEngine does not initiate the import and export of data to and from the marketplace. If your shipments are not exported and not visible in HomeDeco's back-end, something is wrong with the import of the shipment information. Please contact HomeDeco's customer service to investigate this. You can copy ChannelEngine's Support team in the email, if needed.