Wish: marketplace guide
About this guide
This is a ChannelEngine guide on the San Francisco-based marketplace Wish. Here you can find information on how to request a Wish account, how to configure this marketplace on ChannelEngine, what the specific requirements are, and more.
Table of contents
Marketplace-specific requirements and exceptions
Commercial information
| | |
| --- | --- |
| Founded | July 4, 2010 |
| Founders | Peter Szulczewski, Danny Zhang |
| Headquarters | San Francisco, United States |
| Area served (orders) | 140+ countries |
| Revenue | USD 2.5 billion |
| Number of monthly visits | circa 90 million |
| Website | Wish |
| Setup cost | none |
| Commission | 15% of the total order value (including shipping costs) |
| Other costs | none |
| Payment | twice/month |
| Product categories | almost anything |
| Input language | English |
| Input currency | BRL, CNY, EUR, GBP, USD |
| Content creation | yes |
| Minimum number of SKUs | no |
| Advertisement options | yes |
| Profile on ChannelEngine | Wish |
How to request an account
Wish is an invite-only marketplace, though ChannelEngine merchants can start selling on Wish by filling out
this exclusive form
.
Associated costs
Wish does not charge registration or monthly fees, but it does charge a commission of 15% on the total order value of each sale – including the shipping costs.
NB:
Wish penalizes merchants when fulfillment targets are not met (e.g.: canceled orders, late deliveries, etc.), which can amount to a large sum. Make sure that you are aware of Wish's policies and expectations before signing up as a partner.
Marketplace features
Supported
Not supported
Product offers
(no EAN matching, each offer is unique)
Returns (marketplace)
Product content
Repricing
Orders
Marketplace fulfillment service (FBW)
Shipments
 
Cancelations
 
Returns/refunds (merchant)
 
HTML formatting
 
Carrier mapping
 
Refurbished products
 
Sales channels*
 
* A marketplace that supports sales channels allows merchants to list and sell products across multiple markets (e.g.: countries, regions, and states), all from the same connection.
Settings and configuration
Setting up each marketplace on ChannelEngine follows the same flow, once you add the marketplace:
Marketplace-specific requirements and exceptions
Setup
On ChannelEngine
To set up Wish on ChannelEngine:
Go to the Setup page of your Wish channel and click Authorize.
In the Wish for merchant dialog box, enter your Wish username and password and click Log in.
You can now continue configuring the channel on the Setup page:

Currency - the currency for your offers. By default, Wish uses USD – but there are other currencies you can select. Note that the selected currency is used for all price-related exports. If your default currency on ChannelEngine is not one of the available options on Wish, you can use a currency conversion.
Shipping country - this is the country where your warehouse for Wish is based in.
On Wish (optional)
The following settings are not required for the connection between ChannelEngine and Wish to be successful:
Email preferences - go to Account, Settings, Email preferences. Make sure to check all options that are not handled through ChannelEngine (e.g.: support tickets, infringement notifications, etc.).
Logo - go to Account, Settings, Display settings to upload your logo. This logo is displayed in your Wish shop.
Carrier - check whether your carrier is supported by Wish. You can also check which providers ship to which countries, and which require special instructions. E.g.: shipping to Germany with PostNL requires a specific tracking ID format.
Countries - go to Account, Shipping settings to select the countries you want to ship to and at what global prices. You can also do this using mappings on ChannelEngine.
Payment settings - go to Account, Payment settings to set up payments. You can also set the fees charged by each provider here.
Wish Express - go to Account, Wish Express to enable Wish Express.
Product selection
Wish offers the possibility to promote products, which is beneficial but comes with certain restrictions. E.g.: you can only change the price and stock within a maximum of 25% of the current value, sales via Wish excluded. Therefore, it is recommended to set up at least a stock filter of Greater than 5 to prevent offer updates from being rejected. This can result in out-of-stock orders, which in turn can result in fines for excessive cancelations.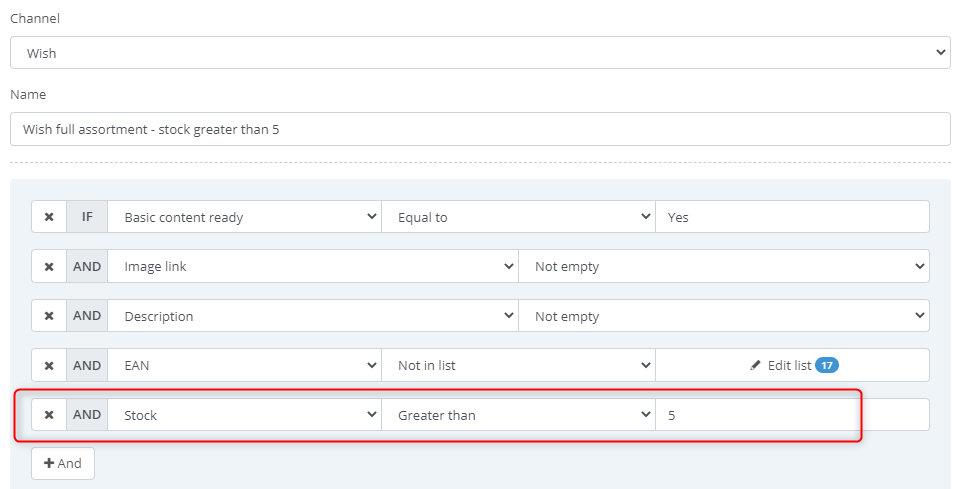 Categorization
Categorization on Wish is straightforward, and all categories are listed in English. For merchants new to Wish, categorization is a highly recommended step. For existing merchants, categorization is optional.
Your offers can be found by setting 'tags' under the Content mappings.
Mappings
Content
Required
Color - the product's main color.
Description - the product's description. It should be written in English to maximize sales if you sell in multiple countries, but Wish does allow for localized descriptions.
Max. delivery days - the maximum number of days it takes to deliver the product to a buyer.
Shipping costs (default) - the default shipping costs for products, if no other cost is set. Note that these costs can only be set once when creating the offer, and cannot be updated later unless the existing offer is completely removed. These costs are set for any new country/product, if no country-specific shipping costs are set. For more information, check out the Default Shipping Price FAQ article.
Shipping costs [country] - the shipping costs for products for this specific country's warehouse. It is possible to set specific overrides for products in the mappings.
Shipping costs (country express EU) - the shipping costs for products for this specific country's warehouse, if it is a Wish Express delivery. It is possible to set specific overrides for products in the mappings.
Title - [brand] + [sub-brand, family, or product title] + [up to three key attributes] + [generic product type]. Product titles must be clear, concise, and descriptive.
Optional
Brand - the product's brand.
California proposition 65 chemical names - if you sell your products in the state of California, they must be compliant with Prop 65.
California proposition 65 warning type - the product's applicable warning, if any, in compliance with California's Prop 65. 
Condition - the product's condition. The options are: new, used, and refurbished. If you sell your products in the European Union (EU), this attribute is required.
Country of origin - the code of the country where the product was manufactured, according to the ISO 3166-2 standard. E.g.: RO.
Customs declared value - the product's price to be declared to customs, in USD.
Customs HS code - the customs tariff number. If you sell your products in the EU, this attribute is required.
Logistics declared name - the product's declared name for logistics. Note that this attribute does not support special characters. If it is causing validation issues, unmap it and try submitting your content again.
Logistics pieces included - the number of pieces associated with this product.
Max. quantity - the product's maximum quantity a buyer can buy.
MSRP - the manufacturer's suggested retail price.
Package height - the product's height, in cm.
Package length - the product's length, in cm.
Package weight - the product's weight, in g. If you sell your products in the EU, this attribute is required.
Package width - the product's width, in cm.
Reference value - used to calculate the product's price per unit. E.g.: if you are listing a 210 fl ounce, 140-load liquid laundry detergent for USD 11.69 and would like to display the price per load, the following calculation applies:

Measured type = per unit
Unit = load
Quantity value = 140
Reference value = 1 (i.e.: 1 load)
Unit price = (USD 11.69 * 1) / 140 = USD 0.08 per load

Restricted content declaration - specifies if the product contains powder, liquid, battery, and/or metal.
Shipping time - the amount of time it takes for the shipment to reach the buyer. Make sure to factor in the time it takes to fulfill and ship the item, providing a time range in days separated by a hyphen. The lower range cannot be fewer than two days. E.g.: 3-5, but not 2, 1-2, or 4 days.
Size - the size or dimensions of the product (required if you have variants based on sizes).
Tags - the search terms you can add to the product. Note that you can add multiple tags by splitting them with a comma (,) with a maximum of ten tags. If more than ten tags are added, only the first ten are exported. E.g.: Lego, toy, fire station.
Unit - the unit of measurement used to display the price per unit, combined with the Reference value and Quantity value attributes. E.g.: inch, gallon, load, etc.
Video URL - the URL of the product's demo video.
NB:
if you have product variants, it is mandatory to map either the Size or the Color to mark the distinct variant. If these are left unmapped, Wish rejects them.
Category-specific
There are category-specific attributes on Wish.
If you hover over a category-specific attribute, its tooltip displays the 'Taxonomy attribute' label.
If a category-specific attribute is related to a variant (i.e.: a child product), it includes the 'variant' suffix in its name. E.g.: Folded size (variant). Note that not all attributes for product variants are used to create variants.
Offer
There are no offer attributes on Wish.
Carrier
Carrier mapping is required on Wish and it is crucial if you are using Wish Express. Your performance and tracking ratings are based on the confirmed delivery by the selected carrier. This is where the confirmed delivery carriers come in, and why an option from this list has to be selected. Wish checks with the carrier if and when a shipment is delivered to the buyer.
If you do not set up the correct carrier mapping for your shipments, but do enable Wish Express, your shipments are marked as Delivered, the orders are automatically canceled, and you are fined.
NB:
orders left unfulfilled for five days are automatically refunded.
Pricing
As Wish only accepts a few currencies, you may need to set up a currency conversion rule if your input currency (that is, the default currency set for your ChannelEngine environment) is not one of these accepted currencies. Make sure this price rule inputs and outputs to the default CE Price, which is the price exported by default.
Enable Wish's tax calculation
Wish offers the option to calculate taxes on your behalf, which can be useful if you want to sell your products in the United States. To find out how, check out their How to activate and edit Tax Settings in Merchant Dashboard? article. If your business is based in the United Kingdom, check out Wish's How to set up Tax Settings for UK domiciled merchants? article.
If this feature is enabled, the prices you export to Wish cannot include VAT – while on all other marketplaces, your prices should include VAT. It also returns orders from Wish with a total price excluding VAT. Normally, this should match with whatever is shown in the Wish back-end, unless there is a hidden discount applied by Wish.
Wish discounts
These 'flash' discounts are presented to buyers as "If you buy this item in the next 27 minutes, you get a EUR 2 discount". These discounts come directly from Wish's commission, so your own margins are not affected.
Unfortunately these discounts are not communicated via the Wish API, so there is no easy way for ChannelEngine to retrieve them. If the Wish VAT engine is enabled, ChannelEngine can determine if a discount is applied. The discounted price is shown on the order level on ChannelEngine, as that is the total paid by the buyer. Both the discount and the original price are shown on the order line as extra information.
Listed products
If you have problems with products not appearing on Wish (especially if you are trying to create products that do not exist yet), check the Listed products section for more information.
ChannelEngine performs limited validation on the mapped attributes, and receives feedback from Wish when trying to create or update a product. When products are missing mappings or have invalid values, this is visible in the Listed products section under the Reason column.
While Wish has no validation overview in their back-end, you can apply manual updates and check the status of your products there. It also includes the option to manually update files in batches via CSV.
Additional information
Wish supports extra images for parent products. The main image can be different for the variant product, but not the extra images.
Wish uses algorithms to decide what products are displayed and what leads to the highest percentage of sales. They track which customers are willing to pay shipping costs and how much, based on their previous behavior. E.g.: a product is listed for USD 6.00 and a shipping cost of USD 4.00, the total price is USD 10.00. It could also be listed for USD 10.00 with a shipping cost of USD 0.00, as some buyers prefer a lower price and higher shipping cost. In the end, the total price is still USD 10.00. However, if you specifically search for your product you might see a price other than USD 10.00. This is because the algorithm is 'confused', but this scenario does not occur for regular buyers.
Wish orders have a single order line. E.g.: if four different products are ordered, four separate orders are created.
Products included in refunded orders are automatically disabled.
Order extra data items
When an order is imported to ChannelEngine, ChannelEngine also fetches extra data items related to the order itself – or to order lines. This extra data is specific to this marketplace. An explanation of each can be found below: 
Order extra data
| | | |
| --- | --- | --- |
| Key | Conditional | Description |
| wish_warehouse_name | Yes | Warehouse name, taken from warehouse information from the channel order. |
| wish_warehouse_type | Yes | Warehouse type, taken from warehouse information from the channel order. |
| wish_fulfillment_type | Yes | The fulfillment type, taken from warehouse information from the channel order. |
* Conditional fields only display if the channel provides a value. 
FAQs
I already sell on Wish. Is there a way to import my offers and orders into ChannelEngine?'s Wish integration?
Yes, it is possible to import your existing offers and orders into ChannelEngine. For more information, contact your customer success manager or the Support team at ChannelEngine.
Why is my product not live on Wish?

Updates to certain attributes may take 4-5 days to be reflected on the marketplace. The attributes involved in this process are:
Color
Description
GTIN
Images
Title
Size
Updates to the stock, price, and shipping-related prices are reflected almost immediately. However, simultaneously applying updates to an attribute that goes through the review process and to one that does not result in both being reviewed. E.g.: if you update both the Color and Stock attributes at the same time, your changes may only be reflected on the marketplace within 4-5 days.
Therefore, Wish advises you to apply your offer-related updates separately from your content-related updates.