Skroutz: marketplace guide
About this guide
This is a ChannelEngine guide on the Athens-based marketplace Skroutz. Here you can find information on how to request a Skroutz account, how to configure this marketplace on ChannelEngine, what the specific requirements are, and more.
NB:
Skroutz uses the ChannelEngine Channel API. This means that there are no tasks scheduled and performed by ChannelEngine, and ChannelEngine has no direct influence on the frequency of updates and exports. All tasks are based on calls performed directly by Skroutz.
Table of contents
Marketplace-specific requirements and exceptions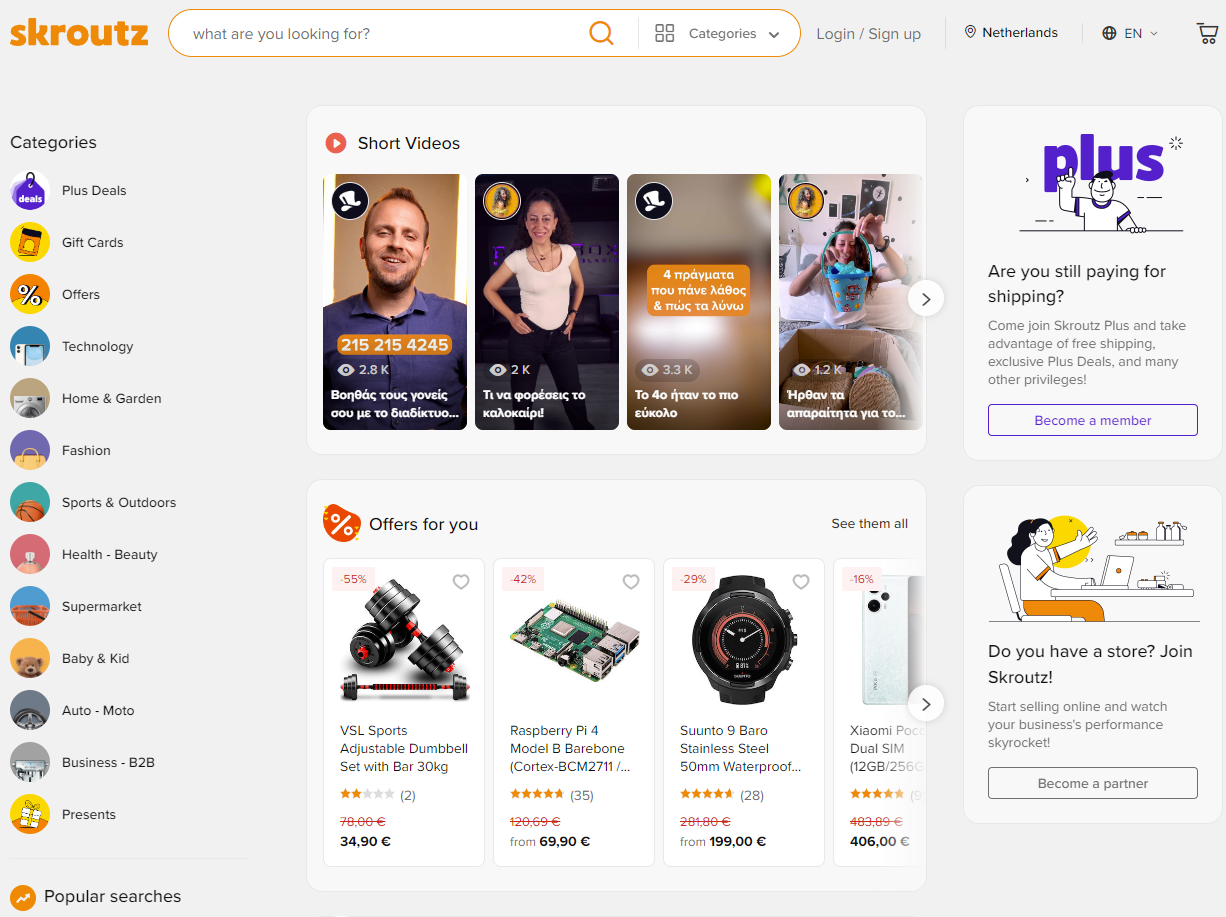 Commercial information
| | |
| --- | --- |
| Founded | 2005 |
| Founder(s) | George Avgoustidis, George Hadjigeorgiou, Vasilis Dimos |
| Headquarters | Athens, Greece |
| Area served (orders) | Austria, Belgium, Bulgaria, Croatia, Cyprus, Czech Republic, Estonia, Finland, France, Germany, Germany, Greece, Hungary, Ireland, Italy, Latvia, Lithuania, Luxembourg, Malta, Netherlands, Poland, Portugal, Romania, Slovakia, Slovenia, Spain, Sweden |
| Number of monthly visits | circa 36 million |
| Website | Skroutz |
| Setup cost | EUR 496.00 |
| Commission | depends on the product category |
| Other costs | none |
| Payment | 1st and 15th of each month |
| Product categories | books, music, films, cameras, auto/motorcycle parts, fashion, cooking, DIY/gardening, electronics, erotic products, food, furniture/interior design, games/toys, healthcare, household appliances, jewelry/watches, kids/babies, musical instruments, cosmetics/perfumes, pets, shoes, bags, luggage, sports equipment, office supplies/professional equipment, telecommunications equipment, video games, refurbished |
| Input language | English, Greek |
| Input currency | EUR |
| Content creation | yes |
| Minimum number of SKUs | no |
| Advertisement options | yes |
| Profile on ChannelEngine | Skroutz |
How to request an account
To start selling on Skroutz, fill out the form on their partner portal. Note that you need to provide them with your company's:
Contact person
Contact details
VAT number
The next step in the process involves the XML feed generated by the Skroutz integration on ChannelEngine. For more information on this, see the Product selection section of this guide.
Associated costs
Skroutz does not charge a monthly fee, but it does charge a setup fee of EUR 469.00 – as well as a commission on sales based on the product category.
Marketplace features
| | |
| --- | --- |
| Supported | Not supported |
| Product offers (no GTIN matching) | Returns (marketplace) |
| Product content | HTML formatting |
| Orders | Repricing |
| Cancelations (merchant) | Cancelations (marketplace) |
| Returns (merchant) | Carrier mapping |
| Refurbished products | Sales channels |
|   | Marketplace fulfillment service |
|   | Variations (color/size) |
|   |   |
Settings and configuration
Setting up each marketplace on ChannelEngine follows the same flow, once you add the marketplace:
Marketplace-specific requirements and exceptions
Setup

On ChannelEngine
Skroutz does not require any settings or keys to be entered on ChannelEngine's Setup page. Because Skroutz uses the ChannelEngine Channel API, they connect to ChannelEngine instead of the other way around.
To connect Skroutz with ChannelEngine:
Go to the Setup page of your Skroutz marketplace on ChannelEngine.
Copy your API key, which can be found in the Channel API access section.
On Skroutz
Log in to the Skroutz portal for merchants and go to Skroutz Marketplace.
Enter your API key under the ChannelEngine integration section and click Save.
Share your product selection with your contact at Skroutz. For more information on this, see the Product selection section.
Product selection
Skroutz uses ChannelEngine's product feed to fetch products, so it is important to share the correct feed with them. The feed, which is available both in CSV and XML, can be found on the Product selection page of the marketplace on ChannelEngine. The format required by Skroutz is XML.
Note that a feed is only made available once:
A product selection is stored.
The mapping process is completed.
The marketplace is activated.
The export task has run for the first time.
Mappings
Content
Because Skroutz is a Channel API marketplace, the mappings contain all standard ChannelEngine attributes. Some can be left empty, even though they are marked as required. However, it is recommended to map as many attributes as possible. The more you map, the greater the visibility of the product on the marketplace is. This, in turn, tends to lead to a higher conversion rate.
Although all attributes are written in English, Skroutz requires content in English or Greek.
All products (required)
Brand - the product's brand.
Catalog price - the product's recommended price.
Category - the full path of the product's category. E.g.: mobile phones accessories > wireless chargers.
Color - the product's color. The maximum number of characters is 100. E.g.: black.
Description - the product's description. The maximum number of characters is 1,000.
Details - although this attribute is marked as required, it can be left unmapped.
Extra image URL 1-9 - the URL of the product's additional images. For the requirements, see Image URL.
GTIN - the product's unique identifier, such as its EAN.
Image URL - the URL of the product's main image. The requirements are:

Only secure URLs (i.e.: HTTPS).
No watermarks.
URLs should not be encoded.
No borders.
The object shown in the image must have at least one dimension larger than 1,000 px.
Avoid adding 'no image' placeholders. If you later change a placeholder to an actual image, Skroutz might not update it. If a product does not have an image yet, send an empty image link. If you later change it, the image is updated accordingly.

Merchant product number - the product's SKU or Merchant product number. This value must remain the same throughout the product's lifecycle, and cannot be reused in other products.
Name - the product's title. Make sure to include all necessary attributes of the product, even if some of these attributes may be included in other attributes. If the product is refurbished or second hand, mention this too. E.g.: Silly Lilies Biodegradable Bin Liners (200x300 mm) 60 pcs.
Parent merchant product number - the Merchant product number of the parent product.
Price - the product's price.
Product URL - the URL to the product on your own webstore. This URL must be secure (i.e.: HTTPS), can only point to a product page – not a category or collections page.
Shipping cost - the product's shipping cost, with decimals separated by a period. Shipping costs should be the same for all shipping locations, otherwise this attribute should be left unmapped. E.g.: 3.50.
Shipping time - the time it takes to ship the product, in days. E.g.: 2.
Size - the product's size. Multiple sizes can be separated by a comma. The maximum number of characters is 500. E.g.: extra small, small, medium, large, extra large.
Stock - the product's stock available for sale.
Vendor product number - the manufacturer's identifier for the product.
All products (optional)
Discount percentage - the discount that applies to the product's price, without the percentage symbol. E.g.: 20.
Purchase price - the product's purchase price.
Custom attributes
To include specific attributes in a custom feed, it is important that these attributes are marked as public. The public status of custom or product extra data fields can be managed via the custom field management screen, under Products, Custom fields.
You can change the Is public status by selecting the pencil icon and setting it to enabled. More information on custom field management can be found in the article Product custom fields/extra data fields management. If an attribute is set to public, it is automatically included in the product feed generated for the custom channel. These custom fields are grouped in the element Extra data.
Carrier
There is no carrier mapping required on Skroutz. You can even use an empty shipment method and tracking code for their shipments. However, the end customer does not receive any tracking information in this case, so it is recommended that you include it – as it is done on most marketplaces.
FAQs
Why are my shipments stuck as 'Not exported yet'?
Skroutz uses ChannelEngine's Channel API, so ChannelEngine does not initiate the import and export of data to and from the marketplace. If your shipments are not exported and are not visible in Skroutz's back-end, something is wrong with the import of the shipment information. Please contact Skroutz's customer service to investigate this. You can copy ChannelEngine's Support team in the email, if needed.