Wehkamp Direct Delivery: marketplace guide
About this guide
This is a ChannelEngine guide on the Zwolle-based Wehkamp Direct Delivery (Wehkamp DD). Here you can find information on how to request a Wehkamp account, how to configure this channel on ChannelEngine, what the specific requirements are, and more.
Table of contents
Marketplace-specific requirements and exceptions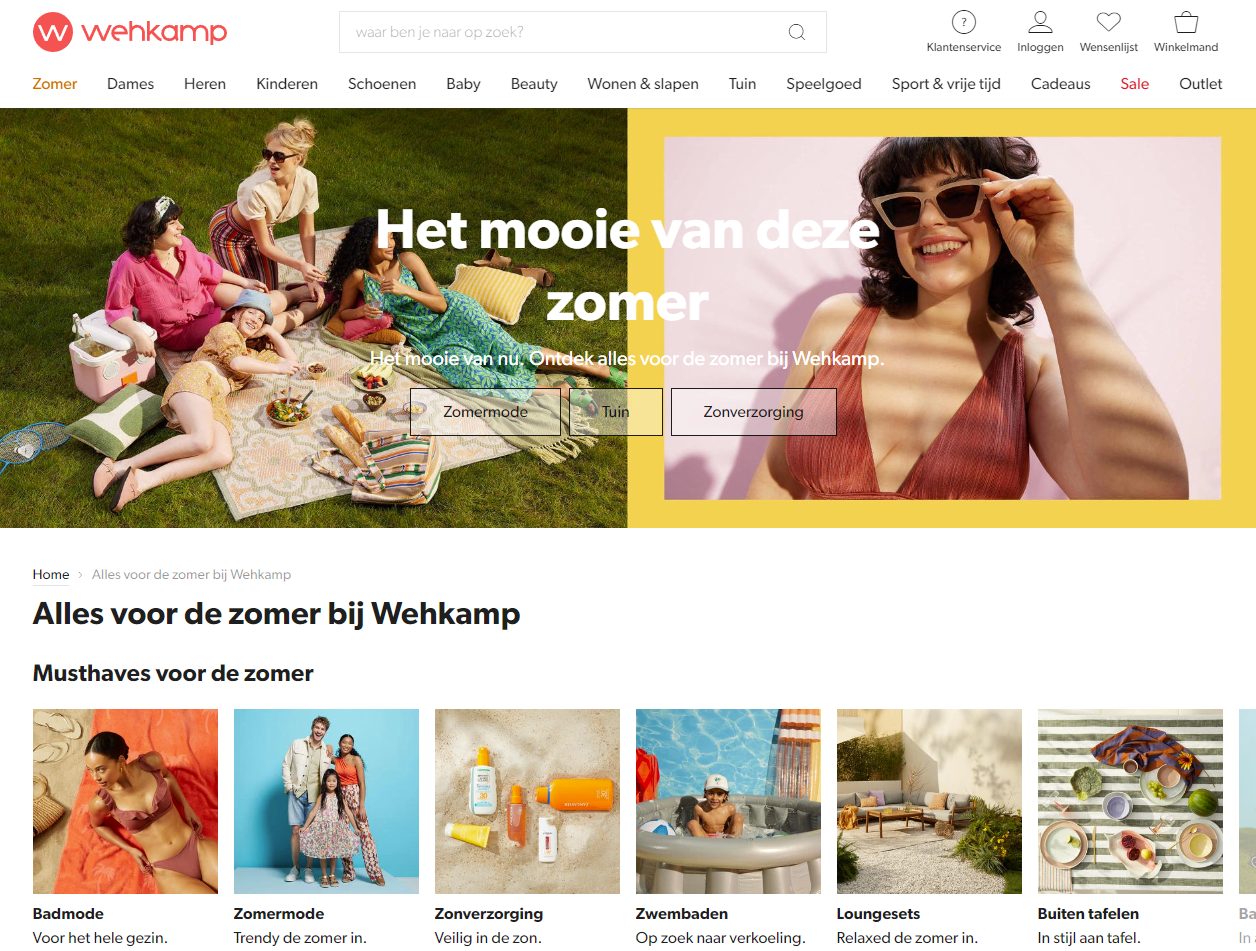 Commercial information
| | |
| --- | --- |
| Founded | 1952 |
| Founder | Herman Wehkamp |
| Headquarters | Zwolle, Netherlands |
| Area served (orders) | Belgium, Netherlands |
| Revenue | USD 200 million - USD 1 billion |
| Number of monthly visits | circa 13 million |
| Website | Wehkamp |
| Setup cost | none |
| Commission | 20% |
| Other costs | none, unless your images do not match Wehkamp's requirements |
| Payment | every 30 days |
| Product categories | clothing, home and living, electronics |
| Input language | Dutch |
| Input currency | EUR |
| Content creation | yes |
| Minimum number of SKUs | no |
| Advertisement options | yes, via Criteo |
| Profile on ChannelEngine | Wehkamp |
How to request an account
Wehkamp DD is a closed and highly curated platform. They work with consignment, direct delivery, and drop-shipping models – but only with their brand partners.
Wehkamp has a proactive and independent purchasing team. There is no way to apply to become a Wehkamp brand partner, but Wehkamp may approach you to discuss a partnership.
The requirements are:
A working dropship integration through ChannelEngine, via which you send your product content.
A dedicated implementation specialist, who is going to be in direct contact with Wehkamp's integration team.
A global location number (GLN) owned by you, in order to route electronic data interchange messages between Wehkamp and you. If you are already doing wholesale, you need an additional GLN.
Do not send emails directly to buyers.
A second line for customer care, delivery scheduling, pick-ups, etc.
Provide only one delivery proposition for your entire assortment. E.g.: if your shipping policy for a product is 'ordered before 14:00, delivered tomorrow', the same policy must be applied to all other products you are offering.
If already doing wholesale, submit a different bank account number and a different VAT number.
All logistic related costs (i.e.: shipping and returns) are covered by you. Shipments for smaller goods are fulfilled by DHL.
Returns for smaller goods can either be returned using the same label or with a return label, which is included in the package by default.
Shipments for larger goods are fulfilled by Dynalogic.
Returns for larger goods that require pick-up can be handled through Wehkamp's customer care, who forward the request to you.
The following requirements apply to shipments:

Include a physical picking slip with the shipping information and the Wehkamp logo.
Include a physical document with return instructions and the Wehkamp logo. This can be combined with the picking slip.
Do not include any marketing/flyers related to you or your partners.
Associated costs
Wehkamp's fee structure is different for every brand partner. Contact Wehkamp for more details.
Marketplace features
| | |
| --- | --- |
| Supported | Not supported |
| Product offers | Cancelations |
| Orders* | Carrier mapping |
| Shipments | Repricing |
| Content mapping | Sales channels |
| Returns (merchant) | Offer matching |
* ChannelEngine does not actively import orders from Wehkamp DD. Instead, Wehkamp DD pushes orders in real time to ChannelEngine. This means that there is no import task, and no option to retrieve old orders. 
Settings and configuration
Setting up each marketplace on ChannelEngine follows the same flow, once you add the marketplace:
Marketplace-specific requirements and exceptions
Wehkamp requires the addition of your Global location number (GLN) to both Wehkamp and ChannelEngine before you activate the connection. GLNs are used for the unique and unambiguous identification of legal entities and physical locations, and to identify which tenant is the recipient of an incoming message.
To add a GLN to a tenant:
Go to the GS1 website to check your GLN.
Contact your customer success manager at ChannelEngine, so they can add the GLN to your tenant. Note that each GLN can only be used for one tenant at a time, it cannot be used across multiple tenants.
Share the GLN with your contact person at Wehkamp.
Setup
On Wehkamp
Once Wehkamp has agreed with your suggested the product selection, share the URL of your product feed with your contact person at Wehkamp.
On ChannelEngine
To connect Wehkamp DD with ChannelEngine:
Go the Setup page.
Go to Settings.
Add the Wehkamp supplier ID provided by your Wehkamp contact.
Product selection
To upload your products to Wehkamp, you must have a product feed file that is available online (e.g.: on your FTP server, or a public resource like Google Sheets). Wehkamp uses this feed to import your product data.
Categorization
After the feed is shared, Wehkamp checks whether all products are correct before they publish them to the channel.
Mappings
Content
All products (required)
Afbeelding 1 (Image) - the product's main image. This image requires a neutral, white background. Main images contain white background, extra images can contain other backgrounds

Artikelnaam (Name) - the manufacturer's product name.

Artikelnummer (Supplier item number) - the manufacturer's internal product identifier.

EAN - the 13-digit EAN of the product.

Kleur (Color) - the manufacturer's color specification for the product.

Kleurnummer (Color number) - a three-digit color code number. Use the same color code number for related colors.

Maat (Size) - the size of the product.

Maat Wehkamp (Size Wehkamp) - Wehkamp's product size.

Merk (Brand) - the brand or manufacturer of the product.

Omschrijving (Description) - the full description of the product. Note that Wehkamp does not support HTML formatting.

Scratchprijs (Retail price) - the original retail price.

Verkoopprijs (Price) - the selling price.
All products (optional)
Afbeelding 2, 3, 4, 5, 6, 7, 8, 9, 10 - the product's additional images. Unlike Afbeelding 1, additional images do no require a neutral, white background.
Pricing
Pricing for Wehkamp is exported in the product data export, and not in the offer export. The offer export only handles stock.
Note that prices are only updated once a day, at 00:00 CET. Price decreases are handled entirely automatically. However, if the original price increases, Wehkamp conducts a manual check of the proposed change.
Activation
Once all other steps are completed, you can start the synchronization between ChannelEngine and Wehkamp.
Go to the Activation page to see an overview of all the configured settings, filters, rules, and mappings that are either required or recommended. 
If required settings are left empty, or if there is no product filter, you cannot activate the connection. This validation is necessary, as there is no value in activating tasks without proper authorization or content.
When you are ready, activate the synchronization by toggling the slider on the right-hand side.
Additional information
Once the connection is finalized on ChannelEngine, you can start testing it with one of Wehkamp's partner onboarding specialists.
The first step is introductory call, followed by a test of your content. This is done with a single product, which Wehkamp then onboards to check for issues.
The next step is a test order, which is usually virtual (i.e.: although it includes a return, there is no delivery involved). This can also be a proper order, that is, including the shipment. Then the packing slip and tracking code can also be verified, though these are checked beforehand. Wehkamp also takes photos to document the process.
At the end of this testing phase, you can start selling your products on Wehkamp DD.