Productpine: marketplace guide
About this guide
This is a ChannelEngine guide on the Amsterdam-based marketplace Productpine. Here you can find information on how to request a Productpine account, how to configure this channel on ChannelEngine, what the specific requirements are, and more. 
NB:
Productpine uses the ChannelEngine Channel API. This means that there are no tasks scheduled and performed by ChannelEngine, and ChannelEngine has no direct influence on the frequency of updates and exports. All tasks are based on calls performed directly by Productpine.
Table of contents
Marketplace-specific requirements and exceptions
Commercial information
| | |
| --- | --- |
| Founded | 2019 |
| Founder | Camiel van Dooren, Dimitar Maslarov, Vincent Hulshoff |
| Headquarters | Amsterdam, the Netherlands |
| Area served (orders) | Belgium, the Netherlands |
| Number of yearly visits | circa 2 million |
| Website | Productpine |
| Setup cost | none |
| Commission | between 3% and 10%  |
| Other costs | none |
| Payment | once a month (between the 15th and 20th) |
| Product categories | consumer electronics, fashion, home & design |
| Input language | Dutch, English |
| Input currency | EUR |
| Content creation | yes |
| Profile on ChannelEngine | Productpine |
How to request an account
To start selling on Productpine, go to their Become a partner page and schedule a call with them.
The following requirements apply:
Associated costs
Productpine does not charge a setup or monthly fee. The commission fee varies between 3% and 10% for regular sales, depending on the category. Additionally, Productpine charges a sustainability fee of 1.5%, and the related proceeds are invested in sustainable projects through South Pole.
In their 'Boost' model, Productpine advertises your products with offsite ads for an additional commission of up to 15% – but only if the sale is generated by an advertisement. As a brand, you also have the possibility to place your product in their experience store in Amsterdam, the Netherlands. Different costs apply when choosing this option.
Marketplace features
| | |
| --- | --- |
| Supported | Not supported |
| Product offers | Repricing |
| Product content | Cancelations (merchant) |
| HTML formatting | Cancelations (marketplace) |
| Orders | Refurbished products |
| Shipments (no carrier mapping) | Returns (marketplace) |
| Returns (merchant) | Marketplace fulfillment service |
|   | Sales channels |
|   | Pick-up point delivery |
Settings and configuration
Setting up each marketplace on ChannelEngine follows the same flow, once you add the marketplace:
Marketplace-specific requirements and exceptions
Setup
On ChannelEngine
Productpine does not require any settings or keys to be entered under ChannelEngine's Setup section. Because Productpine uses the ChannelEngine Channel API, they connect to ChannelEngine instead of the other way around. Therefore, you need to provide your contact person at Productpine with the following credentials so they can connect your account:
Your account subdomain - https://[youraccount].channelengine.net
The Channel API key, which can be found under the Setup section in the ChannelEngine back-end
Categorization
Categorization on Productpine is straightforward, and all categories are listed in English.
Mappings
Content
ChannelEngine recommends mapping as many attributes as possible. The more you map, the greater the visibility of the product on the marketplace is. This, in turn, tends to lead to a higher conversion rate.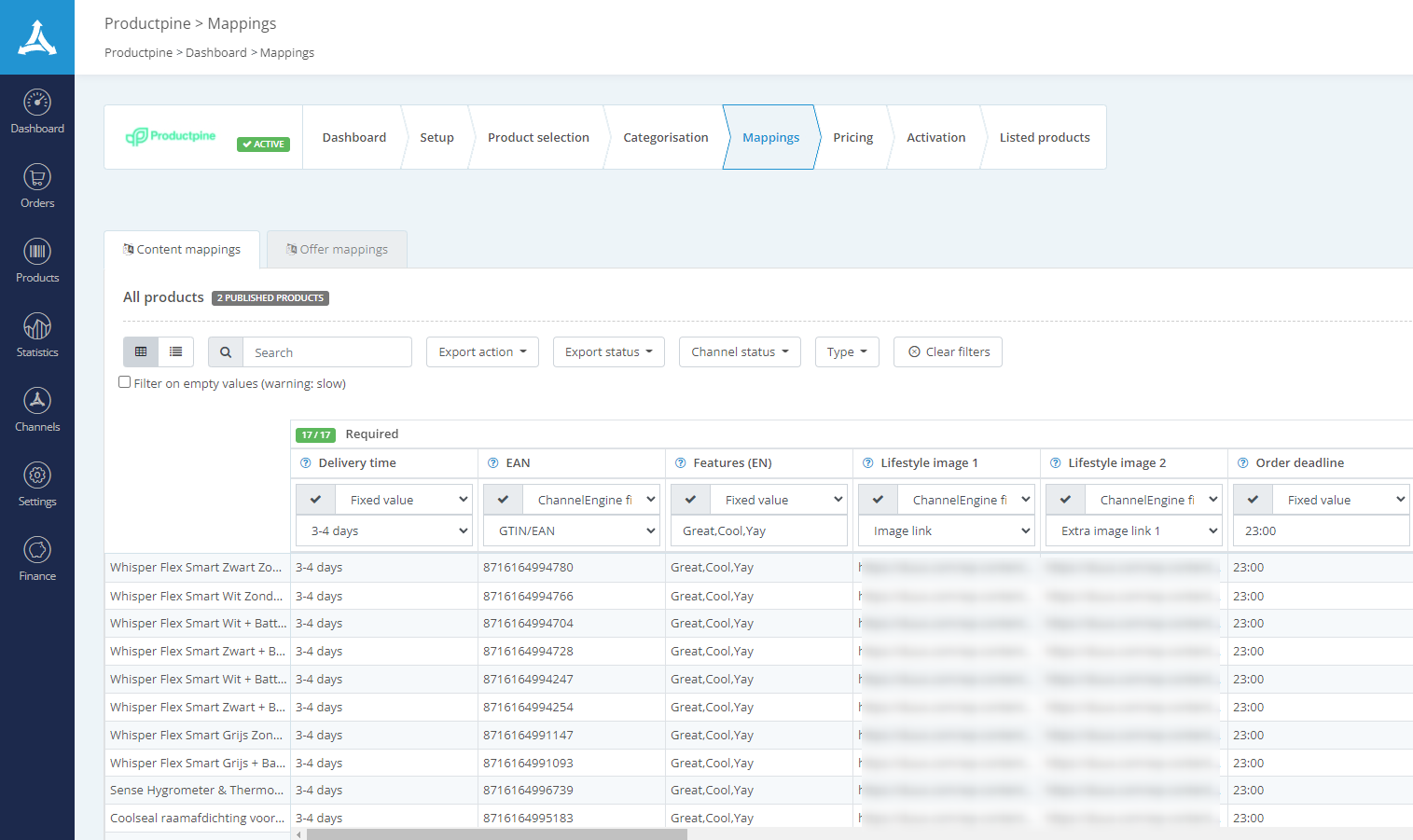 There are no category-specific attributes on Productpine. For every product, the same attributes are required.
All products (required)
Delivery time - the amount of time it takes to deliver to customers in Belgium and the Netherlands, in days/weeks.
EAN - the product's 13-digit EAN.
Features (EN) - a comma-separated list of the product's features, written in English. There is a maximum of 35 characters per feature.
Lifestyle image 1-2 - the minimum image resolution is 1,100x1,100. Ideally, images should be squared.
Order deadline - indicates the deadline for orders to be processed on the same day.
Product description (EN) - the product's description, in English. The maximum number of characters is 2,000 and the following HTML tags are supported:


div, span, pre, p
hr, hgroup
h1-h6
ul, ol, li
dl, dt, dd
strong, em, b, i, u
img, audio, video
a, abbr, caption
table, tbody, td, tfoot, th, thead, tr
address
blockquote
area

Product title (EN) - the product's name, including the product's brand. The maximum number of characters is 56. E.g.: Sustainable Suits - Atlantis suit.
Product type - select whether the product is a hero product (i.e.: a main product) or an accessory. 
Restocking time - the amount of time to restock the product in days/weeks.
Return policy - the time limit for customers to return the product in days/weeks.
SEO description (EN) - optimized description for search engines. The maximum number of characters is 320.
SKU - the product variant's unique ID.
Studio image 1-2 - the image requirements are:

a minimum resolution of 1,100x1,100
ideally, images should be squared
the background must be white (transparent backgrounds in PNG images are not supported)
the product must be placed in the middle of the image – and must include plenty of white space around it

Warranty - the product's warranty period, in months/years.
Weekend delivery - indicates whether weekend delivery is possible. The options are: Saturday only, Sunday only, and Saturday and Sunday.
Variations
To use parent-child relationships and include variations, you must use the Option 1-3 and Value for option 1-3 attributes.
Option 1-3 (NL or EN) - the variation's defining attribute. E.g.: color or size.
Value for option 1-3 (NL or EN) - the variation's value. E.g.: blue or XL.
Color for option 1-3 - the code corresponding to the attribute Value for option 1-3 (NL or EN), if you map it with a color instead of a size. E.g.: #151F39.
NB:
variations are based on the parent level, so size and color information must be added to the parent level.
Offer
Price before (re)price rules - the default price to which price rules are applied.
Inventory level - the product's available quantity.
Manufacturer suggested lowest price boundary - the product's price floor. Productpine does not dynamically lower prices below the threshold set in this attribute. See the Pricing section.
MSRP (Manufacturer suggested retail price) - the product's recommended retail price.
Carrier
There is no carrier mapping required on Productpine. The information provided to ChannelEngine is the information passed on to Productpine, without re-mappings or conversions.
NB:
deliveries must arrive within three days of the order.
Pricing
Productpine uses a dynamic pricing engine to maximize margins and resale for their partners. This engine responds reactively to price changes made by other merchants, without lowering your prices when market prices are stable.
According to Productpine, the engine ensures that prices only change within the limits of the MSRP and the lowest prices you specified in the Manufacturer suggested lowest price boundary attribute. This prevents the engine from letting the price drop along with market disruptions, such as when retailers sell out leftover stock.
If you sell a lot of products on Productpine, you can use an advanced rule based on a percentage of your MSRP.
Listed products
Productpine does not provide feedback via the API. Therefore, if you require information regarding the status of a product, you must contact Productpine.
FAQs
Why are my shipments stuck as 'Not exported yet'?
Productpine uses ChannelEngine's Channel API, ChannelEngine does not initiate the import and export of data to and from the marketplace. If your shipments are not exported and not visible in Productpine's back-end, something is wrong with the import of the shipment information. Please contact Productpine's customer service to investigate this. You can copy ChannelEngine's Support team in the email, if needed.