bol.com: why is the product information not updated?
About this article
This article describes the most common reasons why product information updates on bol.com can fail, and how to troubleshoot them.
Table of contents
Introduction
On many marketplaces, it is possible to create or update product content via ChannelEngine. However, the speed at which these marketplaces process product content can vary. Note that product content is all generic information for a product, such as titles, descriptions, and images – which is different from offer-specific information, such as price and stock.
bol.com offers the option to create or update product content in an automated way. However, there are some requirements and restrictions when it comes to updating product content on bol.com:
It can take 24-48 hours before certain parts of a product update are processed - images and description take longer than simple attributes, for instance.
You cannot update product information for products marked as 'core' by bol.com - this concerns products that bol.com also sells themselves, such as books and products from big brands.
bol.com validates all submitted product information and, if invalid data is submitted, the entire product update is ignored - e.g.: if you submit '15 ml' in a field that expects only a numeric value, the update fails.
bol.com uses an algorithm to decide which product information they use for non-core products - if you submit a new image or title, but the algorithm gives a higher score to the previous content, the product is not updated.
You can suggest a particular order for your product images, but bol.com has the final say - the order bol.com decides on is based on market analysis.
NB:
there is no guarantee that your product information is going to be visible on bol.com, even if you configured everything correctly.
Mappings and validation
The first step in checking why the content for a product is not updated on bol.com is within the mappings screen on ChannelEngine. Often products that are not updated have an attribute set in the mapping, but that attribute turns out to not have any value for the product with issues.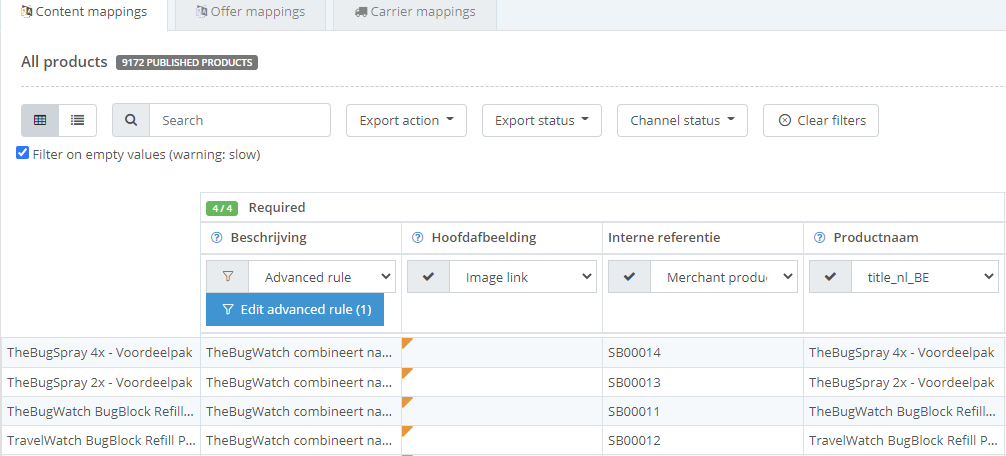 In the example pictured above, not all attributes required by bol.com are mapped: the main image is missing. That results in those products not being exported. To analyze those products, you can mark the checkbox Filter on empty values (warning: slow). As the label states, this is a slow process – and the number of products in your product selection influences it.
If one or more required attributes is missing, you can see a mention to it under the Validation and feedback tab of the Listed products section.

The most common reasons for products not being included in the export, which results in them not being updated, are listed below:
No longer complying with the current product selection filter
Missing values for the mapped attribute or, if it is a custom field, missing the attribute altogether
The product is not categorized
Data export and credentials
If the product is in the filter, is categorized, and has all its required attributes mapped, it should be included in the export to bol.com.
It is possible that there is no export task running, so no product information update is ever exported. If you are not sure if the task is scheduled and running, go to Settings > Scheduled tasks and check it. If a product content export is running, the task is labeled as 'Export product data to channel'.
Note that bol.com states that content exports should only happen once every eight hours, so depending on the time when you check the scheduled tasks you may not see it. If you want to make sure the task is running, contact ChannelEngine's Support team.

Contact bol.com
If the correct product content is visible in the mappings, the product is in the content export, and there is no feedback file returning errors for a product, the product information is either stuck or bol.com is ignoring it. In that case, please reach out to bol.com's support. As bol.com uses an algorithm to determine which submitted product content for a product is best, your update may be ignored.
The following statement is from bol.com:
"To determine the quality of product information an algorithm is used. This algorithm uses specific conditions to determine the quality of the product information. Some examples are the length of a title and if the brand is included or excluded from the title. The algorithm is responsible for your updated product content being published or not on bol.com."
If your update is not processed and you believe it should (because you own the brand or are the product's only seller, for example), contact bol.com's support.