Amazon: why is my order always 30+ minutes late on ChannelEngine?
About this article
This article explains why Amazon orders take longer to become available on ChannelEngine.
Solution
There is a delay between the moment an order is placed on a marketplace and the moment it becomes available on ChannelEngine. That is due to the fact that no marketplace makes orders available immediately via their API – it can take 1-20 minutes –, and because ChannelEngine fetches orders with a time interval.
When it comes to Amazon, it takes even longer. That is because Amazon holds orders for 25-30 minutes before it makes them available via their API, a period in which the buyer can still cancel the order.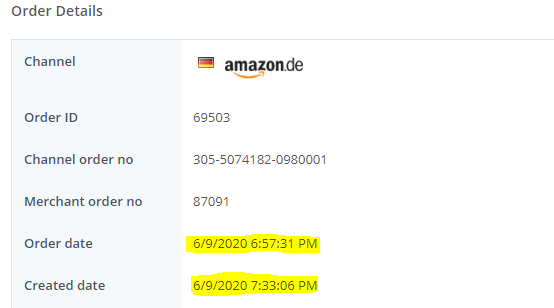 Together with the maximum interval of order imports (i.e.: 15 minutes) and of stock updates to Amazon (i.e.: 15 minutes), this may result in a total delay of up to one hour. If you disable ChannelEngine's stock reservation, it takes even longer as ChannelEngine waits for the order import and stock update.
Impact
Shipping
If you have delicate cut off times for your merchant fulfillment, this delay may have an impact. However, for Amazon your total delivery time is set by the handling time – together with the shipping template used. The shipping templates have a day-range, so an order transferred to the next day because of missing your cut off time is still shipped and delivered on time.
More information on configuring your shipping times can be found in the article Amazon: how to set up shipping time and costs.
Stock
The main impact of this order delay is on the stock reservation and updates on Amazon. Since it takes at least 30 minutes before a stock change from an order is known to ChannelEngine, it also takes at least another 30 minutes to update the stock on Amazon. That is especially tricky for items with a stock of one, as they can easily be ordered more than once during that period.

That is not something ChannelEngine has any influence on or can prevent. Therefore, it is recommended to set a product filter for any Amazon channel with a stock filter of at least Greater than 1.
NB:
Amazon does not have a 'stock reservation' option, unlike bol.com and some other marketplaces. Whatever stock is submitted by the seller is what is available for sale.