Sportdeal: marketplace guide
About this guide
This is a ChannelEngine guide on the Groningen-based marketplace Sportdeal. Here you can find information on how to request a Sportdeal account, how to configure this channel on ChannelEngine, what the specific requirements are, and more.
NB:
Sportdeal uses the ChannelEngine channel API. This means that there are no tasks scheduled and performed by ChannelEngine, and ChannelEngine has no direct influence on the frequency of updates and exports. All tasks are based on calls performed directly from Sportdeal.
Table of contents
Channel-specific requirements and exceptions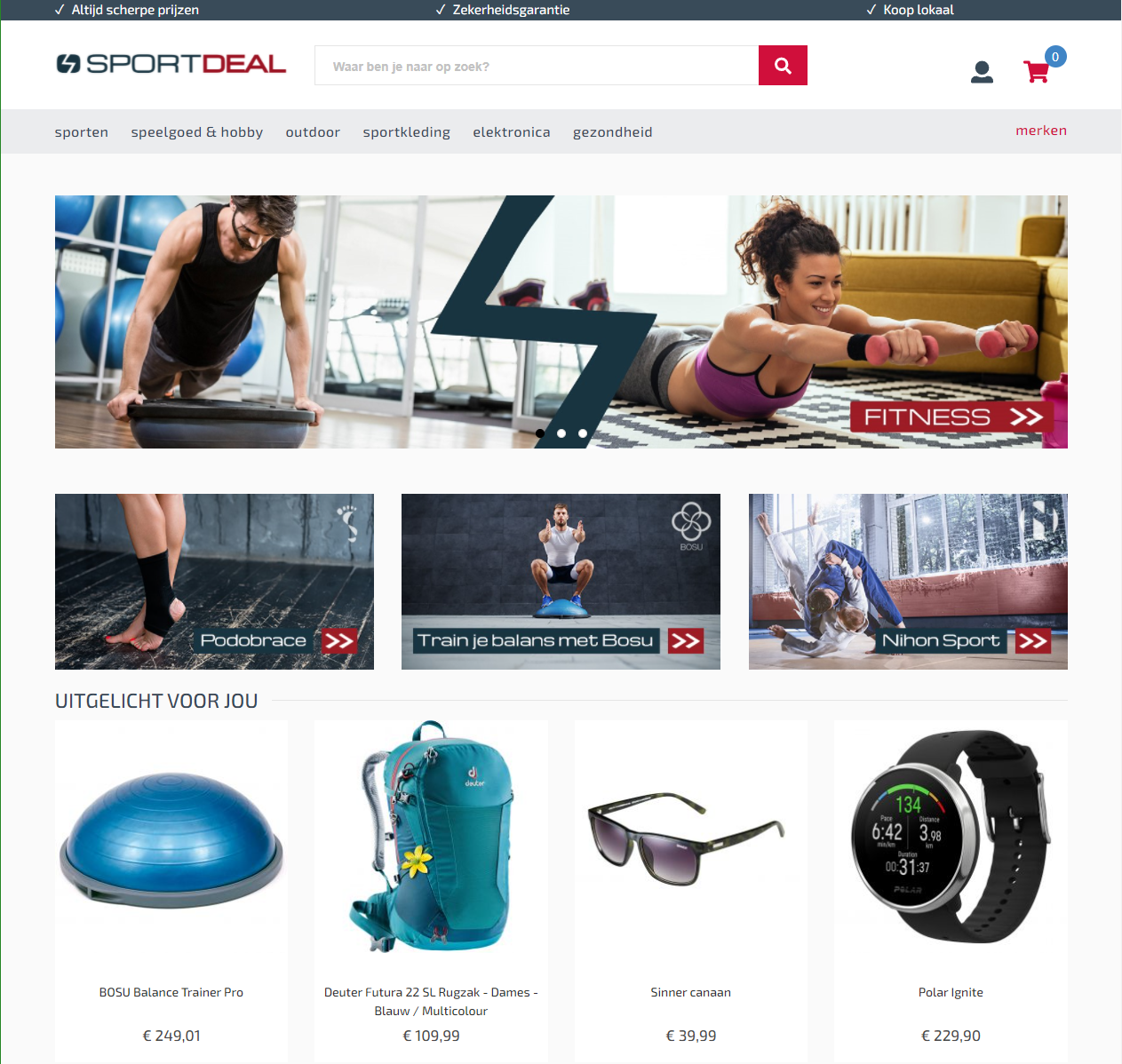 Commercial information
| | |
| --- | --- |
| Founded | Feb 17, 2017 |
| Founder | Jurjen Froling |
| Headquarters | Groningen, the Netherlands |
| Area served (orders) | Belgium, Germany, Luxembourg, the Netherlands |
| Website | Sportdeal |
| Set-up cost | none |
| Commission | 15% |
| Other costs | none |
| Payment | every three days |
| Product categories | sports equipment* |
| Input language | Dutch, English, French, German |
| Input currency | EUR |
| Content creation | yes |
| Minimum number of SKUs | no |
| Advertisement options | yes |
| Profile on ChannelEngine | Sportdeal |
* Products mapped to categories other than sports equipment are listed on SDeal, Sportdeal's marketplace for home accessories, kitchen appliances, baby items, toys, electronics, and more.
How to request an account
To start selling on Sportdeal, go to their Word partner (Become a partner) page and fill in the form (in Dutch). They can then contact you and provide you with personal guidance on connecting your shop.
Associated costs
Sportdeal does not charge a setup or monthly fee. However, it does charge a commission fee of 15%.
Channel features
| | |
| --- | --- |
| Supported | Not supported |
| Product offers | Cancelations (merchant) |
| Product content | Cancelations (channel) |
| Orders | Carrier mappings |
| Returns (merchant) | Returns (channel) |
| Shipments | External fulfillment |
| | Product data feedback |
| | Repricing |
| | Sales channels |
Settings and configuration
Setting up each channel on ChannelEngine follows the same flow, once you add the channel:
Channel-specific requirements and exceptions
Setup
On ChannelEngine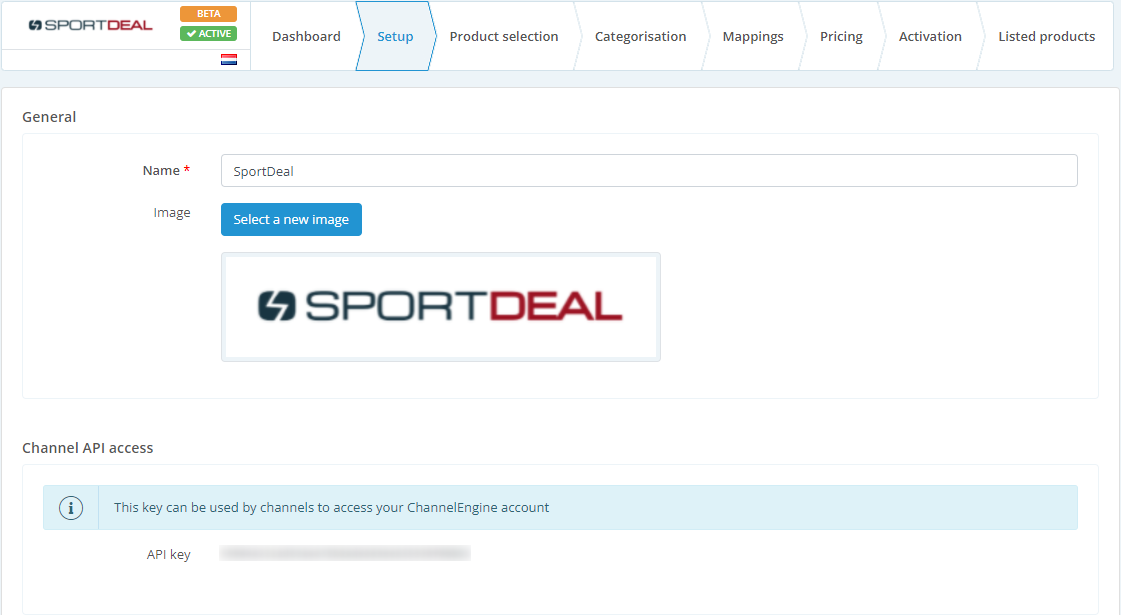 Sportdeal does not require any settings or keys to be entered under ChannelEngine's Setup section. Because Sportdeal uses the ChannelEngine Channel API, they connect to ChannelEngine instead of the other way around. Therefore, you need to provide your contact person at Sportdeal with the following credentials so they can connect your account:
Categorization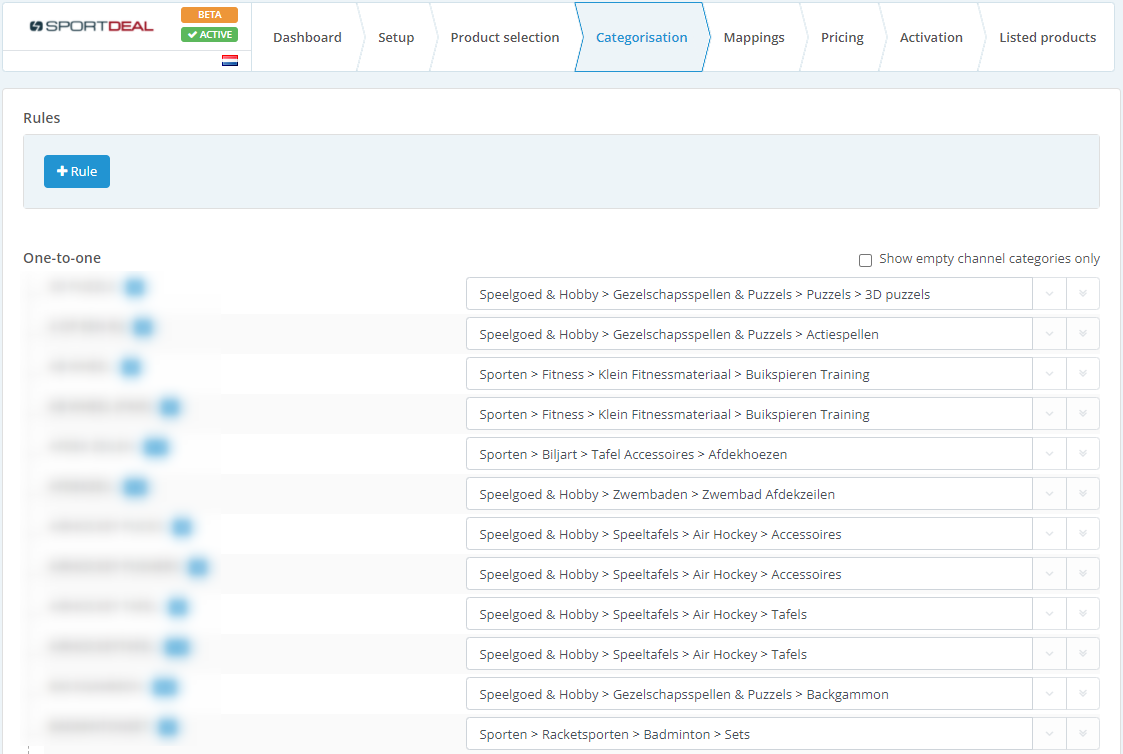 Categorization on Sportdeal is straightforward, and all categories are listed in Dutch.
Mappings
Content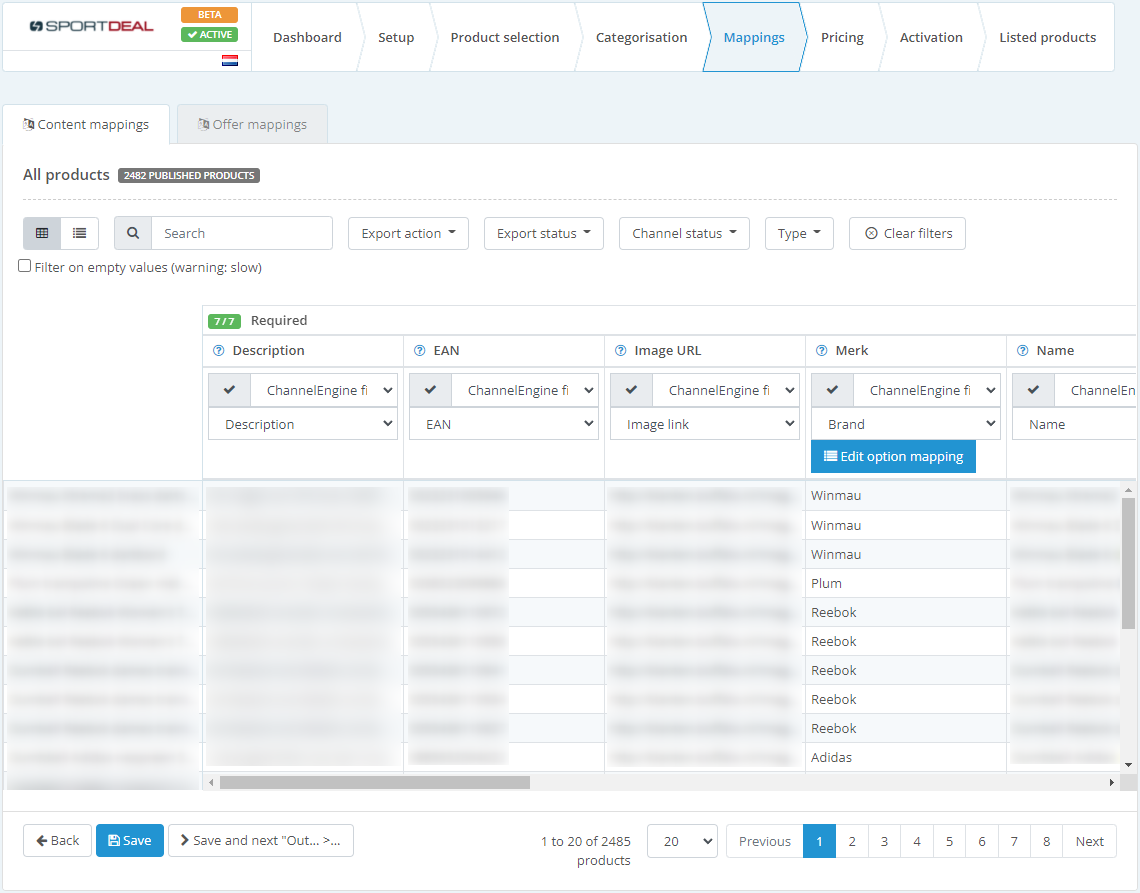 It is recommended that you map as many attributes as possible. The more you map, the greater the visibility of the product on the marketplace is. This, in turn, tends to lead to a higher conversion rate.
Note that your sales price is mapped under the Content mappings, and price rules can be applied to this price.
All products (required)
Description - the product's description.
EAN - the product's 13-digit EAN or GTIN.
Image URL - the URL of the product's main image.
Merk (Brand) - the product's brand or manufacturer. If your brand does not appear on the list or if its design and/or spelling are incorrect, please contact Sportdeal to have your brand(s) added. ChannelEngine periodically imports new definitions, adding the options to the list.
Name - the product's title. E.g.: Winmau Xtreme Brass Darts.
Price - the product's price.
Qty (Stock) - the product's stock.
SKU - the product's internal unique identifier, usually your Merchant product number. E.g.: ABC123.
All products (optional)
Breedte (Width) - the product's width.
Hoogte (Height) - the product's height.
Maat (Size) - the product's size.
SKU - the product's internal reference, usually your Merchant product number.
Status - the product's status on Sportdeal's website. The options are enabled and disabled.
Offer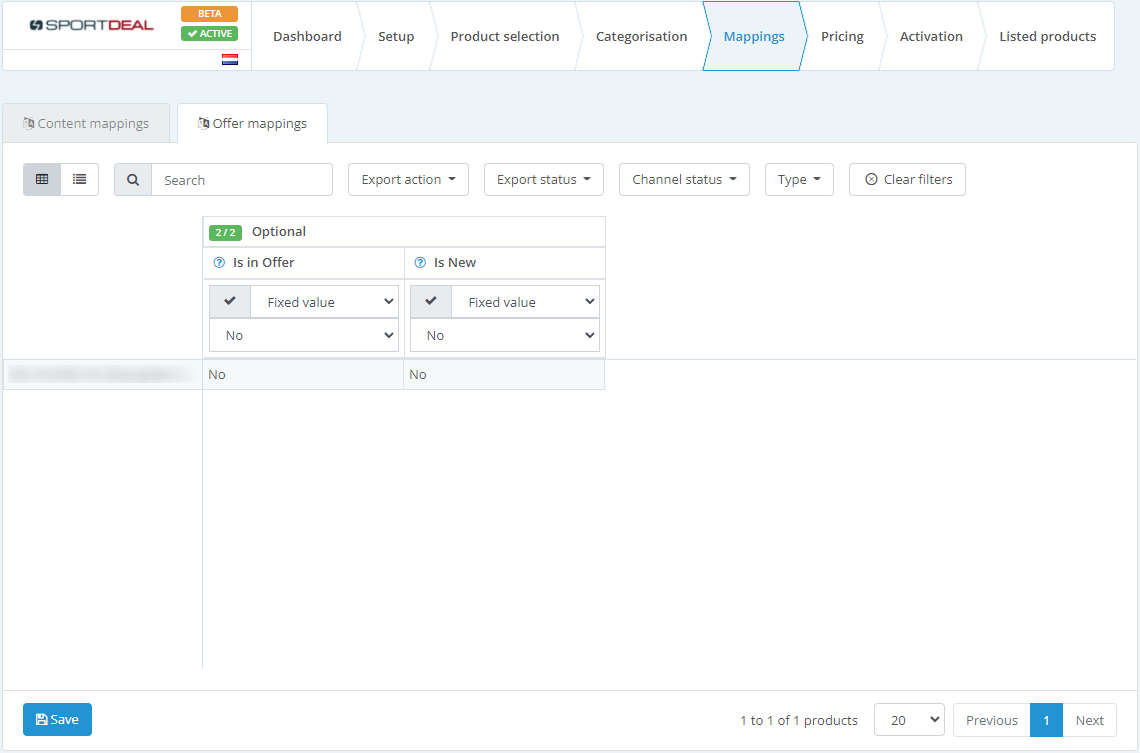 There are no mandatory offer mappings on Sportdeal. However, you can set the visibility of your products on Sportdeal and state if they are new offers or not.
Carrier
There is no carrier mapping required on Sportdeal. The information provided to ChannelEngine is the information passed on to Sportdeal, without re-mappings or conversions.
Listed products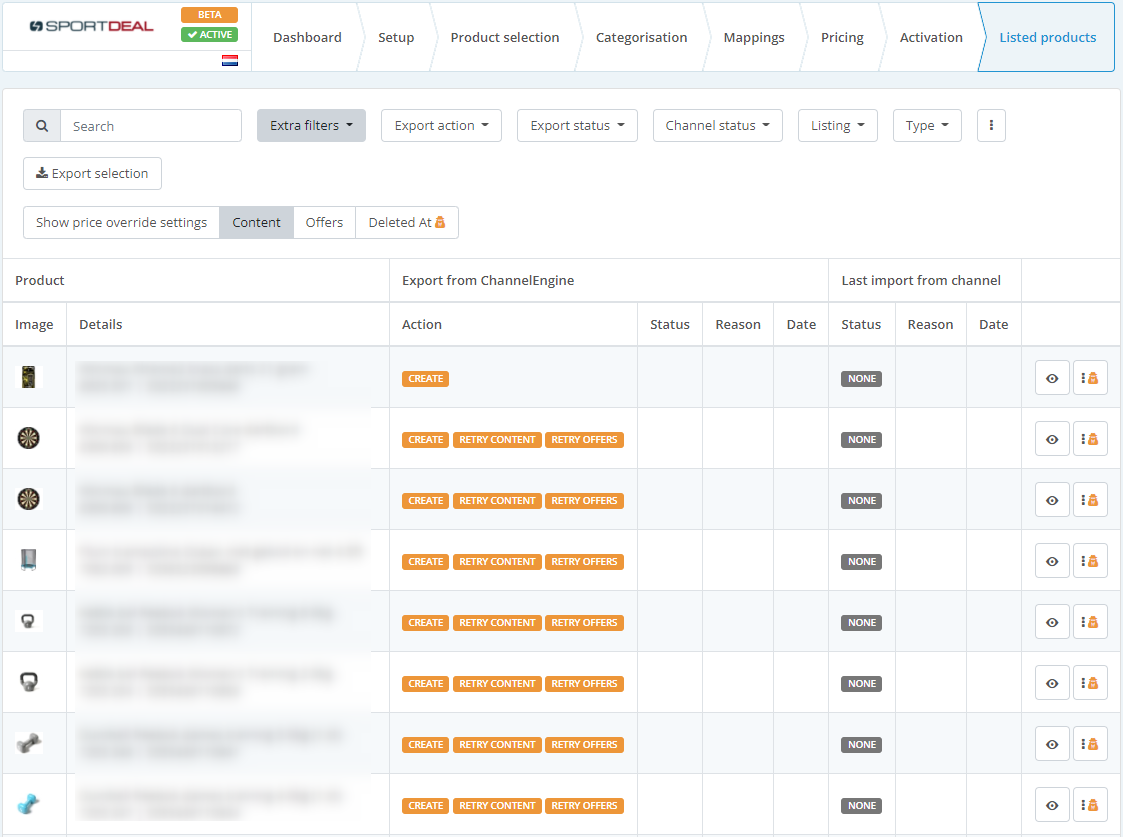 Sportdeal does not provide feedback via the API, so if you need information regarding the status of a product you need to contact Sportdeal.
FAQs
How are my product content and offers handled?
Sportdeal uses ChannelEngine's Channel API connected to two endpoints: one for product data, and one for product offers. There is no need to use a product feed with this channel.
Why are my shipments stuck as 'Not exported yet'?
Sportdeal uses ChannelEngine's Channel API, ChannelEngine does not initiate the import and export of data to and from the marketplace. If your shipments are not exported and not visible in Sportdeal's back-end, something is wrong with the import of the shipment information. Please contact Sportdeal's customer service to investigate this. You can copy ChannelEngine's Support team in the email, if needed.